Restrict Editing To Secure Word 2010 Document
Keeping your important document protected from any external source would be extremely beneficial. Sometimes while writing document it become dire need to maintain confidentiality of document and preventing document from being edited from any unauthenticated source. Word 2010 provides an option to make your document protected from any unauthorized use, which eventually mitigates the probable of vulnerability. There are several ways to secure document content but in this post we will be focusing on how to enforce editing restrictions.
To start out with, launch Word 2010 document on which you want to restrict editing. Navigate to Review tab and click Restrict Editing.

You will see Restricting Formatting and Editing pane at the right sidebar providing numerous options to restrict editing.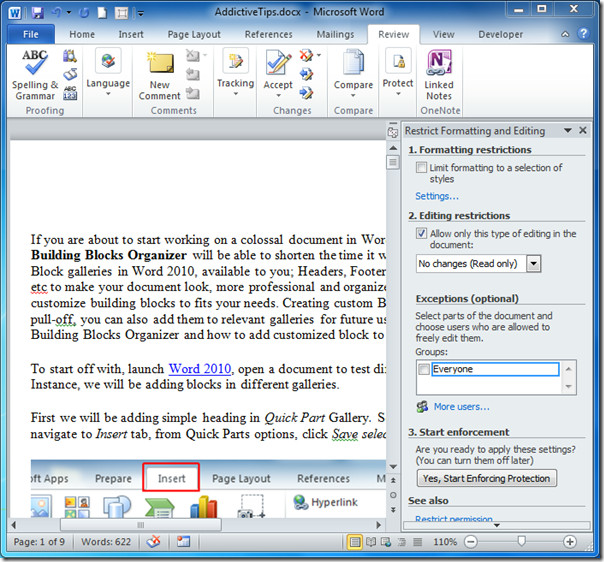 Under Formatting restrictions enable Limit formatting to a selection of styles option. For configuring advance options click Settings.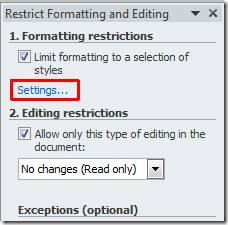 Upon click Formatting Restrictions dialog will appear, here you can restrict formatting to the desired styles and prevent others from modifying styles and change formatting of the document. Scroll through the list and disable the desired options. You can also use the recommended settings by clicking Recommended Minimum.
Under Formatting you can enable several options that lets you to Allow AutoFormat usage which overrides formatting restrictions, Block Theme or Scheme switching, and Block Quick Style Set Switching. Click OK to continue.
From Editing restrictions enable Allow only this type of editing in the document option and from it's list choose desired option.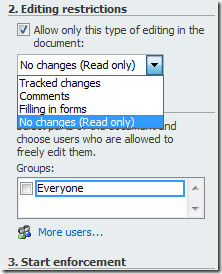 If you want users to edit portion of the document content then select the content and under Exceptions (options), select the users you want to give permission of editing. If you want to add users for this, click More users.
Now from Start enforcement click Yes, Start Enforcing protection to protect document from any unauthenticated user.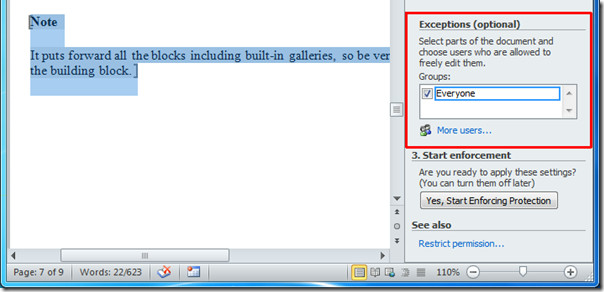 Now enter passphrase to make your document password protected. If you want to encrypt document and allow authorized users to remove protection when they want, then enable User authentication. Click OK and save the document.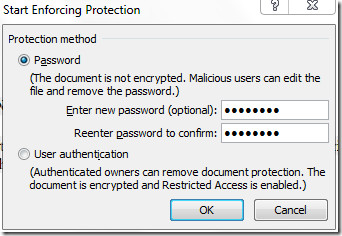 When someone will try to edit the document, Restrict Formatting and Editing bar will appear, but they can find the regions which they can edit.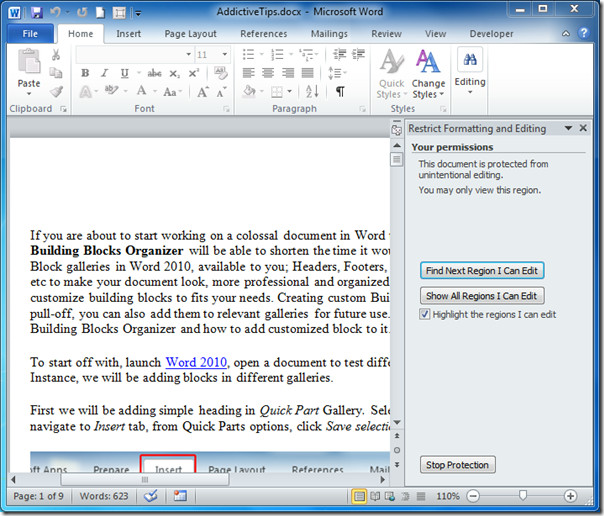 Upon clicking Find Next Region I can Edit, it will take you to the content you can edit, as shown in the screenshot below.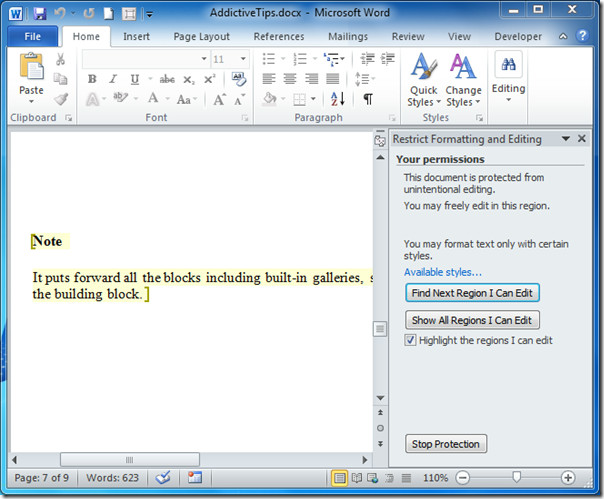 If you want to disable protection then click Stop protection. Enter password to let Word 2010 know that you are an authorized user.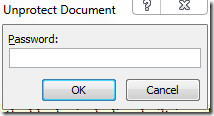 You can also check out previously reviewed guides on How to Prepare Document for Distribution & Using Research feature in Word 2010.