Sync Outlook 2010 With Mobile Devices via Funambol Server
SyncML (Synchronization Markup Language) Outlook Client is a small but extremely useful Outlook add-in which provides smooth synchronization between Outlook items; Calendar, Tasks, Notes and importantly Contacts with SyncML server, such as, Funambol. Yes! it is designed solely for the Funambol server, letting you to sync the Outlook items with it seamlessly.
The main procedural flow charting goes like this; it makes a bridge between Outlook & SyncML server (Funambol), which is further connected with mobile devices, GMail accounts, Thunderbird, etc. With this small add-in syncing items with mobile devices is not a problem any more.
Lets take a look over basic requirements, to get started, first you need to install Funambol server on your system, which can be configured on a PC, or with LAN setup. This server can further be connected with your mobile devices and with other email-clients.
The default Server location of Funambol server is;
https://localhost:8080/funambol/ds
However, you can change it according to the network or PC setup. Close all the Outlook instances running at the back-end and then install the SyncML Outlook add-in. Once installed, you can access it from the Add-ins tab. To start off with, click Options and correctly configure server settings (in-case you have changed Funambol server settings), enter username & password, with proxy location if required.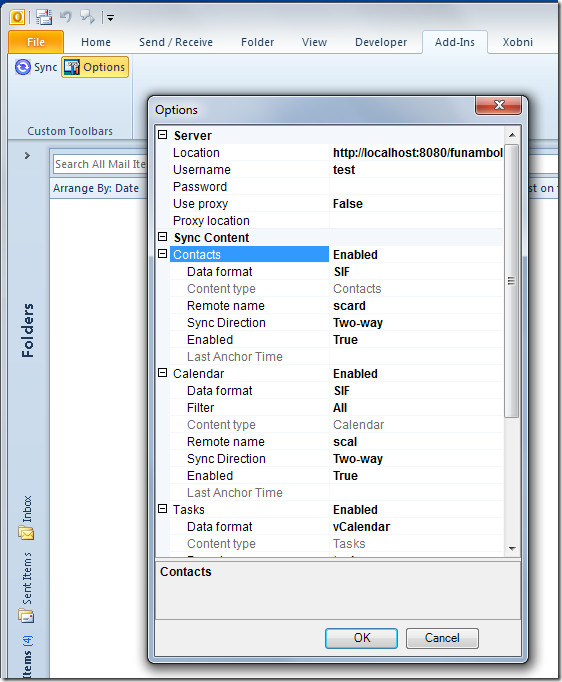 Beneath Server configuration settings, you can also specify the formats of each Outlook item which you are intending to sync. You can change the Data Format, Filter, Sync-Direction, etc for each item. Once settings are properly configured. Go for synchronization of items with Funambol server by clicking Sync All, it will start syncing items with Funambol server and eventually with all the connected mobiles devices along with other e-mail client you are using.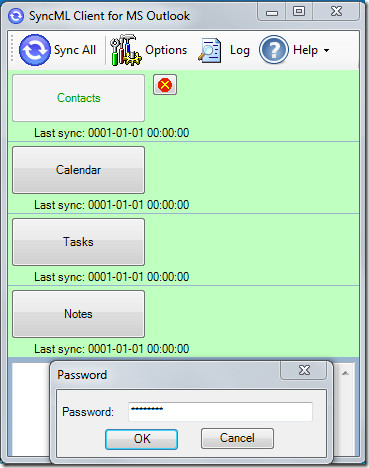 This add-in is mostly targeted towards corporate users. The latest version supports Outlook 2010 (32-bit) only. While testing we did not encounter any bugs.
Download SyncML Outlook Add-in