Word 2010: Insert Tables & Formulas
Word 2010 provides a great feature of using tables along with document content to complement and summarize it in a better way, but sometimes in tables we also need to write the formula for evaluation of values. Although it does not support a huge range of formulas, we can use basic formulas that will be sufficient for most users. This post elaborates how to create and apply new design over the table and how to get required results through formula with simple illustrations.
To begin, launch Word 2010 document in which you want to calculate values using formula. For instance, we have included a document, containing table. In order to insert a table, navigate to Insert tab and click Table. Now select the number of rows and columns, as shown in the figure below.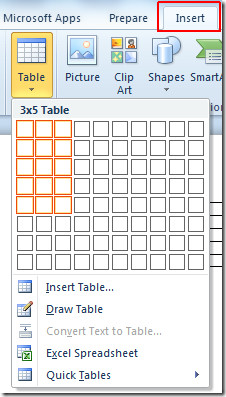 Once selected, start populating the cells with the data.
If you want to give it a better look, select the table, and two new tabs will appear on the ribbon Design and Layout. You can change the design by navigating to the Design tab and select the suitable style for the table from group Table Styles. In Design tab, it includes a number of table styles. Clicking the style will quickly apply it over your table. It also allows you to choose custom table colors and shades from Shading drop down menu, present alongside the table style gallery.

Click on the style you want to apply it over the table.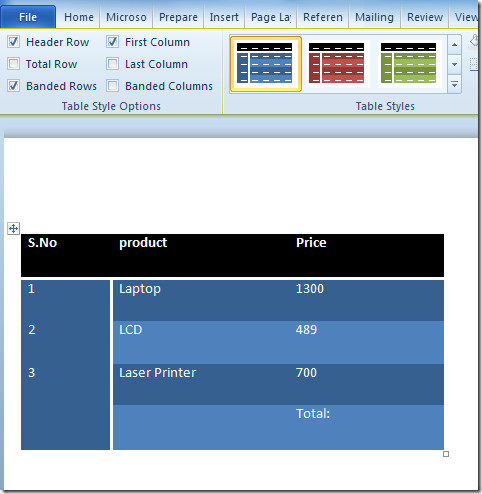 From Layout tab, you can customize the generic layout of the table, from the Cell Size group, select the size of the cell, from Merge, you can use the suitable option to merge cells, from Rows & Columns, you can insert a new row or column into the table. From Table group you can insert gridlines, and view properties of the table.

Now we need to calculate the total Price of the products, click the cell Total in the table, and click Formula from Layout tab, as shown in the screenshot below.

Upon click, Formula dialog will appear. Under Formula, =SUM(ABOVE) is automatically inserted, this can evaluate the sum of all the above values. From Number Format drop down list select one which includes dollar sign, as we are dealing with currency values, click OK to continue.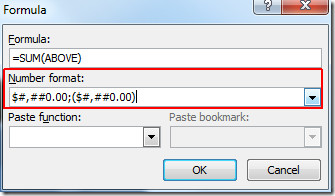 Upon click, it will show the sum of values.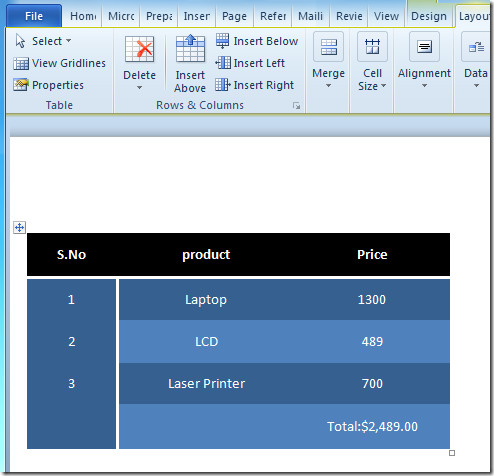 You can also check out previously reviewed guides on How to Add dictionary in Word 2010 & Indexing in Word 2010.