Animated Greetings – Download, Edit, Share Animated Messages [Android]
Not that the Android Market doesn't offer plenty of fun-filled apps that can help you pass some quality time, but it's rather about finding something that can transform that pastime into something bit more productive. For instance, an app that lets you send funny messages to your loved ones via customizable and animated greeting cards. When talking of such apps for Android, you won't find too many options that can surpass Animated Greetings. Designed with a purpose of sending customized messages/greetings to your friends, the app packs dozens of pre-installed and downloadable animated movies, each carrying a funny message. Users can tweak an animation, put their own picture on the body of a superhero, add funny voice effects to audio recordings and do whatever they like to make their message more personal and a bit more naughty. Animated Greetings can be shared with Facebook buddies, YouTube friends / subscribers as well as with mail contacts.
Ever thought of sending a birthday wish to your firend through a customized animated movie coming directly from the moon with Bill Clinton singing the birthday tune for you? Well, you can do it through Animated Greetings and it wont cost you a penny. The app allows you to select from multiple built-in animations, some of which are pre-installed while others can be easily downloaded/purchased from within the app. Just launch Animated Greetings, swipe your finger across the screen to select the most appealing animation and check it out by hitting the play button. You can edit any movie/animation being played.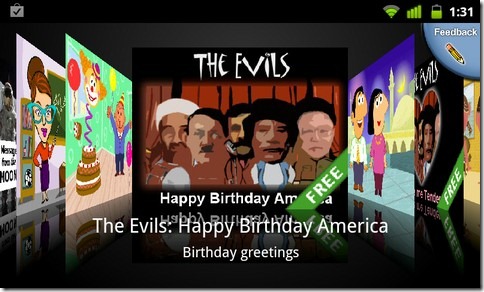 In terms of customization, you can rename a movie, replace the face in the animation with that of your friend's (or any other selected image from your gallery), record your personal message and get it transformed in the voice of a singing animal. Not amused with your effort? You can opt to easily delete a selected video. Customized movies can be viewed by tapping the My Movies button.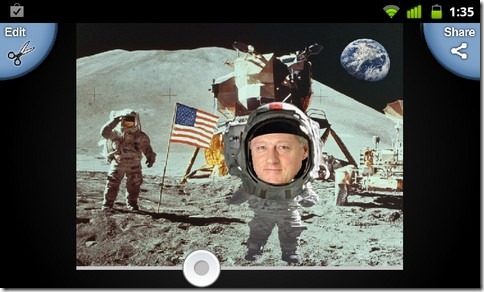 That's not all! The app also lets you Activate Birthday Reminders for your Facebook friends so that you can receive their upcoming birthday notifications and send them rollicking Animated Greetings from your device.
Animated Greetings is available in the Android Market free of cost and runs on Android OS 2.2 or higher. Grab your copy of Animated Greetings from the Market link provided below, and instantly start sharing the fun with your friends, colleagues and all.
Download Animated Greetings for Android