Budget For Android: Efficient Expense Management App For Events
Fresh to the Google Play Store, Budget for Android is a free and simple-to-use expense management app designed specifically to help you with tracking your event expenses in an effective way. Using the app's various predefined event categories and subcategories, you can easily add, modify and monitor expenses. Budget utilizes various types of graphs and charts to give you an overview of the total amount allocated to, and consumed by individual subcategories, and the event itself. The app allows you to highlight over-budgeted items in red so that you know when it's time to cut down your expenses. In addition, the app presents you with the option to define your own budget items as per event, supplement each supported category/subcategory with notes, and set password protection for all the data on it.
Planning an event is somewhat easier but organizing it by keeping your budget under control can prove to be a tad tough, especially if there are numerous petty items involved in the process. Amid the tedious event preparation chores, the last thing you want is being confronted with the task of managing all your expenses through extensive paperwork. This is where Budget steps in. Not only does the app help you with defining important event subcategories/items, but also presents you with a neat and uncluttered graphical analysis of the expenses pertaining to each.
The app's homescreen lists all your events along with their respective total and consumed budgets. To add a new event, tap the + at the top right side of the screen. The screen that follows lets you define the title, schedule, budget and category of your event. As mentioned earlier, there is an option within the app to pick a predefined event category, such as a party, wedding, birthday party, meeting et al. Provided you choose one of the predefined event categories, the app automatically allocates portions of the total budget to the relevant subcategories accordingly. Not only can you modify subcategories according to your requirements, but also change the allocated values as per personal preferences.
Once an event is created, you can start modifying the relevant subcategories by specifying the total budget consumed by each. As you keep making changes, the values are automatically updated, thereby resulting in changes to the respective pie charts of each subcategory. Titling the device from portrait to landscape orientation displays a breakdown of the overall event expenses for each subcategory. You can swipe left/right across the screen to switch between the pie chart and bar graph.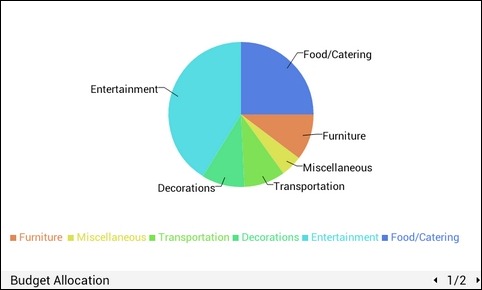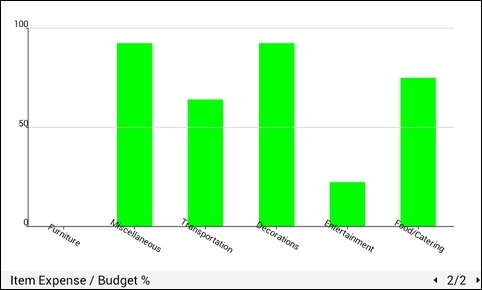 Now to the missing bits. The free version of Budget lets you define/add just one main event at a time. Moreover, it displays ads and does not support the passcode security mechanism. However, you can upgrade to the premium version from within the app for a mere $2 to lift all said restrictions.