Custom ClockworkMod Recovery For Motorola Xoom [Included New Features]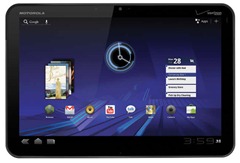 RootzWiki forum member Steady Hawkin has come up with his custom version of the ClockworkMod recovery for the Motorola Xoom which brings along quite a few useful features. If you have a rooted Xoom with no custom recovery installed, you should definitely give this recovery a go. Totally clueless about what a custom recovery can do for you? You should see our guide on what is ClockworkMod recovery for Android and how to use it.
This particular recovery offers the following new features as compared to the stock ClockworkMod recovery:
Overhauled UI.
Backup / Restore and flash from a USB drive.
Backup / Restore and flash from internal storage (/sdcard).
Skip or Backup & Restore /data/media (/sdcard).
Called Rogue Recovery, this recovery is based on ClockworkMod Recovery 4.0.1.5 and the Launchpad kernel 1.3.0. Some important things to note as per the developer:
By default your Xoom will your MicroSD card for nandroids and flashing. To use a USB drive or your internal storage, go to Mounts and Storage and select the location of your choice. *Please note, although you can use your internal storage for nandroids, it is not recommended.

By default /data/media (/sdcard) will be skipped during wipe, backup, and restore. If you wish to backup or restore /data/media, you can enable it by using the toggle feature located in the Backup and Restore menu.

Please note that if you enable /data/media for a backup, your nandroid will be larger than usual depending on what data is stored on it. If you choose to restore a nandroid that does not contain a /data/media backup, it will wipe that folder. Enabling /data/media will cause that folder to act and function just like every other folder located in the file system.
So how to get this recpvery up and running on your device? We'll tell you how to, from scratch.
Requirements:
Instructions:
To begin, download the recovery form the link above and copy it to the root of your SD card.
Now reboot into recovery and make a Nandroid backup.
Choose install zip from sdcard and select the Rogue Recovery.
Once the file is flashed, simply reboot the device back into recovery.
That is it! If the recovery flashed properly, you should now have entered the new custom recovery. For updates and queries, visit the forum thread at RotozWiki.