Easy Filter For Android Makes Blocking Unwanted Calls And SMS Simpler
Easy Filter is a free app for Android that provides an easy yet efficient way to block incoming phone calls and SMS. The freeware allows you to choose from multiple blocking scenarios, selectively block/filter SMS or calls from numbers added to the blacklist (Block List) and view the history of filtered calls and messages while keeping the said blacklist and filter records secure behind password protection.
The user-friendly interface comprises three tabs. From the Settings tab, you can select from a list of six blocking scenarios (AOTW) and three ways to block a call, choose whether to block calls SMS or both, select, set a custom auto-respond text message for blocked SMS and/or calls, block/unblock private/unknown numbers and enable/disable notifications for blocked calls and SMS.
To enable notification sounds for blocked calls and SMS, you must first enable notifications by tapping on the Notification On/Off toggle button at the top of the settings menu. Enabling notifications adds a notification icon for Easy Filter in the status bar for fast access.
Also, it displays status bar notifications for blocked SMS and/or calls.
The first time you access the Block List or Filter Records tabs, the application will prompt you to set a password for said tabs. The set password will have to be entered every time application is reopened and the Block List or Filter Records accessed. If you don't deem it necessary, you may tap Cancel Protection in the Password protection dialog box. You can set the password later by pressing Menu while in the Block List tab and tapping Password in the context menu that appears.
Adding, deleting and modifying contacts in the Block List is fast and easy. Easy Filter provides the user with a number of ways to add a number to said list and unlike most other popular apps from the same genre, it lets you modify call/SMS blocking for each added contact separately. Simply tap on an added number to modify it.
To block numbers with a certain area or service code, tap Add > Add manually and in the Add phone number screen that appears (right screenshot below), check Start with.
The Filter Records tab keeps a log of all the incoming messages and calls blocked by the app and allows you to view the content of blocked text messages.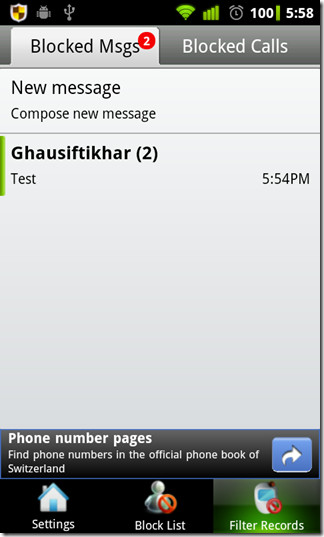 You can download Easy Filter from the Android Market for free via the link below or by scanning the provided QR code.