Enable 8-Point Multi Touch On Motorola Photon 4G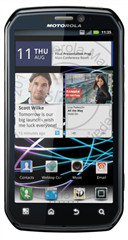 So the Photon 4G with it's impressive hardware and and an equally impressive 540 x 960 pixels 4.3" screen, is surprisingly limited regarding multi touch input. 2 touch points aren't exactly categorized as multi touch now. If you're into Android games, such as Fruit Ninja, Cut The Rope or use emulators on your device that use on screen joysticks and buttons, chances are this 2 touch point system in the Photon 4G is going to give you some serious limitations. Even if you do manage it somehow, if a 3rd finger slides onto the screen while playing, consider things going wrong in a second, and that has already happened to a lot of us. Thanks to XDA-Developers forum member michael0619 who originally brought out a multi touch mod for the Atrix 4G, the mod has evolved and found itself working for the Photon 4G, allowing 8 touch inputs on the device. Frankly, 8 points are a bit too much, but 2 were equally ridiculous.
Installing this mod on your Photon 4G should be a breeze via ClockworkMod recovery. All that's needed to be done is to copy the file to the SD card and flash it via the recovery. Confused? We'll break it down for you.
Disclaimer: Please follow this guide at your own risk. AddictiveTips will not be liable if your device gets damaged or bricked during the process.
Requirements:
Instructions:
To begin, download the Multi Touch Hack from the link above and copy it to the root of your SD card.
Reboot into recovery and make a Nandroid backup.
Wipe cache and wipe Dalvick cache.
Navigate to install zip from sdcard > choose zip from sdcard and select the file copied to your SD card.
Once the file is flashed, simply reboot the device.
That is it, go ahead and test out the Multi Touch with the app provided in the Requirements section above. For updates and queries, head over to the forum thread at XDA-Developers.