Everything You Need To Know About iOS 5 Camera And Photos App
The Camera and Photos app in iOS finally got some justice. While the Camera app to be precise,  seems like it has nothing new to offer than a mere Grid View, it has a very neat swipe feature to access your recent photos straight from the Camera app itself. We'll tell you how exactly it works in a while. The Photos app finally brings to us some basic photo editing features that have been in need for a while now.  The lack of settings in the camera app concerning picture size, or quality continue to exist  with Apple arguing that it's intentional, to keep the interface and the app itself, uncluttered.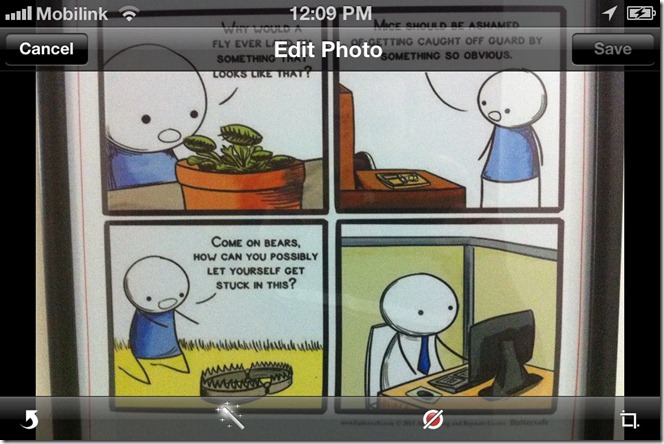 A few days back we covered a Cydia tweak which added editing options to the stock Photos app (you can read about it here). Turns out that it almost exactly mimicked the changes announced for in iOS 5. In the latest update of Apple's mobile platform you can now tinker with your pictures without the help of a third party app, at least for the basic part of it. Admittedly the options might not be much but still they are the most useful basic functions you could have hoped for. You can now perform the following tasks on your saved pictures.
Rotate Pictures
It's amazing to think that you couldn't even set your photos straight (literally) in your iPhone or iPad without the use of a third party app. Not anymore. Once you get iOS's latest update, all you'll need to do will be to hit Edit once a picture is opened and in that screen tap the arrow at the bottom, which will allow you to rotate your photo in any of the 4 directions.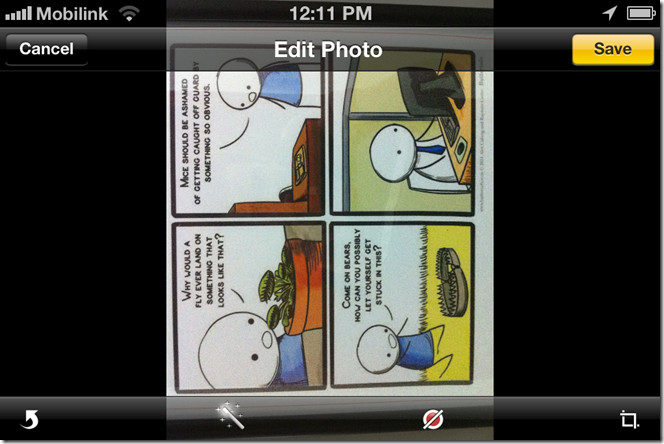 Auto-Enhance
Some people might argue that it would have been better if iOS 5 had given users the ability to change brightness and other image settings, but that would have been very unApple, whose sole philosophy seems to be based around simplicity in everything. Auto-Enhance optimizes the photo of your choice (changing brightness, contrast and hue mainly) automatically with just one tap. Hit the wand icon and you're done.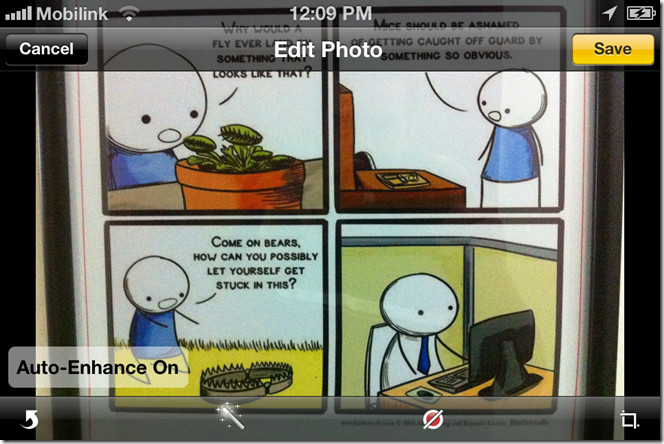 Red-Eye Removal
The annoying red-eye problem encountered by almost all digital cameras has finally been addressed by iOS in its latest update. Like all other additions, this is just one-click, although you have to tap the spots from where you want to remove the red-eye effect.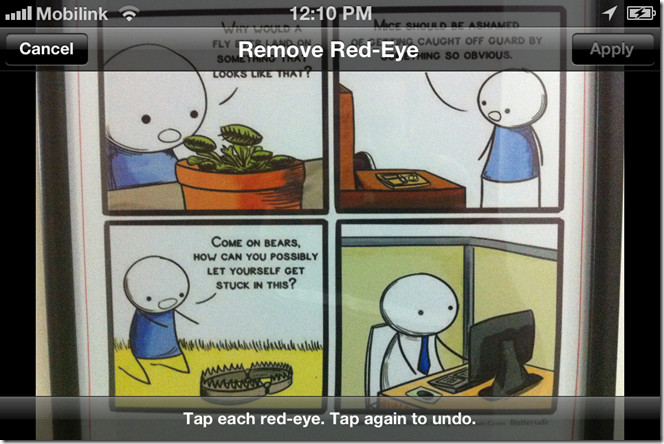 Cropping Pictures
Using the helpful adjustable grid, you can easily crop your photos from within the photos app now. Hit thethe crop button the said grid will appear and you can constrain the picture any way you want. Your new cropped photo will be saved as a separate copy. If you don't want to go around defining the cropping area by drawing with your finger, you can always hit the Constrain button to choose from a few standardized presets.
Camera Options
The camera can now be launched from the lock screen by double tapping the Home button while the device is in locked state. Right next to the unlock slider, an icon for the camera will appear. Up next we discuss the swiping feature in the Camera app to access you photos.
Another extremely useful addition to iOS 5 is the use of the Volume up button as the camera shutter trigger. This makes it easier to take pictures on the iPhone or iPad and reduce blurred image results.
Swipe Right In Camera To Jump Directly To Camera Roll
So this feature may have taken it's cue from Windows Phone 7 devices but be as it may, we cannot complain about it now that it is here and functioning. With the Camera App open you can now effortlessly swipe right across the screen to access your recent photos, which is actually the camera roll. You can swipe back to the left to get back to the Camera app and continue taking your pictures. It's that simple. The screenshot below shows us how exactly this feature works.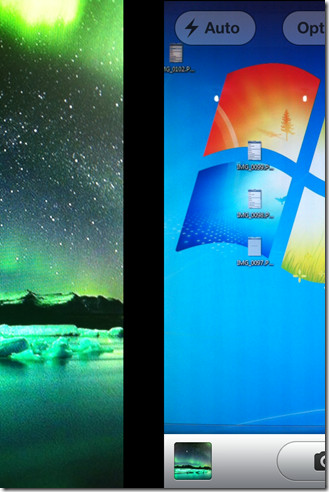 This sums up the new Camera and Photos app new features in the new iOS 5. Please let us know what and how you find the new experience.
---
This guide is part of the 10 new features in iOS 5 – the latest operating system from Apple for their iDevices.
Camera & Photos Updates (Currently viewing)