Find The Perfect Place To Eat With Foodspotting For Windows Phone 7
Whenever you get the craving for your favorite burger, or that teasing little hunger pang which demands nothing but a freshly baked brownie, then it can be pretty annoying to waste your precious time looking for places near you where these dainties are available. Sometimes you just feel like eating out and want to find a good place near you, and at times all you want is the perfect food item even if you have to travel some distance to get it. A solution to all such culinary problems and quests is finally here for Windows Phone 7 users. So whet your appetite, because Foodspotting has arrived!
Foodspotting has been around for quite a while on the web and across different smartphone platforms (Android and iOS), but finally it has made the move to WP7, like so many other apps in recent months. The app has an interface that is sure to make you fall in love with it. Light and fast, Foodspotting is the perfect food related app to have on your mobile phone.
It is better if you get a food spotting account from the Foodspotting website or from within the app in the new user menu under the login screen, but even if you don't have an account, you can still enjoy most of the mouth-watering services offered by this app. You must allow the app to find out your current location, and once that is done it will automatically locate you and give you a list of food items available near you along with details like the address of the hotel or bakery where that item is sold, the estimate distance of that area from your current location, and of course the number of approvals that particular edible has received from other users.
The displayed list of food items near you can be ordered on the basis of nearest, best and latest. The criterion for the best food item available in your area is the number of recommendations it has received from past visitors. There is also a search option available in which you simply have to input the food name and the name of the locality and you will get suggestions about where to find it. Similarly another option on the bottom of the screen lets you change your location to any new place you want. This is a handy feature when you are planning to visit a new place and want to know your eating-out options in advance.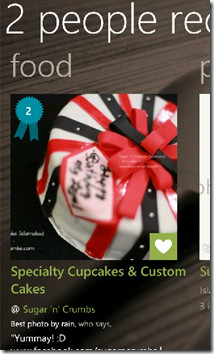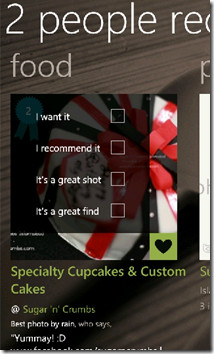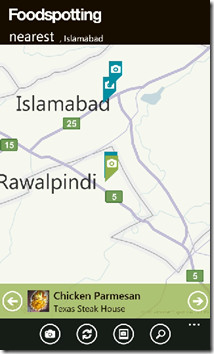 Once you click on the food you have chosen from the list, you will get its details, the written review and comments about that item provided by other users. Slide it and the app will display the location of the place on the map. Foodspotting lets you connect to your Facebook account too and that is a good way of staying in touch with the latest food trends among your contacts. If you are logged in from your account, you can also contribute in the whole process of food rating by simply tapping the Heart icon on the picture of the food, allowing you to share with everyone what you think of that item. But that is not, by any means, the only way to contribute. Registered Foodspotting users can take a picture of any food they like right from inside the app and upload it along with their comments, review and ratings. If you are not up to snapping pictures using your camera for any reason, simply download the picture of the desired food and upload it to the app by choosing the option Pick from Library. The app is free, add that to all the delicious features described above, and you must have numbed out taste buds to avoid Foodspotting!