Flash / Install ClockworkMod Recovery On HTC T-Mobile G2 With ROM Manager
ROM Manager, a highly celebrated and useful app for rooted Android phone users, is now compatible with T-Mobile G2. Koush, senior XDA member and author of this fantastic tool, has now made his app compatible with T-Mobile G2 and we think it should work with HTC Desire Z as well. After gaining permanent root for the device, it's only a matter of time that you will be needing the ROM Manager to install custom ROMs and booting into recovery mode.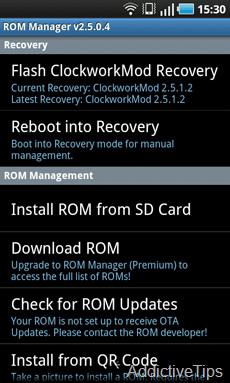 Here is the step by step guide on installing / flashing ClockWorkMod Recovery Image on your HTC T-Mobile G2:
The first step is to connect your phone over Wi-Fi to the internet.
Now attain root on your phone by following the guide posted here.
Once you have root, go to market and download ROM Manager. Simply search for ROM Manager and download from the search results.
Once done, launch ROM Manager and tap the first option that says "Flash ClockworkMod Recovery".
Confirm the phone model as G2 in the model confirmation prompt.
Now wait for the recovery to flash / install. Please do not close the ROM Manager while recovery is being installed and keep your phone connected to the Internet over Wi-Fi.
Once the recovery is installed, tap on Reboot into Recovery.
And there you go! You will be booted into ClockworkMod Recovery. Please note that you will need to have permanent root on your G2 before flashing any custom ROMs. An easier permanent root method, probably a single click, is on it's way so stay tuned with us.