GO Launcher EX Gets Skinnable Analog/Flip Clock Widget [Android]
Another week, another GO Launcher EX update. This time, the GO Launcher Dev Team has released a clock widget for their home screen replacement app. Like all the other widgets, Clock GOWidget, too, is skinnable, though it seems to have a separate set of skins designed specifically for the widget. The Transparency GOWidget skin does not apply to it. The home screen widget comes in two forms – a 2×2 simple analog clock widget and a 4×2 MIUI-style flip clock widget. The former sports three built-in skins while the latter comes packed with two. Additional skins can be downloaded from the Android Market or from within the launcher itself.
To add the widget to your GO Launcher EX home screen, simply hold down on an empty space on the home screen and from within the context menu that appears, select GOWidget > Clock. To pick an alternate skin for a widget, long press on it and select Skin from its context menu. A few of the skins are set to change appearance with time. The default analog widget skin, for instance, turns a darker shade at around sundown.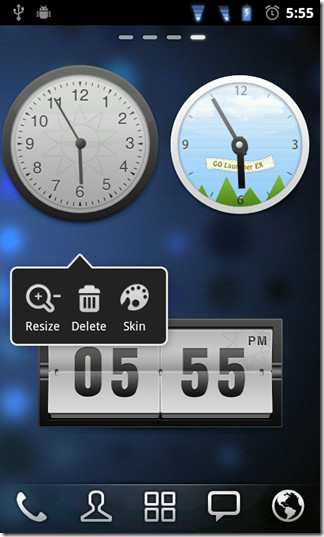 As always, the widgets look amazing, especially the flip clock variant. Lets hope the GO Launcher Dev Team continues its active development spree. GO Launcher is already one of the most feature-packed home screen replacements on the Market and at the rate its developers are going, it seems it won't be long before it is the undisputed head honcho of its genre.
Grab the widget now from the Android Market for free via the provided link.
Download Clock GOWidget For Android