How To Install CyanogenMod 7 RC3 On Google Nexus One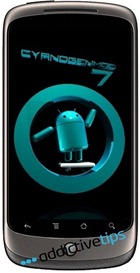 CyanogenMod 7 RC3 has just hit the Google Nexus One! CyanogenMod ROMs are known to be extremely lean and fast in the Android world, and the latest version of the CM7 boasting the 2.3 Gingerbread version of the Android OS is no exception. With CM7 RC3, the ROM seems to be developing fast, heading on towards being an entirely stable release. For more information, the download link and installation instructions, read on after the jump!
CyanogenMod is the most popular custom ROM for Android out there and here at AddictiveTips, it is one of our most favorite ROMs. For the past few months, the CyanogenMod team has been working on the Android 2.3 Gingerbread based CyanogenMod 7, and it seems it is nearing development. There are Release Candidate builds rolling out for several devices and this is the latest Release Candidate 3 build for our Nexus S. With release candidate 3, we are expecting and hoping a final release pretty soon.
Want to get on with installing this ROM on your device? Here are the instructions.
Disclaimer: Please follow this guide at your own risk. AddictiveTips will not be liable if your device gets damaged or bricked during the process.
Requirements:
Instructions:
To begin, download the ROM from the link given above, and copy its zip file to the sd card of your Nexus One.
Optionally, also download the Google Apps package and copy it to your phone's sd card as well. This is required if you want Google's apps like Market, Gmail etc. on your phone.
Reboot your phone into recovery.
Perform a backup from 'backup & restore', in case something goes wrong and you need to revert to your current ROM.
Perform a 'wipe data/factory reset'. If you currently have the CM7 RC2 build, installed, skip this step. All your data will be retained.
Next, wipe cache.
Go to 'advanced' and wipe dalvik cache.
Get back to main recovery menu.
Go to 'install zip from sdcard'.
Select 'choose zip from sdcard' and choose the ROM's zip file that you copied to your phone's SD card in step 1.
Optionally, repeat the previous two steps for Google Apps zip file that you copied to your phone's SD card in step 2.
Once the installation is finished, reboot your phone.
You should now have CyanogenMod 7 RC3 running on your Nexus One. For future updates and any queries regarding the ROM, visit the forum thread at CyanogenMod (thread not available anymore).