How To Restore Recently Closed Tabs In Safari For iOS 5
The choice for a web browser is a bone of contention across all platforms and among a variety of users. Some prefer browsers that are fast, while others go for a convenient interface. No matter which camp you belong to, if you are on iOS, there is no way of avoiding Safari. Even if you use a third-party browser, usually other apps still open links in Safari by default, bringing you back to it again and again. So, getting the most out of Safari is absolutely essential. With iOS 5, the browser has got some enhancements too, not the least of which is tabbed browsing for the iPad version. Now, tabbed browsing is extremely handy and all, but what do you do if you accidentally close a tab while a bunch of them are opened? In most desktop web browsers, there are usually keyboard shortcuts for restoring accidentally closed tabs. Since I use Google Chrome, I am aware that you can restore tabs in Google's web browser simply by pressing Ctrl+Shift +T. Amazingly, there is just such an option hidden somewhere in Safari too, and you don't even need to have a jailbroken iDevice in order to apply it.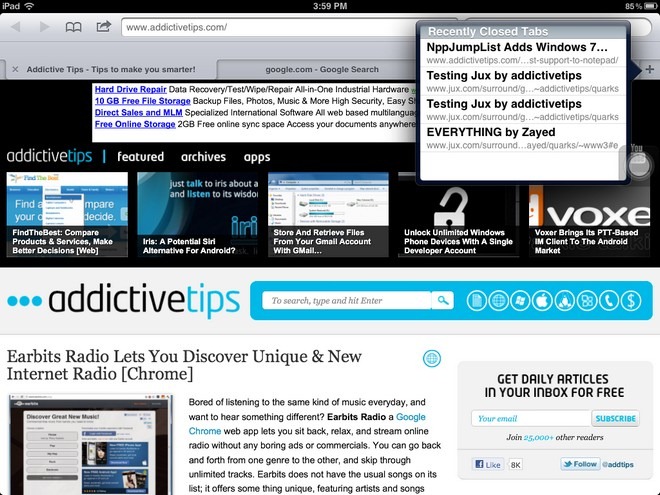 As just discussed, you will not need any tweak or third-parry app in order to restore closed tabs in Safari. It is a feature that has been there all along, it's just that not a lot of people have known about it. This post is all about highlighting a feature in iOS 5 which is easy to miss, but really useful. So, enough with all the melodramas, all you need to do to restore accidentally closed tabs is to tap and hold the + button in the iPad's tab menu. When tapped, this button adds a new tab to the opened list, but long pressing it displays a bubble containing all recently closed tabs. This is pretty similar to the way history is displayed in a lot of web browser (long-pressing on the back or forward buttons), with the only difference being that you are pressing the new tab button in place of some other area of the app.
There are a lot of alternatives to Safari available in the App Store, but every once in a while some awesome nugget of information comes to light regarding Apple's official mobile browser (like the one we just discussed), and that is what helps in maintaining Safari's popularity among iOS users.