How To Root Toshiba Folio 100 Android Tablet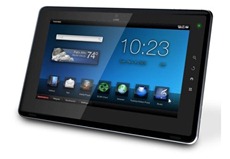 Toshiba Folio 100 is one of the several Android tablets that surfaced last year. Coming from a manufacturer with a reputation of making high quality devices, this tablet is quite promising when it comes to hardware and you can now gain root access on the device to customize it beyond what the default Android 2.2 FroYo installation allows.
The default Android 2.2 FroYo that comes installed on this tablet is a version customized by Toshiba with several limitations added to it. This includes no access to Android Market as the Market versions available at the time of the launch of the device did not scale well on high resolution devices. Fortunately, customized versions of Market have later surfaced in the development community but installing them requires root access as Market is a system app. Apart from this, several customized versions of Android itself have been made available for the device but installing them also requires rooting your device first.
Fortunately, Toshiba Folio 100 can be rooted by universal Android rooting tools such as SuperOneClick. There is a problem however – these tools often require the use of ADB and getting ADB to recognize the device requires editing the driver files. Don't let it intimidate you though, as we are here to guide you through the entire process step by step.
Disclaimer: Please follow this guide at your own risk. AddictiveTips will not be liable if your device gets damaged or bricked during the process.
If you have gone through the reasons and are ready to root your device, simply follow these steps:
Follow our guide on how to enable ADB USB drivers for Nvidia Tegra based Android tablets.
Download SuperOneClick from the link given below, and extract the contents of the zip file.
Connect your tablet to your computer via USB and make sure you do not mount storage.
On your tablet, go to Settings > Applications > Development and enable 'USB Debugging'. In case it was already enabled from step 1, disable it and enable it again.
Now launch 'SuperOneClick' from the files extracted in step 2.
Stay on the 'Universal' tab and click the 'Root' button. Simply wait till the process finishes and you're done – your device should now be rooted.
In case it does not work for you this way, try this:

From your device, turn USB debugging off.
In SuperOneClick on yoru computer, click 'Root'.
When you see 'Waiting for Device, Turn USB Debugging ON' in the progress area of SuperOneClick, enable USB debugging on your device again.
When it SuperOneClick says 'Starting ADB Server…', quickly turn USB debugging OFF, then back ON, then back OFF before it says 'Waiting for device…' again, and this should do it.

If it still does not work for you, try to change the 'Exploit:' option in SuperOneClick to 'rageagainstthecage' from the default selected 'psneuter' and repeat step 6 and if required, step 7.
This should root your device. Now that you have rooted your tablet, you can install a custom ROM or recovery on it or flash Google Apps to it if it didn't come with those preinstalled.