How To: Flash Samsung Galaxy i5700 To Firmware 2.1
This is a step-by-step guide to flashing Samsung's budget Android device, Galaxy Spica i5700, to the current 2.1 firmware. Samsung has official announced and launched support for firmware 2.1 in various regions, and if it is available in yours, you can update through the Samsung PC Studio. And here is the catch.
We all know that Samsung loves their PC Studio, but it seems their love for Android-based devices has lessened. Samsung has two official software that can connect your PC with the device, New PC Studio (NPS) and Kies. Unfortunately, neither of these actually connect to the device, especially not on Firmware 1.5 anyway. So here is the unofficial way to get to the delicious Eclair firmware.
This guide has been tested only on Windows 7. However, it should theoretically work on other versions as well. 64-bit Windows is not supported.
Note: Please use this guide at your own risk. While it worked perfectly for me and a friend, it may not for you. Hence I or AddictiveTips are not responsible for any bricked/damaged devices.
You will need:
The firmware.
Odin Multiloader for Android and Spica OPS file. Download here.
Please note that you need to use spica_jc3

.

ops file for firmwares upwards of I5700XXJBA.
Drivers for i5700: These will be installed automatically via the Kies application.
Samsung USB Cable
One Samsung Galaxy Spica i5700
Before starting, make sure that you have:
Backed up your data
Removed any SIM lock
Extracted all the files listed above in some convenient location (do not extract the .tar files inside the firmware)
Fully charged battery on your phone
The steps ahead assume that you have successfully installed Kies from Samsung, and that your drivers are in place as shown below.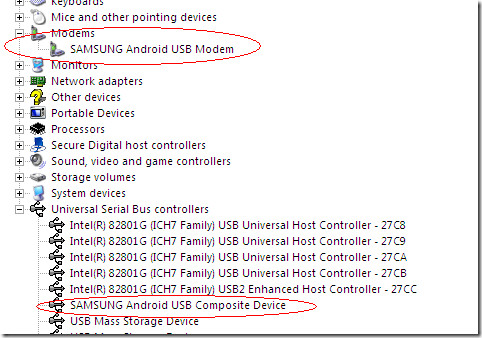 Close any services that are using the USB port for Samsung, including Kies and NPS. Make sure no background connection monitor is running either.
Do a hard-reset of your device by entering *2767*3855# on the virtual dialpad.
Now you're set for the flashing process.
Flashing the Device
Turn off the phone, remove SIM and SD Card.
Turn on the phone again by pressing and holding the Volume Down key, the Camera button and the Power button. This will put the phone in Download Mode.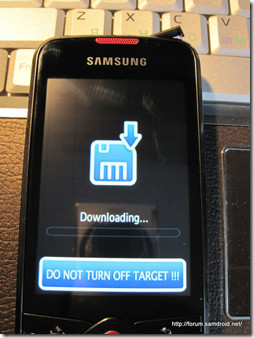 Image credit: Samdroid
Now connect the phone with PC using USB cable. It will begin installing drivers. If Kies had been installed properly, the driver installation should go smoothly and you should get working Samsung USB Modem and Samsung USB Composite Device in your device manager.
Ensure that the drivers have actually been correctly installed.
In the next step, I would recommend unplugging the device from the USB cable. Now launch Odin Multi Downloader v4.03.exe with administrative privileges. Connect back the device. You should see a COM port number with yellow background, and the message box showing 'Detected'.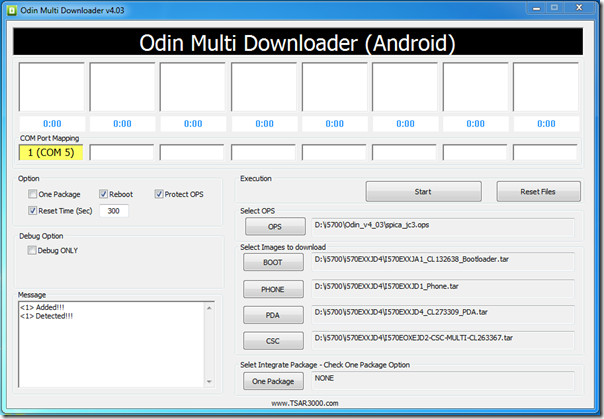 Select the files as shown in the screenshot above. Load corresponding files correctly as this is of crucial importance. Also, if you are running some firmware which has only one .tar file, select 'One Package' under Options and load that file in One Package. Leave others blank (but you still need to load the Spica OPS file)
If all has been well, click Start and the download process will begin. The phone MUST NOT BE DISCONNECTED during this.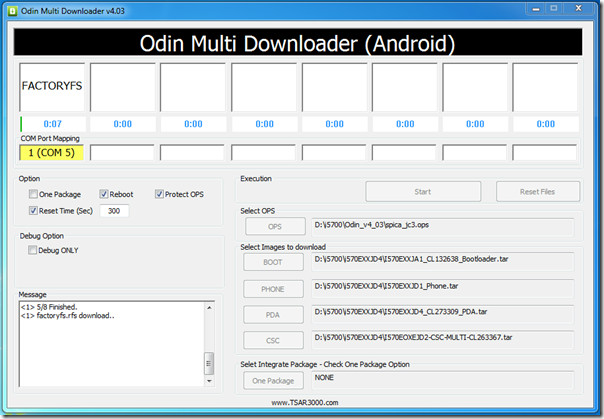 In almost 2-3 minutes, the message window will prompt <1> Close serial port and wait until rebooting. This is the signal that flashing is complete, and the device will automatically reboot.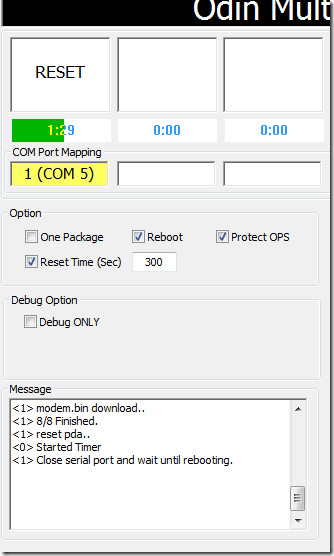 Wait for the process to finish, although the actual part has been done. The window shown below will appear.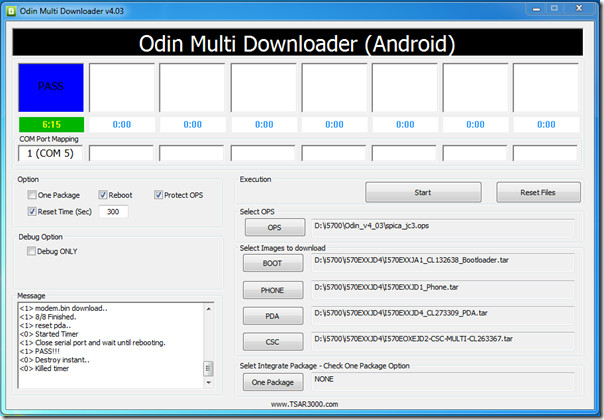 That's it. You're done. Unplug the device and cherish the tastiness of Android OS 2.1 Eclair.
Questions/Concerns/Feedback is eagerly appreciated.
UPDATE: If you are looking to root your Spica, check out our rooting guide here.