Install Alternate Keyboard Apps On Nook Tablet [How To]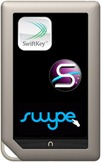 Both, the Nook Tablet and Kindle Fire came out rivaling each other and both were rooted almost a few days into their release. That said, both suffer from the same issue, that is refusal on the tablets part to allow the installation of third party keyboard apps. Earlier we covered the installation of alternate keyboards on the Kindle Fire, but the Nook Tablet has not been left behind either, thanks to XDA-Developers forum member Robertely, who has devised a method to help you get your keyboard apps up and running on the Nook Tablet. Credit also goes to yaggermr and XIndirect.
The method involved was basically written for the Hacker Keyboard app, but apparently works for SwiftKey as well. This could possibly work for other keyboards as well, but according to Robertely some more files may have to be moved around for those apps. Swype is one example. For such keyboards, we advise you to head over to the forum thread at XDA-Developers and scan the thread posts as users are discussing their issues and problems related to different keyboard types.
Images below courtesy of Robertely.
Disclaimer: Please follow this guide at your own risk. AddictiveTips will not be liable if your device gets damaged or bricked during the process.
Requirements:
A rooted Nook Tablet. See our guide on rooting the Nook Tablet.
Google apps installed. See our guide on installing Google Apps on the Nook Tablet.
Anycut apk.
Hacker Keyboard apk. (Do not install from package or Market.) If you want to use another keyboard, do not install from Market.
ES File Explorer or Root Explorer.
Any alternate Launcher installed.
Instructions:
Download the keyboard apk and Anycut apk file, and copy them to the root of your SD card.
Install Anycut and run the app to Create a New Shortcut.
Tap Activity > Android Keyboard Debug.
Create another shortcut for Accessibility and Debug settings.
Return to your Home screen and open Android Keyboard Debug.
Enable Debug mode and click Back.
Using Root Explorer or ES File Explorer navigate to root of your SD card and copy the keyboard apk.
Now navigate to /system/app and mount the directory as R/W.
Paste the apk file here and change the permissions to 777. (Check all the boxes.)(These permissons work incase of the Hacker Keyboard).
Once copied, revert access to R/O and exit the explorer, proceeding to reboot the device.
Run the Accessibility shortcut you created earlier.
Tap Input Method to select your new keyboard.
[via xda-developers]