Install Any HTC Desire HD ROM On AT&T HTC Inspire 4G (Sound Fix Included)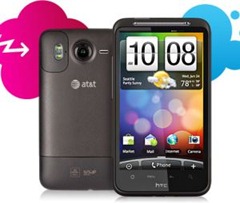 Despite getting released just a few days ago, the HTC Inspire 4G – which is essentially an AT&T version of HTC Desire HD with some minor changes – is getting quite some development already! It has been rooted and has got some custom ROMs for it already and now you can even flash pretty much any HTC Desire HD ROM to this Android device and fix the no sound issue with a quick hack afterwards.
Before we proceed with the guide, first a little backstory. AT&T who are notorious for not even letting their users side-load apps on their Android phones, and HTC who are known for protecting the bootloaders of their devices, have tried their best to lock down the Inspire 4G in a way that it wouldn't support the Desire HD ROMs and rooting using the standard methods. Despite all that, the amazing minds at XDA-Developers forums have rendered all this security-through-obscurity void simply by using the European Desire HD ROM with first the Telus Desire HD kernel and now a custom kernel to circumvent all these protections, effectively turning the phone into a Desire HD in terms of software and making most of the custom developed ROMS for Desire HD available for it.
This hack was shared with us by XDA-Developers forum member r34p3rex who previously made video guides for getting root, SIM-unlock and S-OFF on the device as well as installing a custom ROM to it. It lets you flash practically any HTC Desire HD ROM to your Inspire 4G without having to worry about the sound issue, and once you're done installing the ROM, it guides you through the process of fixing the sound issue in a few quick steps.
Update: r34p3rex has uploaded an excellent video of this guide and we are embedding it here for you to refer to for a demonstration of what you are about to do.
Disclaimer: Please follow this guide at your own risk. AddictiveTips will not be liable if your device gets damaged or bricked during the process.
We can NOT guarantee that every HTC Desire HD ROM will work with your AT&T Inspire 4G.
Requirements:
Fully rooted AT&T HTC Inspire 4G. See our guide on how to permanently root Inspire 4G.
Any HTC Desire HD custom ROM of your choice that is flashable from recovery.Note that not all Desire HD ROMs will work but most should. You can find the ROMS confirmed to work with the Inspire 4G at the Inspire 4G Android Development section and most Desire HD ROMS at the Desire HD Android Development section of XDA-Developers forums.
Also note that in our permanent rooting guide, we flashed ClockworkMod Recovery 2.* which doesn't support Gingerbread based ROMs. If you want to install one of those ROMs, you must flash ClockworkMod Recovery 3.* from ROM Manager instead.
AT&T HTC Inspire 4G Audio Fix by r34p3rex.
Procedure:
Flash the ROM to your phone from recovery but make sure to take a nandroid backup first, followed by wiping data, cache & Dalvik cache.
Reboot your device into Android and after a few minutes, reboot it back into recovery.
Now flash the Inspire 4G Audio Fix zip file from recovery. There's no need to wipe data before this one but taking a nandroid backup and wiping cache as well as Dalvik cache is a good idea.
Copy PropEditor.apk to your Inspire 4G and install it to your phone by tapping on the APK file.
Launch Prop Editor on your phone, tap 'Open *.prop file' and select the '/build.prop' file.
Find the line that says 'htc.audio.hac.enable=0' and change it to 'htc.audio.hac.enable=1'.
Press the Menu button and tap 'Save'. Prop Editor will tell you to reboot for changes to take effect.
Reboot your phone and you're done!
You should now be able to run HTC Desire HD ROMs on your Inspire 4G without the sound problem. For updates, help with issues or bug reports, head over to the XDA-Developers forum thread.