Install Apps To Unlocked Windows Phone 7 With Tom XAP Installer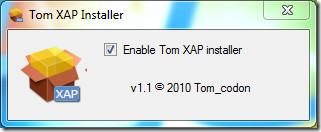 Got an unlocked Windows Phone 7 device and tired of having to use the SDK or some complex method to sideload apps from XAP files to your phone? We've got some great news for you! If you have unlocked your Windows Phone 7 device using our previously mentioned ChevronWP7 or are using one of the already unlocked developer devices, you now can install custom apps to your phone directly and very easily from your computer using Tom XAP Installer. Excited? Can't wait to try it out? Read on after the break for more details, the download link and the installation instructions.
Most of us coming from a Windows Mobile background are used to installing apps on our smartphones directly by running .CAB installation files. It can be done similarly on Android as well, using .APK files, after enabling sideloading from the settings. And not to forget, we have always been installing apps on our computers by running their installer files too. That's why when Microsoft decided to disable app sideloading on Windows Phone 7, many of us were upset and started looking for ways to unlock our devices to be able to sideload apps to them.
While unlocking did enable sideloading, the process to do so wasn't as simple as running the installer file on your device, primarily because a file explorer with sideloading support is required for the purpose, and Windows Phone 7 devices don't have any such file explorer available by default or through the official Marketplace. Therefore, to even install a third-party file explorer or any other app from its XAP file to your unlocked WP7 device, you had to use the Windows Phone 7 SDK's command-line app sideloading features. Something had to be done, and the result was Tom XAP Installer.
Tom XAP Installer has been developed by XDA-Developers forum member tom_codon and lets you easily install custom apps to your unlocked phone by directly double-clicking them on your computer while your phone is connected to it. It also allows you to select whether to install them to your phone or to Windows Phone 7 Emulator running on your PC.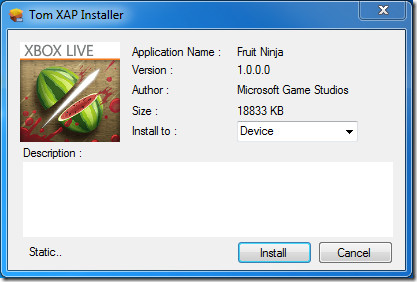 Unfortunately, using Tom XAP Installer still requires that you have Windows Phone 7 SDK as well as Microsoft .NET Framework 4.0 already installed on your computer. Though it eliminates the process of directly using the SDK's tools yourself to be able to sideload apps. You can just install the SDK and then forget about it. We are providing the links for these two downloads as well below.
Using the tool is simple – just download it from the link below and run it once. From now onwards, all the XAP files on your computer will become associated with this tool and it will launch whenever you double click one of those files.
The tool has recently been updated to version 1.1 that fixes some problems users were experiencing when attempting to install games using the previous initial release.
Download Tom XAP Installer 1.1
Download Microsoft .NET Framework 4.0
Download Windows Phone 7 SDK