Install Modified 3e Recovery On Samsung Infuse 4G To Flash Unsigned Zip Files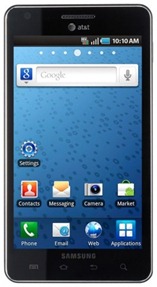 If you have owned any of Samsung's Galaxy S series devices, you would know what pain it was to install ClockworkMod recovery onto the devices running the 3e recovery. We say ClockworkMod because that is usually the step taken after rooting your Android Samsung device. However, any unsigned zip file, be it recovery or a ROM, cannot be installed via that recovery. The Infuse 4G is no exception since it also runs the much dreaded 3e recovery. Good news though, there's a modded version of the recovery available that lets you install unsigned zip files without any issues. More on how to install this modded recovery after the break.
The modded recovery was actually meant for the Samsung Captivate but as luck would have it, it seems to be working perfectly for the Infuse 4G as well. That said, there's even better news; once the modded recovery is installed, you can flash ClockworkMod recovery to the Infuse 4G. (Link given after the instruction set below)
Disclaimer: Please follow this guide at your own risk. AddictiveTips will not be liable if your device gets damaged or bricked during the process.
Requirements:
Rooted Samsung Infuse 4G. See our guide on rooting the Infuse 4G.
Any Root Explorer (To mount the system partition as RW.).
Instructions:
To begin, download the modified recovery from the link above and extract it anywhere on your computer to find a file named recovery.
That done, using a root explorer, mount your system partition as read/write.
Once the system partition is mounted, copy the recovery you extracted to /system/bin.
Reboot your device.
Voila! All done. Your device should now be running the modified 3e recovery. If you want, you can now install ClockworkMod recovery on the Infuse 4G by referring to this guide.