Movie360 For iPhone: Capture Videos With 13 Great Real-Time Effects
We all have a cameraman hidden somewhere inside us, who wants to capture the world from his own perspective. Some of us want to make a cool documentary about life on campus, others want to bring the local life under the spotlight, but with a good eye for detail, you also need an exceptional camera that will make your dream movie leave an impression on anybody who watches it. From the team behind Camera360 for iOS comes Movie360, an app that lets you record videos with thirteen amazing real-time effects, and up to a length of two hours per clip.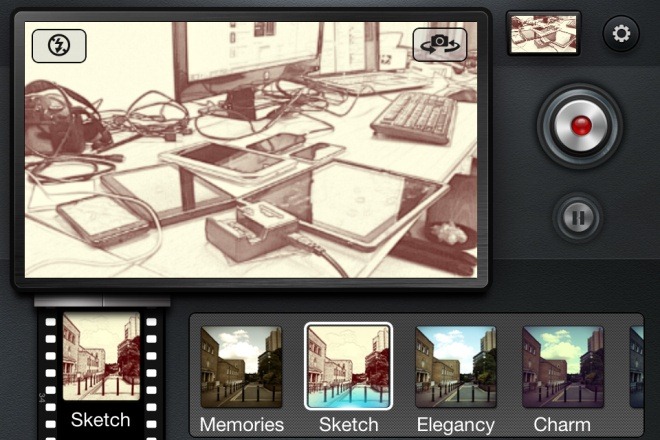 The app's interface is fluid and to-the-point. Select an effect from below and tap the record button to start shooting. The app allows you to switch to another effect in the middle of a recording. You don't even need to pause to switch effects. Like in the stock Camera app, you can switch between front and rear cameras and toggle the camera LED (that is, if your iDevice has one).
The app has a good-looking built-in 3D browser that allows you to play and delete your recorded videos or copy them to the Camera Roll. The app can record videos in three levels of quality.The video quality is set to Low by default. To switch to High or Medium quality, tap the settings button in the top-right corner of the app. The settings screen also lets you set the app to auto-save clips to Camera Roll.
At High quality, the app records videos at a resolution of 480×360, which is much lower than the highest resolution at which certain iDevices can capture videos, but the results of the applied effects are, nevertheless, impressive.
The app is available for free on the iTunes App Store and can be downloaded from the link provided below.