NCQuickDismiss: Quickly Dismiss Notification Center & Banners In iOS 5 [Cydia Tweak]
Let's face it, the revamped notifications and the new Notification Center are some of the best things that ever happened to iOS since multi-tasking. However, they can be a source of distraction for many of us too. If you – like a a lot of other iOS 5 users – find that the notification banners take too much time to fade away and are wishing to just hit a close button or something so you can get back to your movie, game or browser quickly, you are in luck, as long as your device is jailbroken on iOS 5. NCQuickDismiss is a Cydia tweak that will let you quickly dismiss the notification banner and the Notification Center without the need for swiping it back up.
Under normal operation in iOS 5 Notification Center, you can dismiss notifications for any app by tapping the close button first, and then the 'clear' button that it changes into. NCQuickDismiss simply removes the 'clear' button from the picture, meaning just tapping the close button will instantly dismiss all the notifications for that app. The tweak also adds a small cross (close) button at the bottom-right corner of the Notification Center. Hit that button and the Notification Center recedes instantly, meaning you no longer have to swipe it up to dismiss it. This also eliminates the swipe animation that you normally get when dismissing it.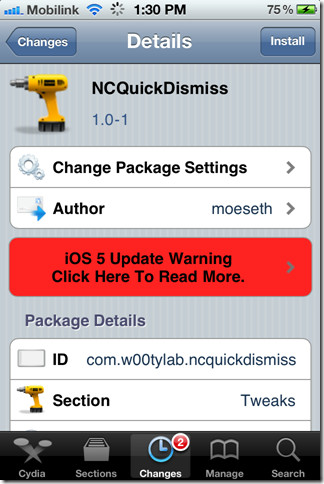 The tweak also lets you dismiss notification banners easily, by simply swiping them away towards the left or right, a page taken from the book of WebOS cards that could be flicked up or down to dismiss them. In true spirit of this hack, flicking the banners away shows no animations and is just instant dismissal, sparing you the few moments it takes for the eye candy to come in effect as well as the delay of having to wait for the banner to dismiss itself, and lets face it – while these days sound trivial under normal operation of the device, they can be quite annoying when you are doing something more immersive like playing a game or watching a movie on your phone, in which case any long visual distraction is highly undesired (especially so when playing a game).
You can install this tweak by looking for it within the BigBoss repository in the Sources section. Alternatively, you may search for NCQuickDismiss from within Cydia's Search section – no need to add any extra repository that isn't there in Cydia by dafault. After the installation, you may be asked to restart the Springboard, so make sure you do that. You will not find any settings for this tweak; all that it does is in place after you restart Springboard.