Samsung Galaxy S Pro Specs And Price
Samsung Galaxy S Pro is a high-end Android device by Samsung speculated to make it to the market shortly. Lately, its specs have been leaking at various blogs and online communities and are now finally being confirmed from multiple reputed sources. Samsung seems to be investing all its cell phone manufacturing energies in coming out with a device that will be able to give HTC EVO 4G and Nexus One a run for their money. To see the spec sheet and more information, continue reading.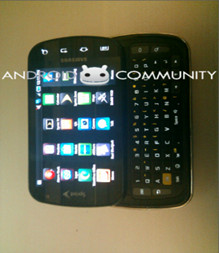 The reason why many Android enthusiasts don't like going with Samsung Android phones because it is difficult to root them and secondly OTA updates from SAMSUNG are either rare or simply don't happen. In addition, they aren't exactly known for their build quality, since Samsung seems to prefer cheap, light plastics over heavier and sturdier materials for the body. We're hoping all that changes as well, as Samsung releases its new flagship Android device – the Galaxy S Pro.
Here is the list of specs for Samsung Galaxy S Pro that have so far surfaced:
ARM Cortex 1.0 GHz Processor
Wi-FI
Bluetooth
5 Mega Pixel Rear Camera
512 MB RAM
AMOLED Touch Screen WIth 480 X 800 Resolution
HD 720p Video Recording
Spacious QWERTY Slider Keyboard
TouchWiz 3.0 Samsung UI
Android 2.1 Eclair OS
Front VGA Camera
DIVX, H.264 Video Playback Capability
As you can see, the device seems to carry cream of the crop hardware and with the full QWERTY slider keyboard, it's going to appeal to those most who need to do heavy texting. From the logo on the screen, we can easily see it's geared towards Sprint, though it may have variants making it to other carriers as well, possibly giving the HTC EVO 4G a tough time. There is no official word on the price of this phone but we can speculate this to be between $350 to $500 for fully unlocked, or between $100 and $200 with a carrier plan.
Picture Credit: Android community