StreamLife: View Your Facebook, Twitter Feeds & Call Log In One Place [Android]
The concept of aggregating your social network feeds, and posting to all of them from a single platform is not new to Android. Seesmic, TweetDeck, Social Jogger 2, Sendible, ZeroPC Cloud Navigator and ChannelCaster are just a few examples of apps based on said concept. However, what we hadn't seen so far was an app that combines your social media feeds with your call log until we came across StreamLife. With StreamLife, you get posts and notifications from your Facebook and Twitter accounts, and detailed history of all your phone calls displayed on a single screen. In addition, you can post to both social networks from within the app or through its nifty homescreen widget.
When launched, StreamLife prompts you to associate required accounts with the app, and select the default update interval (in minutes). From the same screen, you can enable/disable app notifications.
Once past that, you're taken to the app's homescreen, which presents all content from the linked accounts. If you only want to view posts from Facebook or Twitter, just your notifications or call history, simply swipe left or right across the screen. Tapping a post lets you explore, like, comment on, and reply (Twitter) to it from within the app.
Tapping the note icon at the top takes you to the app's messaging interface from where you can compose a new status update, attach an image, and post it to your Facebook and Twitter account simultaneously. Provided you want to post a message to your Facebook Wall, the app also lets you pick the desired groups with which you wish to share the post.
The app's homescreen widget lets you easily post a new status message, or take a look at your recent posts right from the homescreen. To install the widget to your homescreen, just navigate to the Widgets column from within the app drawer, and select StreamLife (for ICS users). Alternatively, you might long press a blank spot on your homescreen, choose Widgets from the context menu, and finally, select StreamLife to have the app's widget installed.
Update: StreamLife just got even better (and more complete in essence) with text message support being added to the mix. Now keep track of all your Facebook and Twitter feeds/notifications, phone calls and text messages in one place.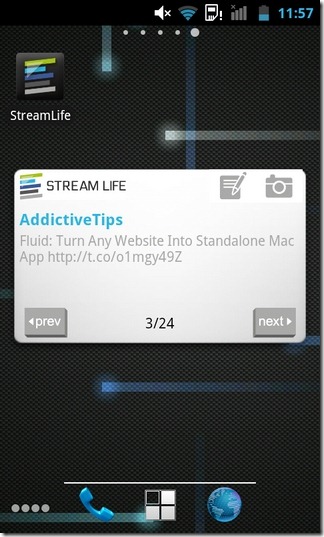 Download StreamLife for Android