Take Full Control Of Your Android Device via Web Browser
Previously we covered an article showing users how to turn their Android device into a local web server. You can place calls, check your call log, send SMS, email and use your device for development purpose. Now Webkey is an app which gives you complete control over your device from taking screenshots to managing SD card.
It will take less then a minute to configure after the installation is done on your Android device. Tap start service, and the URL will be provided with a username and password. If for some reason your cellular data is blocking the access, you can reach your server through androidwebkey.com. Make sure to check keep alive connection to androidwebkey.com from the app. Once opened in browser, you will have the following options – Phone, GPS, SMS, Call List, Notify, Export, Users, SD card, and Help.
On the bottom of the screen, all your main controls are available, i.e. home, back, call, end Call, volume up & down, menu, notifications, and media play / pause. If you feel like making a call directly from the browser, hit call and your call log will appear on the screen. The white area above these controls is your main search bar for your phone. Type anything and it will act as the search feature on the phone. If you hold your phone and open any application, the view on the screen would instantly change. That way you can take screenshots at any time possible.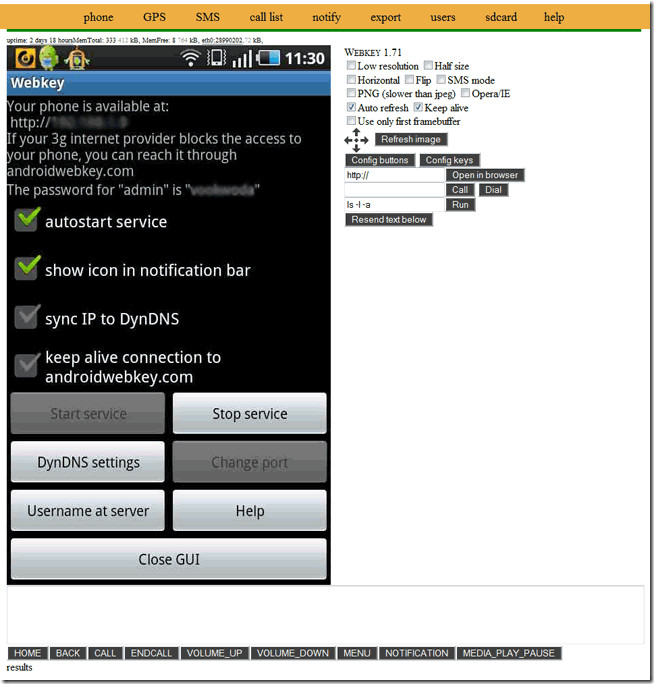 In GPS option, you can quickly gain access to your GPS and network location by clicking 'Show on Map', this will open and show information in Google Maps.
Moving on to the SMS options, user can send SMS directly from the browser. Select a phone number from the contacts or just add a new phone number and hit send. Sadly, the SMS section is still under development. Text messages could be sent but contacts and phone numbers couldn't be displayed on the screen when tested with both alive connections provided by the app. Call list shows log of all incoming and outgoing calls with date, time and duration.
Notifications can be adjusted in terms of triggered events. Be it for unread messages or missed calls, alerts can be set for certain minutes and phone vibration can be set with a certain sequence. LED blink can be set provided your device has a notification LED.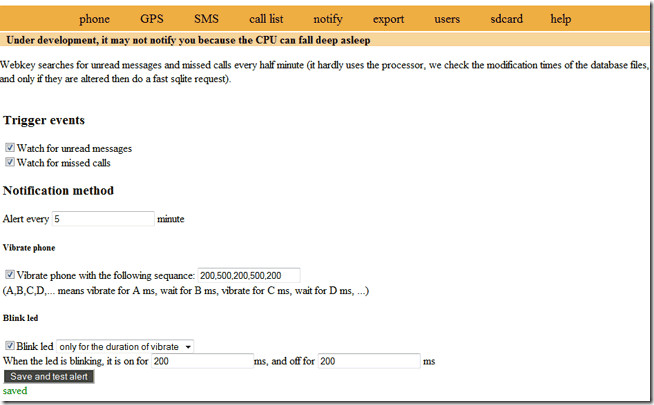 Export, like the name implies, allows users to export contacts, messages, and call list to plain text, csv, and xml file.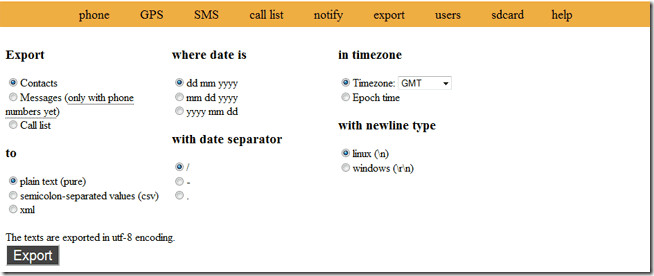 Users can be created to give access to this server for different purposes. Although, the first time you login a random password is generated with username 'admin', which can be seen on the main screen of the Webkey.

SD Card tab gives user full view of their contents with a number of options to manage data. Files can be displayed in terms of thumbs or list. User can upload files from their computer as well as create new files and directories. Basic editing options like rename, copy, move and delete are also available. Last but not least you can also download desired file or folder to your computer.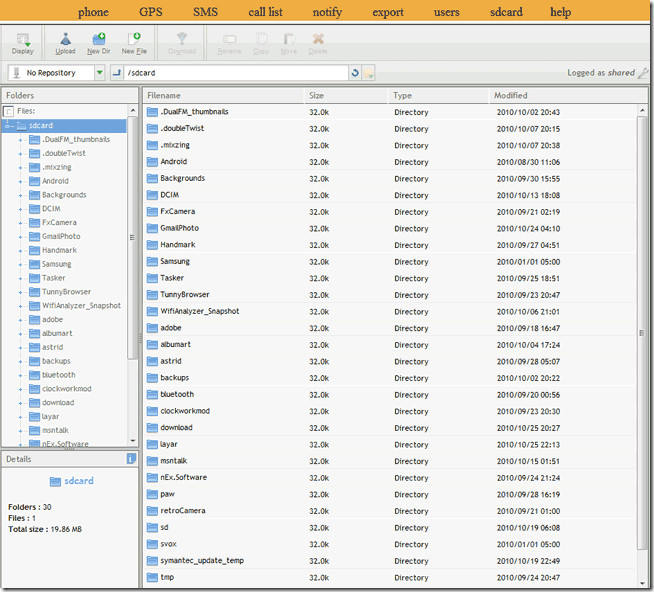 A simple free application for rooted Android devices. It is a full solution for anyone looking to control their phone from the browser with added features like export and full SD card manager.
Install Webkey from AppBrain or scan the QR code.