Turn Android Phone Into Local Web Server To Control It From Your PC
We at AddictiveTips love bringing to our readers all sort of apps and technical solutions that can help you with resolving and expediting your routine issues. Be it standalone apps meant to run on just an individual machine, or those intended to control a complete network. Therefore, as per the norms, let's get into more network based applications. Earlier we showed how to simply control your computer via Android device. It is simply awesome that the opposite can be done as well. Paw Server allows your phone to act as a server and everything you do from your phone can be done via your computer's browser i.e. using phone, SMS features, email and media. On top of all these basic features, your device can be used for development purpose as well as to test webpages, apps etc.
Once installation is complete, start PAW Server and it will give you a unique URL like most network applications. Connectivity is not a  big issue since it connects via WiFi or 3G. Simply enter the URL in your web browser and you're done.
Once in the browser, you will have a detailed screen with status icons located at the top right corner. In the left sidebar you will find tabs, such as, phone, SMS, email, media, fun, add-ons, system, server, development, information and session. Under the phone tab, you can dial a number, view your call log or find your device. From the SMS tab, you can view your inbox, outbox and send a message. Email tab will help you send an email, although it lacks the ability to view your inbox or outbox. The tab which I use most is the media tab, since it gives a quick access to all files and images (including those taken from build-in camera). Moreover, changing wallpaper, rescanning SD card, recording voice and text to speech conversion are some added features in this tab.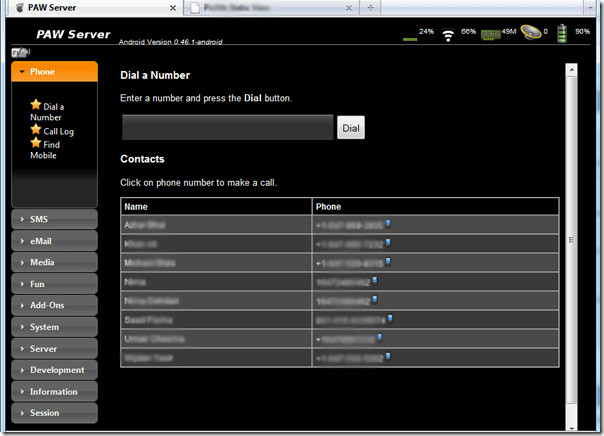 Moving on, the system tab allows you to have a look at the process list, installed apps, APK backup, volume adjustments and logs. APK backup is one of the most useful functions of this whole browser experience. You can backup all your APK's installed directly to your computer.
From the server tab, you can tweak basic settings for your device server, assign username and password, proxy and port settings, upload size and connection settings. So that your server becomes more secure and is only accessible by you.
For developers, it is a great tool with added BeanShell console and commands to test examples directly on your device.
Download PAW Server For Android