TeamViewer For iPhone/iPod Touch Launched [Review]
Remote desktop sharing and access are wonderful features for support, presentations, meetings, sharing, and if for nothing else, fun. Previously we covered top 5 remote access clients for Windows OS, including the wonderfully simple program, TeamViewer. While it's paid for commercial use, the personal edition is totally free without any limitations. Keeping up with their tradition, the TeamViewer team has launched an equally wonderful iPhone/iPod Touch application, which is again free for personal use.
Those of our readers who are unfamiliar with TeamViewer, it is a Windows/Mac application that allows remote access and control of your desktop through another PC. With the iPhone/iPod Touch app, this ability comes ported to the iDevice as well.
When you launch the application on your device for the first time, it will take some time starting up, during which the app would determine your internet connection availability, and present you with the connection interface.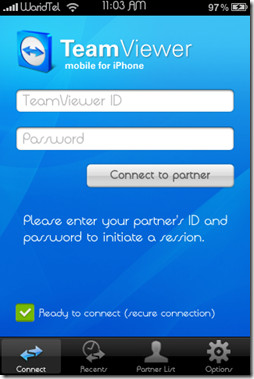 Just like on the TeamViewer desktop application, you need to enter your target PC's TeamViewer ID and password and tap Connect to partner. The connection will be authenticated and established, upon which the user is presented with quick instructions on using and navigating through the interface.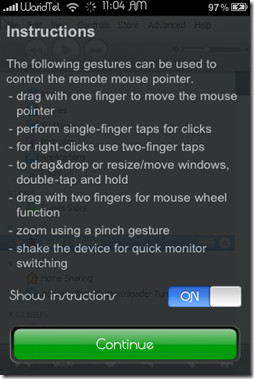 In order to navigate through the application interface, drag your finger across your iDevice screen. The mouse pointer will follow suit. Single clicks are recognized by tapping the screen with one finger, while right-clicks require two finger taps. Optionally, you may use the mouse icon near the edge of the screen for a right click. The application is remarkable at recognizing multi-touch taps for registering context-menu clicks. Zooming the view is standard iPhone style, i.e., pinch action. Drag and drop actions are also possible through tap and hold.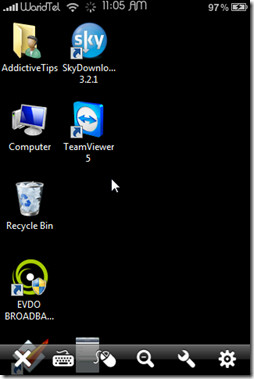 A little about the little icons at the bottom of the screen. The cross gives the option to close the current session. The keyboard icon opens the iPhone's on-screen keyboard for text input.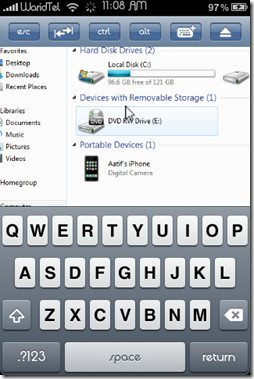 The mouse, as mentioned previously, performs the right-click function.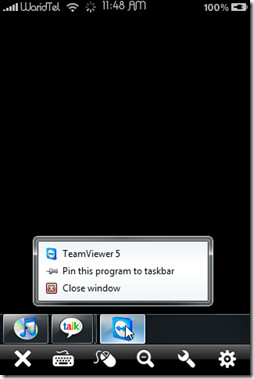 The magnifier icon toggles between two zoom levels; your current selection and maximum zoom-out. The spanner icon gives remote reboot and disable remote input options.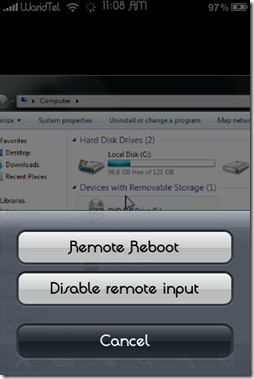 Finally, the last icon opens the settings pane for the application itself, where you have options like screen resolution, quality, displaying the remote wallpaper or not, showing the status bar etc. Tweaking these settings can increase the fluidity of your browsing experience and affect bandwidth consumption, which we will return to shortly. However, in our testing, we found the interface pretty responsive and smooth with the default settings, with no noticeable lags.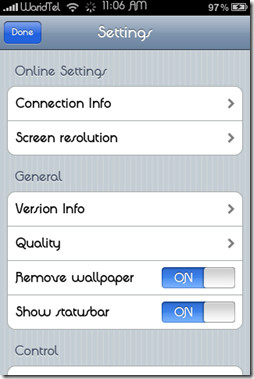 We also found TeamViewer for iPhone to be supporting, impressively, Windows 7 features like Aero-Peek, as you can see in the screenshot below.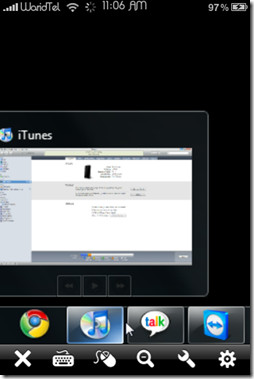 The application is generally very pleasing to work with, and offers no hindrances whatsoever in our experience. Check out some more of our screenshots below.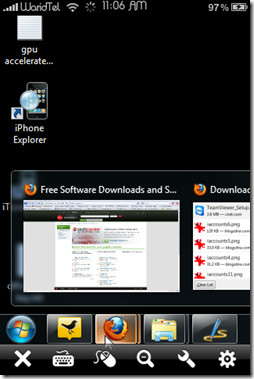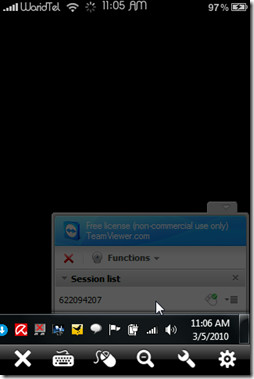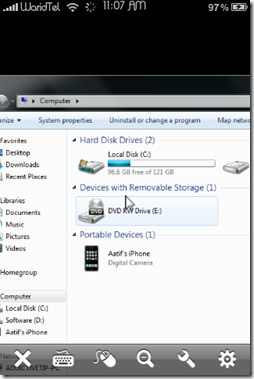 Conclusion: TeamViewer for iPhone is a wonderful application, and a must have if you want remote access to your PC or Mac from your iDevice. It is smooth, with nice feature set, and absolutely free for personal use. One thing to note would be the bandwidth consumption issue. Since the remote connection is established through internet, be sure to incur huge cellular data costs if you don't have an unlimited plan. In our experience, this application works best with WiFi. 3G should be fine, provided you have good reception, but with EDGE our guess is rather poor results due to much lower bandwidths offered by the EDGE protocol.
TeamViewer for iPhone works with iPod Touch and iPhone running OS 2.2.1 or later. The desktop application's free version is available for both PC and Mac.
Note: There is a paid version for commercial use available on the AppStore as well, which costs a hefty $99.99.