Liferea – Desktop RSS Feed Reader For Ubuntu Linux
We all use web-based feed readers, such as, Google Reader to manage our news feeds. But some users prefer using desktop applications for this very purpose. Unfortunately, there are not many desktop-based feed readers for Linux. An exception to this however, is Liferea, as it is a desktop feed reader for Linux based operating systems. It aggregates online news feeds by creating libraries for the added subscriptions. Liferea (Linux Feed Reader) has easy to use options for conveniently viewing and managing news feeds. With Liferea, you can import/export feeds as a single file, create and manage subscriptions in folders, view detailed subscription properties from right-click context menu, and refresh feed list with a single click.
After installation, Liferea can be launched from Applications –> Internet (in Ubuntu).
It comes with a few pre-subscribed feeds from Linux based blogs. A new feed can be added from the New Subscription button. Feeds can be marked as read, checked for updates and searched.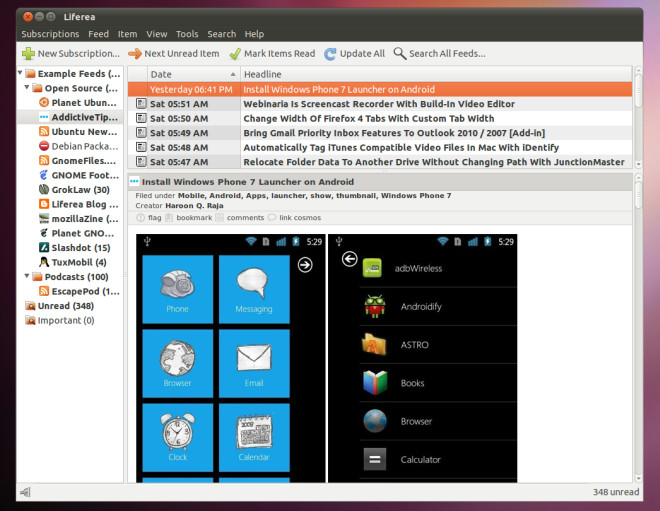 To add a new subscription, choose the appropriate option from the main interface, Subscriptions menu or by right-click context menu and enter the URL.
The Subscriptions menu provides options such as  mark as read, feed updating,  folder creation, adding a new subscription, importing / exporting feeds, etc. Whereas, the Feed and Item menu can be used to remove items and for toggling between feeds. The View menu can be used for changing feed text size and zooming content.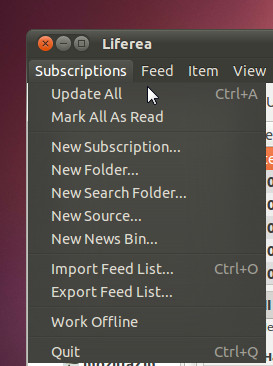 Feeds, folders, subscriptions, etc can also be managed from the right-click context menu. The properties of a feed including the source URL can be viewed and edited by right clicking on a feed and going to the Properties option.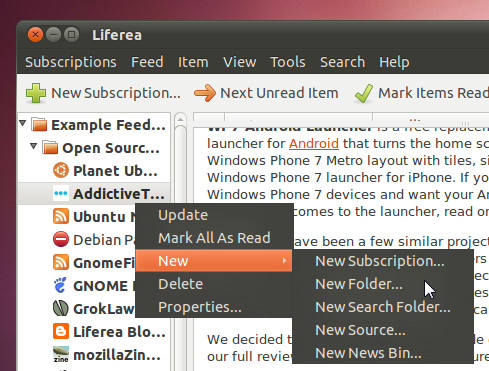 Liferea is a good desktop feed reader for GTK/Gnome based operating systems. It fills the void of a good desktop application for news feed management for Linux based operating systems.