Mount Virtual Disc Images In Ubuntu Linux With Furius ISO Mount
Mounting disc images to a virtual drive can help view the data without having to burn the image to disc. Most users prefer disc images in standard formats (such as ISO format) to avoid straining the lens of their optical drive, as running a game, movie, etc  from a CD/DVD drive reduces its life. But, it is not just disc image formats that need to be mounted for viewing their content, most Linux backup tools use the IMG format for creating system backups. Such a format can also be mounted using a disc image mounting application to read the data in image file without having to restore the complete backup.
Furius ISO Mount is a Linux application for mounting ISO, IMG, BIN, MDF and NRG Image files, allowing you to play games, watch movies and view backup files by simply accessing the image file. The application is available in Ubuntu repository. You can also download and install it using the following command in Terminal:
sudo apt-get install furiusisomount
Once installed, you can open any supported image file by selecting it via Browse. Just specify the file that want to open, and then click Mount.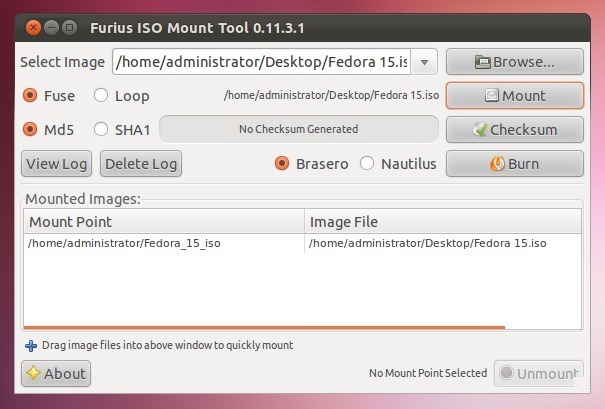 Apart from mounting disc images, you can check MD5 and SHA 1 checksums and burn ISO and IMG disc images to optical drives. While burning a disc image you can either use the Brasero back-end or select the Nautilus option. The application maintains a log file to analyze the issues and errors encountered while reading the content from the image. Clicking View Log will open the detailed log file to identify the issues.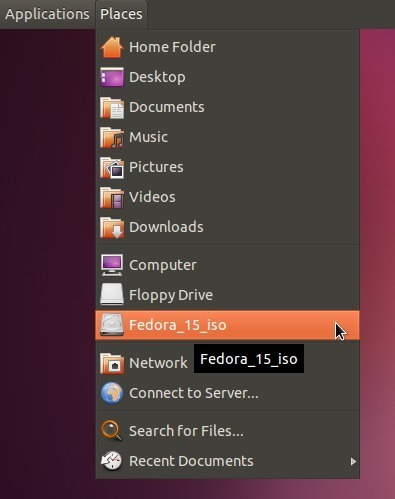 You can download the Deb and source package for Furius ISO Mount from Launchpad.