Remote Access Your System With TsClient VNCViewer In Ubuntu Linux
VNC(Virtual Network Computing) is a way to connect to remote computers. It works perfectly on Windows and Linux based systems. All you have to do is install the Vnc Server on the remote machine to which you are going to connect, then use any Vncviewer tool on your local machine and connect to the remote machine with it. You can find many vncviewer tools, Tsclient is one of them, which works perfectly fine in Ubuntu.
Open the terminal and run the following command to install it.
sudo apt-get install tsclient
Once the installation is complete, launch it from Applications > Internet > Terminal Sever Client. Once it is launched, enter the name of the computer or IP address, user name, password, and domain if needed. Finally click the Connect button and you are done.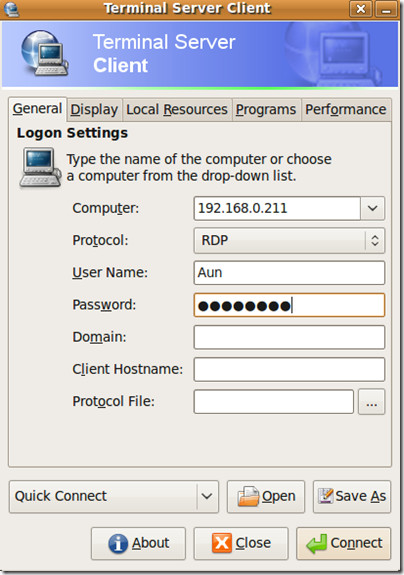 Now lets explore TsClient a little more, the Display tab lets you make necessary configuration regarding the size of the remote desktop window and also lets you choose different types of colors. Local Resource contains settings related to the Sound, Keyboard, and disk drive mapping.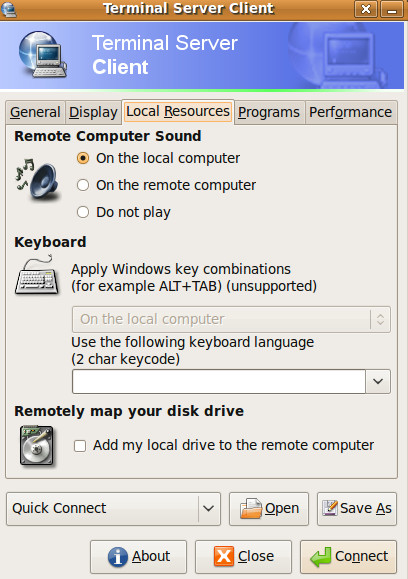 Programs tab let you make configure if you want to start any particular program on the startup of remote desktop session. Performance tab can really become handy if you are thinking to tweak the remote desktop session settings. Some other tools for the remote desktop are Logmein and Remote Desktop. Enjoy!