We are reader supported and may earn a commission when you buy through links on our site.
Learn more
Best Anonymous Chat Apps for Android and iOS of 2021
Regardless of whether you're on team iOS or Android, you don't want anyone snooping into chats intended to be anonymous. There are plenty of mobile apps which claim to be 100% secure and private, but only a few live up to the claim. We'll show you which ones you can trust, plus how to choose and use a VPN for true anonymity.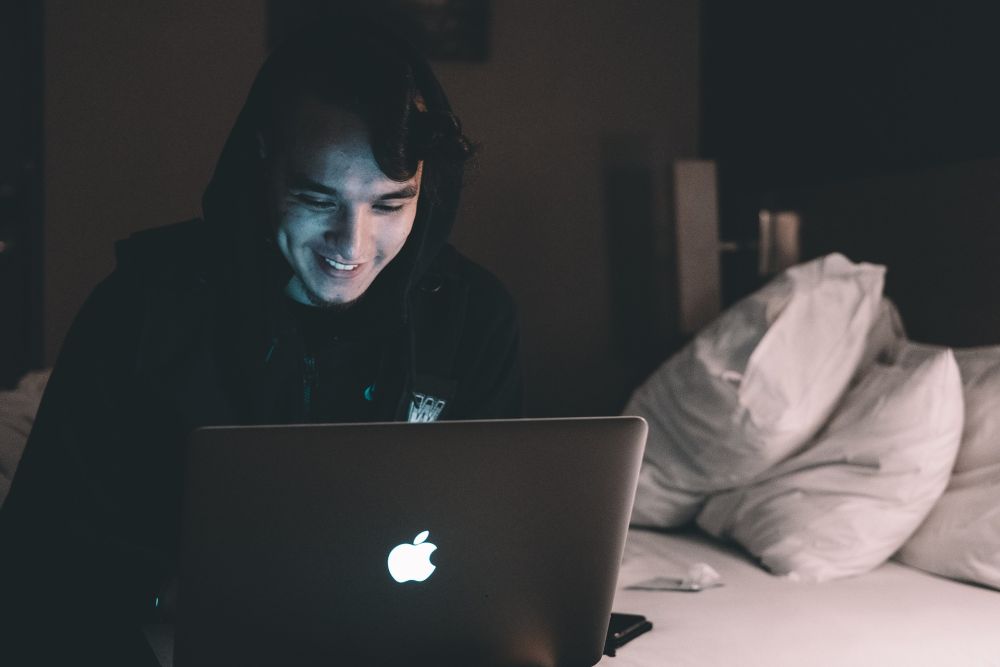 Online privacy is a growing concern for internet users around the world. With governments tracking and censoring citizens and ISPs monitoring chat and VoIP activity, it's difficult to communicate with friends and family without sacrificing your privacy. And once you consider chatting on mobile Android and iOS devices, the options for staying safe get pretty thin.
Before chatting online, install a VPN to guarantee your privacy and protection:
NordVPN – Best for Anonymous Chats – Don't rely solely on your chat app to secure your privacy online, guarantee it with the world's most trusted VPN, NordVPN. Tons of servers, anonymizing features, and zero bandwidth caps.
Surfshark – Highly responsive mobile apps with military-grade encryption and other top-shelf privacy features.
ExpressVPN – When call clarity is your number-one priority, go for the world's fastest VPN network.
CyberGhost – VPNs don't have to be difficult; simply pick the plain-language task you want to accomplish, then let your provider do the rest.
In recent years there has been a surge of anonymous chat apps for a variety of platforms. Not only do these let you meet random strangers, but they can be used to exchange messages without divulging your personal details. Below we take a look at some of the best anonymous chat apps for Android and iOS so you can have private conversations once again.
30-days money back guarantee
For True Privacy, Install a VPN Before Using Chat Apps
Just because you're using an anonymous chat app on your iPhone or Android phone doesn't mean you're safe. Data leaks are extremely common on smartphone devices, and they're also prime targets for hackers on unsecured public Wi-Fi. To keep you and all of your data safe, you need to deploy a reliable virtual private network on every one of your internet-connected devices.
VPNs create a safe tunnel between you and the internet, encrypting everything that leaves your computer or phone so that no one can tell what you're downloading or who you're talking to. They also provide added anonymity by removing identifying IP addresses from each packet of information and replacing them with anonymous addresses. With a VPN in place, your entire connection to the internet will be secure and private.
Choosing the best VPN to use with your Android or iOS device along with an anonymous chat app can be a difficult venture. There's a lot of information to research, and many services to select from! We've provided a few recommendations below to help keep you safe and sound no matter what.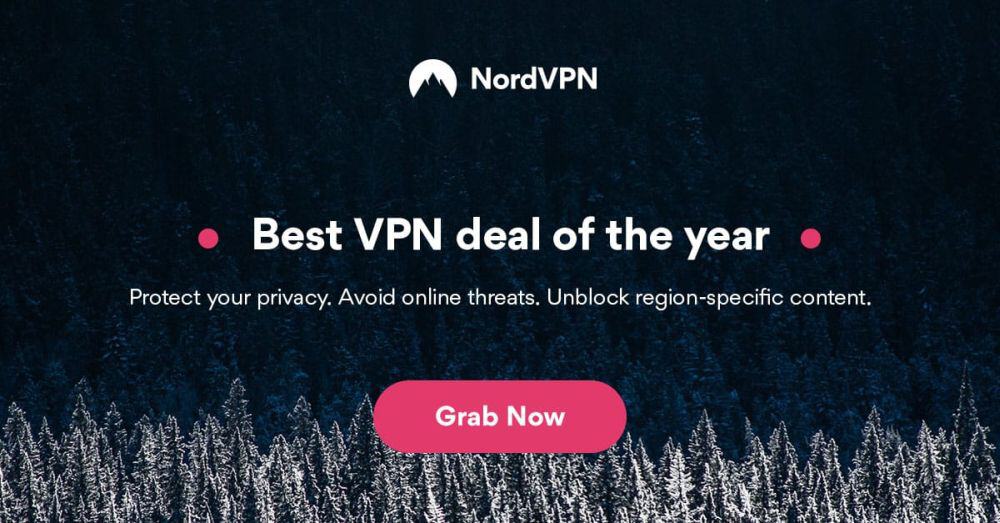 NordVPN has a well-known reputation in the VPN world for being one of the strongest services around. It also boasts a massive server network that includes over 5,400 nodes in 59 different location–dwarfing the majority of its competitors. This ensures you'll never have a hard time finding a fast connection, even if you live in a small town in the middle of nowhere. NordVPN also uses this network to deliver exclusive features like double encryption, onion over VPN routing, and DDoS protection.
NordVPN's tough security provisions are hard to beat. The company has a thorough zero-logging policy that covers bandwidth, traffic, time stamps, and DNS access, more areas than just about every other VPN service in the industry. You also get an automatic kill switch and DNS leak protection features for most devices, along with full 256-bit AES encryption on all data.
Read our full NordVPN review.
Pros
SPECIAL OFFER: 2-yr plan (68% off - link below)
Mind-boggling number of servers
2,048-bit SSL keys and DNS leak protection
Retains no metadata of your browsing
24/7 Chat Support.
Cons
Apps can be a bit cumbersome to use.

Surfshark installs easily onto Android, iOS, and Windows phones with dedicated, full-featured apps for each. You're not compromising anything relative to the desktop versions, either, so you're getting your full bang for buck.
Once installed, you'll find Surfshark's interface snappy and intuitive–clearly made for the modern user with limited time to waste fiddling with settings and searching through servers. That doesn't mean their network is slim-pickings, far from it. Surfshark offers 3200+ servers in 65 countries, enabling you to spoof into countries where your favorite anonymous chat isn't banned.
In terms of security, Surfshark locks down your connection with 256-AES-GCM encryption (the same used by the NSA), a kill switch, plus IP/DNS/WebRTC leak protection. Finally, this BVI-based provider never keeps logs of your activity, so chat in full peace of mind.
Pros
Robust servers blast through geoblocks to access your favorite streaming sites
Over 800 servers in 50 countries worldwide, and constantly growing
IP, DNS and WebRTC leak protection plus kill switch
Based in the British Virgin Islands, where there are no data retention laws
Support staff manned by actual human beings 24/7.
Cons
Growing network doesn't have same coverage as more mature VPNs
New-kid-on-the-block status may not instill same trust as larger providers.
Read our full Surfshark review.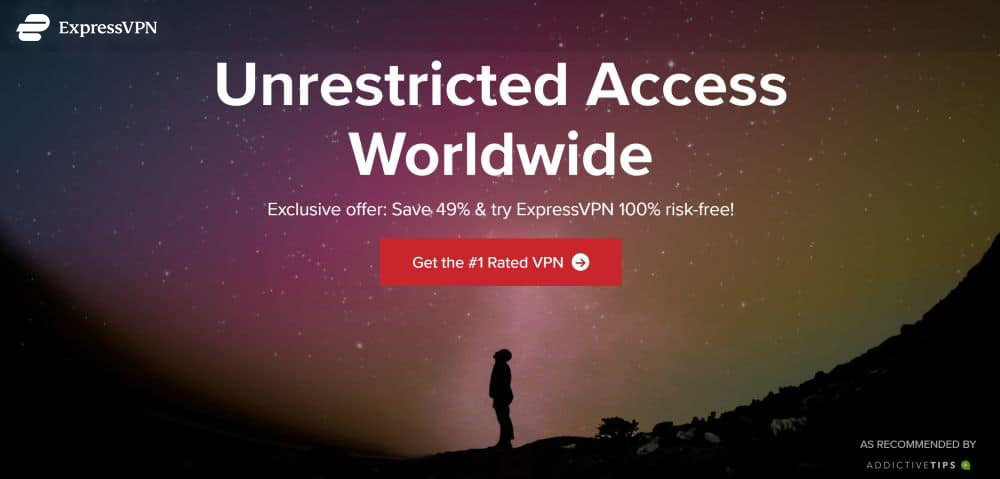 ExpressVPN is a fast VPN that packages all the best features to provide a smooth online experience. The apps are easy to use and work on a wide variety of devices, including Android and iOS. You also get access to 3,000+ servers that cover 94 countries around the world, allowing a new and unique private and anonymous IP address each time you connect. Some versions of ExpressVPN's software also offer a built-in speed test to verify your connection and find a faster server, so you never have to worry about slowdown or lag.
For privacy, ExpressVPN delivers 256-bit AES encryption on all data to keep information secure, along with a zero-logging policy on traffic, DNS requests, and IP addresses. ExpressVPN's software for multiple platforms also comes with DNS leak protection and an automatic kill switch to ensure your identity never escapes.
Read our full ExpressVPN review.
Pros
Unblocks Netflix and other streaming sites
3,000+ super fast servers
No DNS/IP leaks found
No personal information logs kept
24/7 Chat Support.
Cons
High cost for month-to-month users.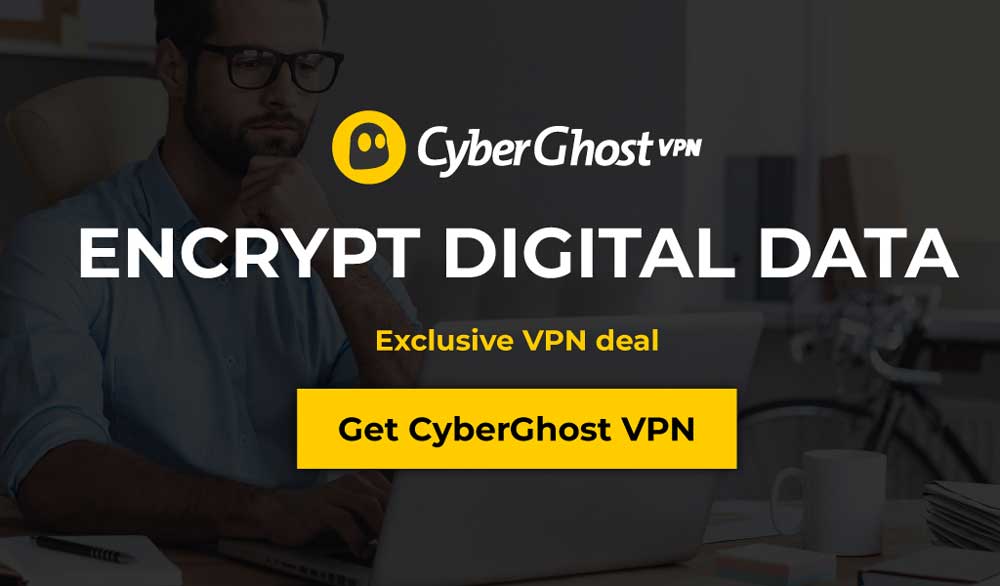 CyberGhost combines speed, security, and superb privacy features in one amazing package. The company runs an impressive network of over 5,900 servers, covering 90 countries for great connection speeds around the world. It also delivers 256-bit AES encryption on all data, a zero-logging policy on traffic, time stamps, and IP address, and both DNS leak protection and an automatic kill switch! With CyberGhost in the mix, you can keep your anonymous chats safe and private no matter what, and you'll never have to worry about sluggish internet speeds again.
Read our full CyberGhost review.
Pros
Unblocking Netflix, iPlayer, YouTube, Hulu
3,600+ servers in 55+ countries
No leaks detected
Strict no-logs policy
45-days 'No-hassle' money back guarante.
Cons
IPv6 WebRTC leak in macOS
Doesn't unblock all streaming services.
The Best Anonymous Chat Apps for Android and iOS
Got your smartphone set up with a VPN and ready to go? We've collected some of the best anonymous and random chat apps for mobile devices below. Each one allows you to talk with strangers, create secret meeting groups for friends, and even exchange pictures and videos, all in a safe, private and anonymous environment.
Moco (Android and iOS)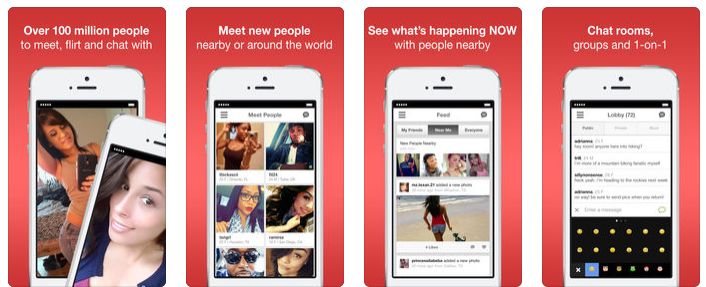 The internet allows us to talk with people around the world. Anonymous chat programs make it safe by keeping personal details out of the picture, allowing users to focus on conversations. Moco is one of the best socially-oriented anonymous chat apps for Android and iOS, all thanks to its focus building connections with strangers.
Moco lets you communicate anonymously with users around the world by sending text messages and images back and forth. Once you get comfortable with a new friend, you can even fire up social games such as MatchMe or FriendShop, just to kill a little time. If you want to add information about yourself Moco doesn't stop you, but by default it doesn't require your real details.
Chatous (Android and iOS)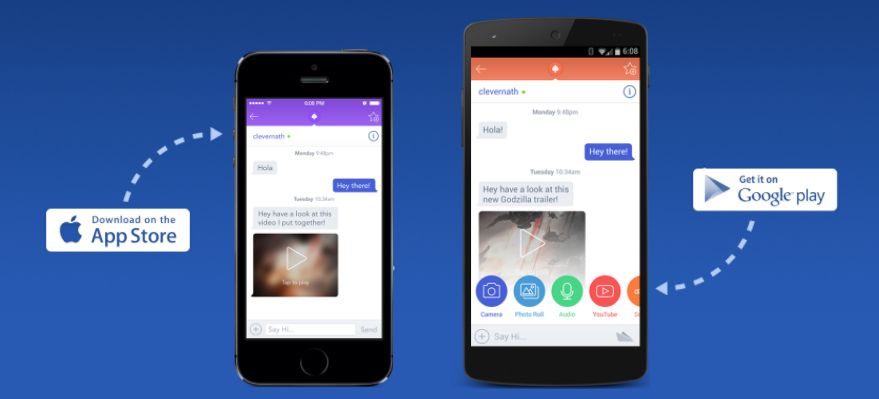 A simple anonymous chat app with a simple goal: let strangers interact with each other, no personal details required. Launch the software and you can quickly find someone to talk to by scanning themed rooms and hashtags. Conversations are private and anonymous, and they're deleted shortly after they're sent, preventing any kind of chat history from being created.
Chatous functions a lot like Omegle and Chatroulette but with a greater focus on swapping text, images, and videos. Content is completely unmonitored, so you never know what you'll find each time you join a Chatous room!
Scandal (Android and iOS)
Let's be honest. One of the reasons anonymous chat apps are so fun is because you can talk about anything with anyone. Share secrets, gossip about your friends, or talk about controversial topics without worry. Anonymity frees you to be yourself, a fact the Scandal app is fully aware of.
Scandal boasts an impressive 20 million users. No registration is required to use the app, nor is any personal data required to start having a conversation. Asynchronous group chats are also possible, so even if you don't find a live chat partner, conversations can still be had. To use Scandal, all you do is fire up the app and find people in your area who are ready to talk.
Connected2.me (Android and iOS)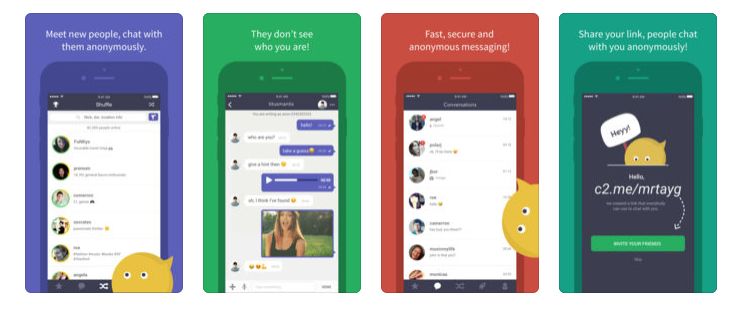 This fun and friendly anonymous messaging service takes elements from social media and combines them into a single app. Create a profile then access the main interface to look for people to chat with. You can include as much or as little information you like, making it easy to share details with people you get to know over time. The Connected2.me experience is all about staying safe while making new friends from around the world.
Meet Me (Android and iOS)

Meet Me started as a dating site, but over time it grew to embrace the random and semi-anonymous chats its users were enjoying. The service now has over 100 million users around the globe, all of whom love to sign in and talk about whatever's on their mind. There are some lingering social features such as profile views, gold stars, and admirer counters, along with a handful of web games you can engage in with your friends. Apart from that, this simple app lets you pick a random stranger and start chatting, all without sharing your private identity.
PepperChat (Android)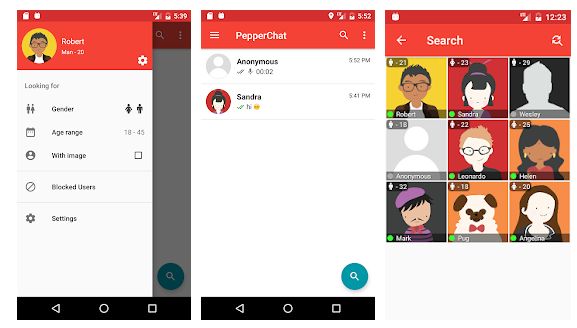 A straightforward anonymous chat program that includes only the basic features you need for private, secure, anonymous conversations. Profiles are not required to have any personal information, all you do is choose a chat partner and let the conversation begin. Messages are never stored on the app's servers for long periods of time. Only users over 18 years of age can use the app, and inappropriate or offensive content is not allowed.
AntiChat (iOS)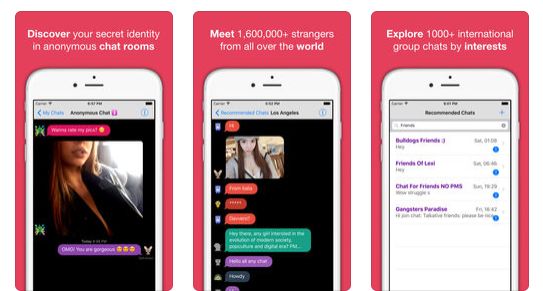 What a name for an anonymous chat app, right? AntiChat was built from the ground up to allow users to talk with strangers with full anonymity. The service boasts over 1.6 million users around the world, and it keeps things private by not requiring personal information and deleting messages shortly after they're sent. It's perfect for quick-fire chats with strangers, or you can set things up to talk with a friend without divulging personal information.
AntiChat doesn't require an account to use, which makes it more anonymous than some other programs. There are also rooms set for different languages and desires, including dating-oriented chat rooms. The AntiChat team works hard to eliminate bots, as well, so you know you're talking to a real human each time you open the app.
Psst! Anonymous (Android)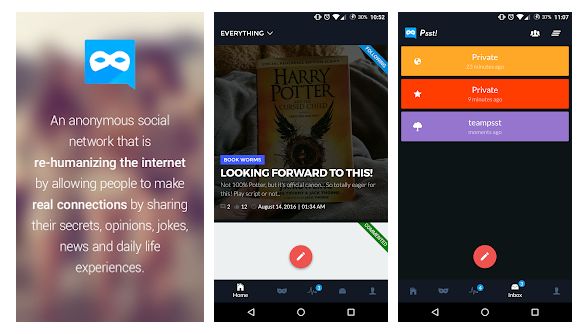 An aptly named chat program that has all the features you need to talk with random people and secure your personal communications. Psst! functions like an anonymous social network that lets you connect with other users with just a few taps. You can add friends, send photos, exchange files, and of course, swap text messages back and forth, all with full anonymity.
The interesting thing about Psst! is that it promotes community. By following members you can set up notifications to see when they post fresh content. It's a unique experience following someone you do not know and seeing random bits of their life pop up in your feed.
Psst! does not allow in-app screenshots and doesn't use your information for profit. Your e-mail is required for forgotten passwords, but that's it. All posts that appear on Psst! stay active for 48 hours and are then deleted forever.
Psst! is currently only available for Android, but an iOS version is said to be coming soon.
NoName (iOS)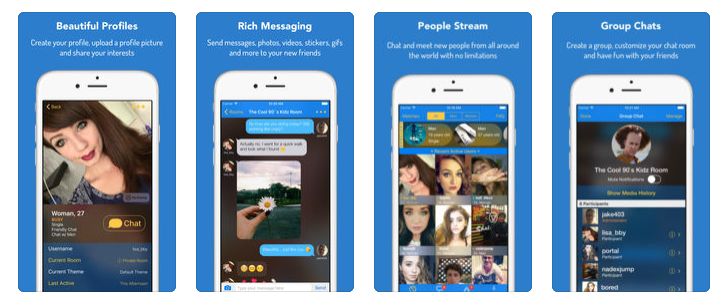 Another straightforward app with a simple design. NoName combines simple social networking features with anonymous conversations. Use it to meet new people, talk to friends in private, or just stave off boredom by finding a random chat partner and talking about the weather. Either way, you don't have to share any personal information to use NoName, so your details are safe and secure.
NoName lets you invite any number of people to chat. You can also share videos, photos, music, and of course text messages, all with convenient self-destructing features to prevent data from hanging around. This ensures your communications are as private as possible, freeing you up to talk about whatever you want.
Onymous (Android)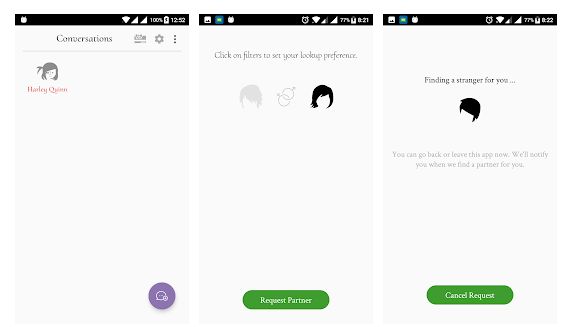 A newer anonymous chat app that focuses on randomness and security. Onymous lets you share text and video chats with strangers all by jumping on and rolling the virtual dice. You're paired with available chat partners based only on your preference: male, female, or either/or. Onymous then chooses a random online partner to pair you with, then the conversation begins. Best of all, Onymous secures all communications with HTTPS encryption and doesn't keep chat logs, so you know your conversations are private.
Conclusion
As you can see, it's not difficult to find a reliable anonymous chat app for Android or iOS. Dozens of services are out there ready to provide you with safe and private rooms to discuss politics, share opinions, or just chat about random stuff. You can even swap pictures and videos once you get to know your new friends!
Got any crazy anonymous chat stories you'd like to share? Is there an app you think should be included in our list? Tell us all about it in the comments below!