We are reader supported and may earn a commission when you buy through links on our site.
Learn more
Best VPN for Twitch Streaming in 2021 – How to Live Stream?
If you've been searching for the best VPNs for Twitch, this page is for you. We'll cover everything you need to know about using a VPN while streaming with Twitch, how to choose a great provider, and present our top recommended Twitch VPNs.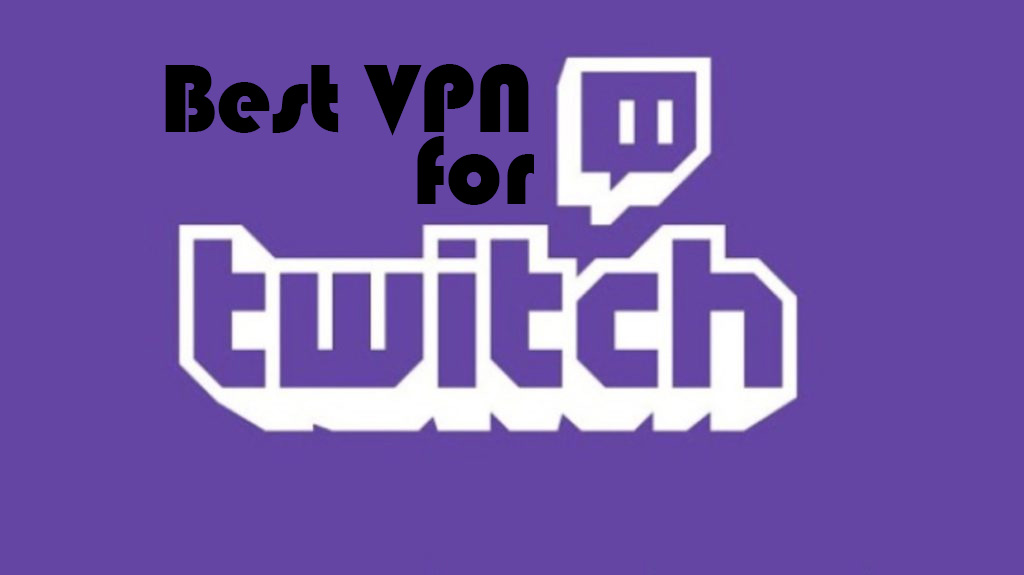 If you are a fan of online gaming, the chances are you are also a fan of Twitch, the online streaming service which is largely targeted at gamers. Twitch is the place to go if you want to watch live streams of the biggest online gaming events. But there is more to it than just this. Its exploding popularity has seen it attract significant investment and with that has come new features, including being able to upload and play back videos as well as watching live. This has seen Twitch morph into a genuine challenger to YouTube's virtual monopoly.
There are some issues with the service that you need to be aware of before jumping into it. Twitch is not the most popular service with ISPs because it is data intensive. Also, there have been some issues with copyright infringement as has been the case with almost all online streaming services. As a result, the service can at times be blocked or throttled which can have a serious impact on your streaming pleasure.
Looking to unblock Twitch or stop your ISP throttling it? Check out these VPNs:
NordVPN – Best for Twitch – NordVPN has a ton of features gamers love, including military-grade encryption, anti-DDoS servers, and a network that allows you to spoof tens of thousands of virtual IP addresses.
Surfshark – Surfshark is tailor-made to beat site blocks, with advanced tunneling, blanket obfuscation, and zero logging.
ExpressVPN – ExpressVPN is easily one of the fastest providers on the market, and great for lag-free gaming and streaming alike.
IPVanish – The classic choice for streamers, torrenters, and gamers for many years now.
VyprVPN – If you're facing really tough government blocks, use the Chameleon protocol to slip through.
Fortunately, there is a simple way to get around these blocks: use a VPN. And in this guide, we will recommend the best VPN for Twitch users as well as tell you everything you need to know about getting Twitch working perfectly.
30-days money back guarantee
Am I Able to Use a VPN to Stream with Twitch?
There has been some conflicting information out there about whether Twitch allows VPN users to stream content on its platform. But the simple answer to this question is yes. Twitch has nothing in its terms of use which prohibit the use of VPNs when streaming content, so there is absolutely why you should not be allowed to use one.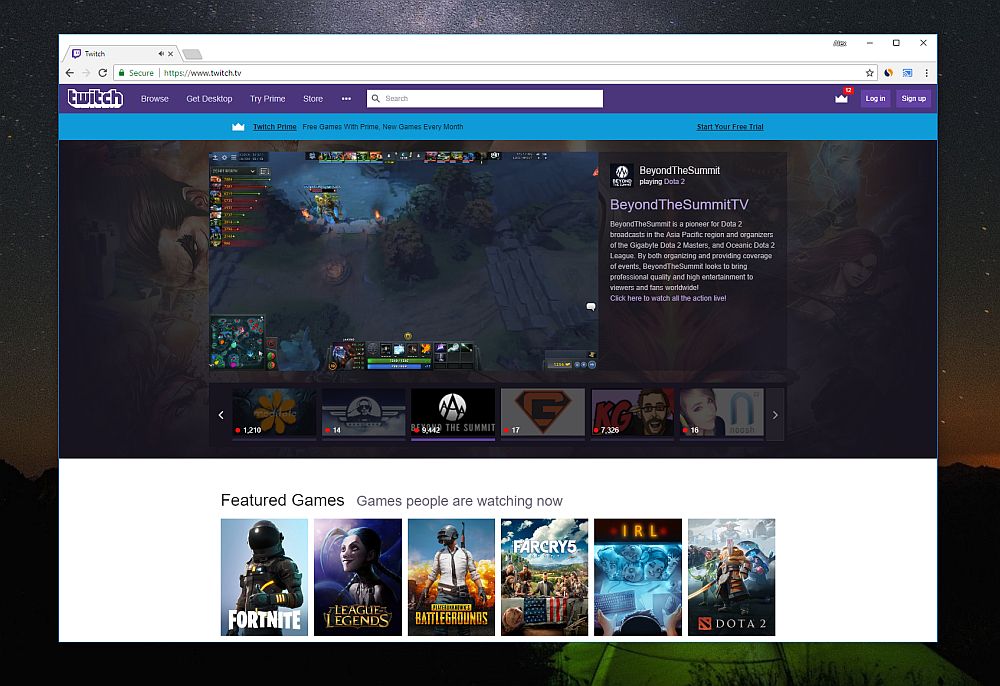 However, some VPN users have reported issues with Twitch streams when using a VPN which is where these rumours have emerged from. These users have reportedly experienced what is referred to as a 'White Screen' when trying to stream on Twitch. This is a feature which usually only happens when your Twitch account has been banned.
It appears that this is only really common with free VPNs and the likely cause is that another user has broken the Twitch terms and conditions in some way and so caused that IP Address to be blocked. Changing VPN servers should help you get around this problem, but we would strongly advise you to switch to a premium VPN service, where this issue has proved much less common.
How to Choose a Great VPN for Streaming
The VPN market is a busy one and almost all providers claim to be the ideal solution to problems with streaming services such as Twitch. Some of these claims have a degree of validity, while others definitely don't, but for the uninitiated, it can be difficult to identify a provider which is genuinely good. But we have done the hard work for you and tested all of the biggest VPN providers with Twitch to help narrow down the marketplace. In testing VPNs with Twitch, we first identified the core criteria which all Twitch users will be looking for in a VPN provider. Those are:
Top 4 VPNs for Unblocking Twitch
Based on these criteria, we have identified the four main VPN providers which we believe offer a perfect VPN service for Twitch users: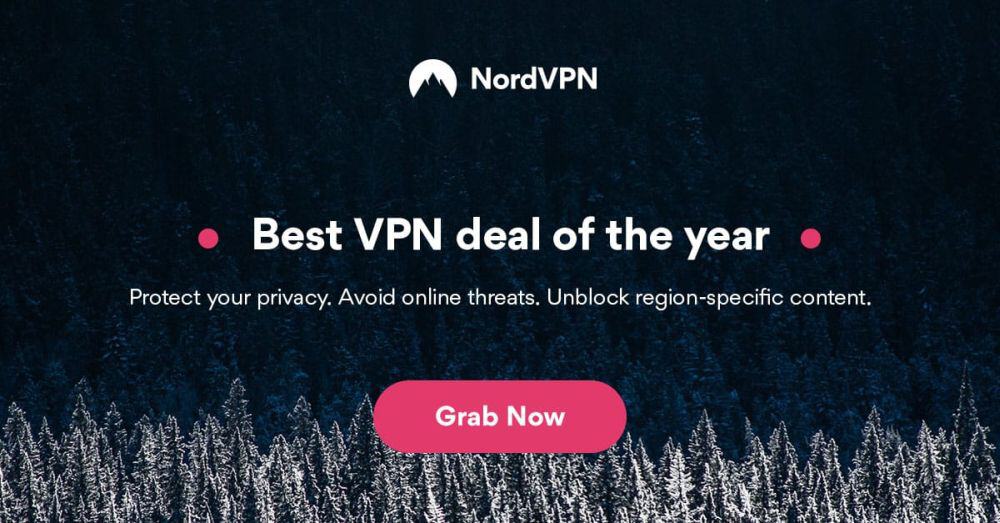 NordVPN is one of the most established VPNs, but that doesn't mean their service is out of date–quite the opposite in fact. Over the past year they have invested heavily in their infrastructure and the result is a modern VPN service that challenges the very best. Speed used to be a problem for NordVPN, but their new super-fast servers are more than a match for any application. They have a big network available too, with a massive 5,500 servers available in 60 countries around the world.
The NordVPN encryption is pretty robust too with 256-bit encryption on OpenVPN connections as standard and 2,048-bit Diffie-Hellman keys employed too. They also offer a range of unique additional security features too, including a kill switch and shared IP Addresses as well as a Double VPN server option, which reroute your internet data via two servers for extra protection and Onion over VPN servers, which pushes your traffic through the TOR Network as well as a VPN for additional security. There are no user restrictions in place either and NordVPN are another provider based offshore which means their privacy protections are second-to-none. Throw in their competitive pricing policies and NordVPN really is a great option for Twitch users.
Read our full NordVPN review.
Pros
SPECIAL OFFER: 2-yr plan (68% off - link below)
Mind-boggling number of servers
Strong encryption is used on all connections
Strict zero logs policy on both traffic and metadata
Money back guarantee policy (30-days).
Cons
Not much
Apps can sometime be slow to connect.

Surfshark is uncompromising when it comes to guaranteeing your right to privacy online. If you want to stream over Twitch anywhere in the world, you should be able to–and Surfshark gives you the tools you need.
First and foremost, Surfshark employs 256-AES-GCM encryption–the same cipher used to protect NSA servers. What's more, any one of their 800+ servers in 50 countries can make use of obfuscation to slip past VPN-blocking efforts. We also particularly appreciate the myriad leak protections (IP, DNS, and WebRTC), kill switch, and anti-malware features for a more secure overall connection.
Moreover, Surfshark's RAM-only network is snappy and responsive, yet completely secure–it's physically impossible for them to keep logs of your usage metadata. Backed by BVI jurisdiction (no data retention laws), and Surfshark is truly able to guarantee their no-logs policy.
Pros
Unblock 15 international Netflix libraries, including the US and Japan
Multi-hop connections readily available
Unlimited simultaneous connections–Protect your whole family!
VPN home jurisdiction in British Virgin Islands is ideal for privacy
Refund requests are simple and fast–no waiting or hassle.
Cons
Overall, not much to complain about
Apps don't allow for much manual fiddling for power users.
Read our full Surfshark review.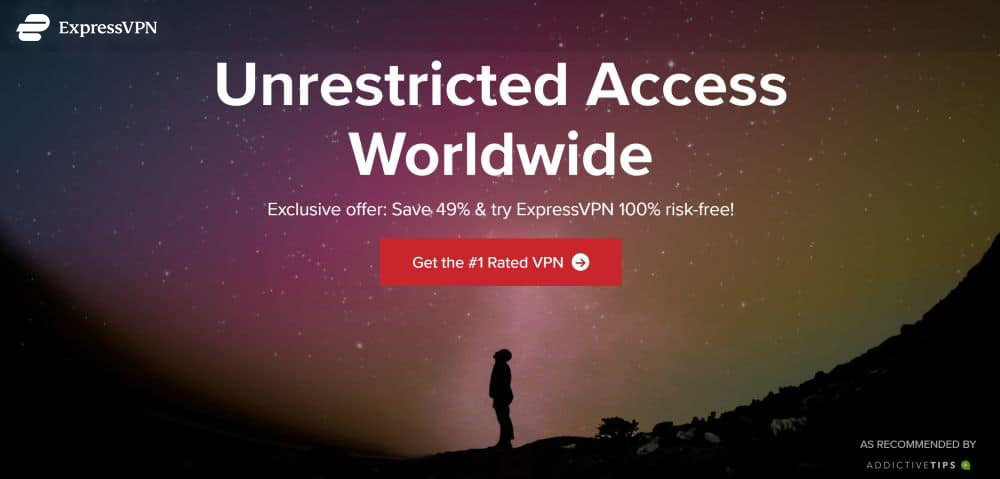 ExpressVPN lives up to its name with some of the fastest connection speeds available from any VPN provider. This makes them a great option for online streaming. Their entire network is secured with 256-bit encryption, which rivals other top-tier VPNs for security protection, and they also offer a kill switch as standard.
The ExpressVPN privacy provisions are excellent, with no user logs being retained on any of their customers. And with ExpressVPN is based in the British Virgin Islands, where there are no data retention laws, this guarantee is one you can depend on.
They have a huge server network too, with more than 3,000 servers available in 94 countries around the world. This means you can stream content from just about everywhere and with no restrictions on usage either, ExpressVPN runs IPVanish a close second for Twitch users. Its only downfall is that it is priced a little higher, but thanks to our exclusive deal you can make some big savings on that too.
Read our full ExpressVPN review.
Pros
SPECIAL OFFER: 3 months free (49% off - link below)
Fastest servers we have tested
Torrenting/P2P allowed
No logging policy well enforced
24/7 Customer Service.
Cons
Power-users configuration options.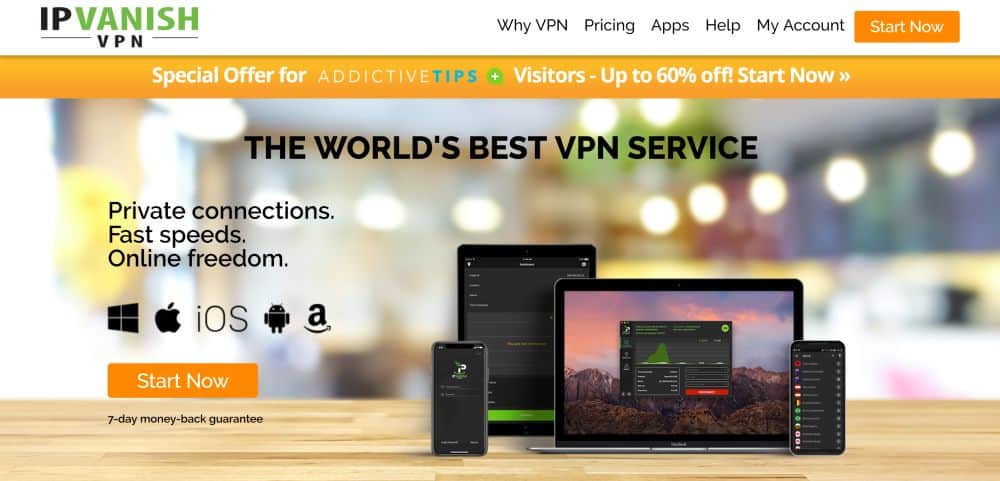 IPVanish has built up a stellar reputation on the excellent security and privacy provisions they offer. Their encryption features L2TP and OpenVPN protocols employing 256-bit encryption as standard. In addition, IPVanish uses shared IP Addresses, which offers an extra level of security and privacy protection and makes it even harder to track your online activity back to you. They also offer various other extra security features such as a kill-switch, which will cut your internet connection automatically if the VPN connection goes down to help prevent any data leaks. There is also a built-in feature which allows users to switch IP Addresses periodically for additional privacy
As well as top-level encryption, IPVanish has excellent privacy protection, including a no user logs guarantee that you can trust. Connection speeds are superb, and more than adequate for streaming on Twitch. Their network of servers is a big one too, with more than 1,300 servers in 60+ countries around the world available to all subscribers. With no restrictions on either bandwidth or file types, and dedicated apps available for almost every device, IPVanish is a fine choice not only for Twitch users, but for everyone!
Read our full IPVanish review.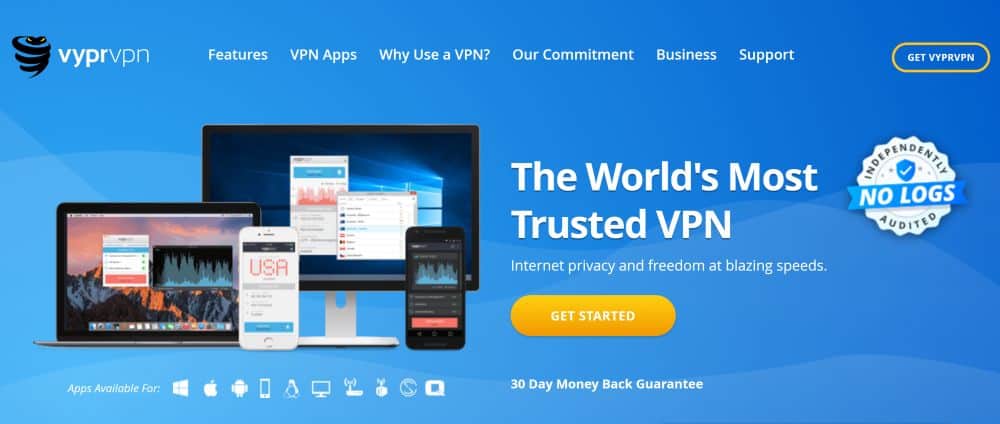 Last on this list, but by no means least, is VyprVPN. VyprVPN employs industry-standard 256-bit AES encryption. They also have a unique extra-secure Chameleon protocol, but to get access to this you will have to pay more for their premium VPN service. VyprVPN also offers a dependable no logs guarantee and a built-in kill switch as standard, so even their basic package is secure enough for most Twitch users.
The VyprVPN server network consists of more than 700 servers in over 70 countries which will allow Twitch users to stream just about anything they might ever want to. Their connection speeds are generally good, and are thoroughly sufficient for live streaming on Twitch most of the time. And with no restrictions on usage, VyprVPN offers a compelling proposition for Twitch users to consider.
Read our full VyprVPN review.
More Reasons to Use a VPN with Twitch
As well as the benefits of using a VPN with Twitch that we have already outlined, there are another couple of scenario's where a VPN is a real asset to Twitch users:
Beat ISP Throttling
Some ISPs are not big fans of Twitch. Streaming online content is very data intensive and Twitch users tend to stream for longer periods of time than those of rival services such as YouTube. Some may stay connected to a stream 24/7. Some ISPs object to this and employ a technique known as throttling to try and deter it. Throttling means that they restrict the connection speeds to certain sites to save on bandwidth. The result for users is that streams are slow and unreliable and more often than not unwatchable.
But if you connect to a VPN, your ISP is no longer able to see which sites you are visiting when you are online. The only connection they can see is the one to the VPNs server. They can't see where your data is going from there and as it is encrypted, they can't access what you are doing either. As a result, they are unable to discriminate against Twitch users by throttling their speeds and users shouldn't have any issues with connection speeds.
Bypass Geo-Restrictions
If you are trying to stream content on Twitch on a private network, such as in a school or workplace, you may find that the network administrators have blocked access to Twitch. This might be to save bandwidth or it could also be to stop students and workers from streaming online gaming when they should be working.
But again, if you connect to a VPN this block can be got around easily. Network administrators cannot see that you are using Twitch if you connect to a VPN, so they have no reason to block your connection. As a result, with a VPN, you are able to watch Twitch streaming on college campuses, and even at your desk while working.
What Exactly Is Twitch?
If you are not already familiar with Twitch, then either you are not a fan of online gaming or you are not as young as you once were. Because Twitch is the go-to site for live streams of online gaming and has positively exploded onto the internet in recent years. If you want to stream any of the big online gaming events or matches, Twitch is almost always the place to go. This popularity has inevitably attracted the interest of investors and Twitch is actually now owned by Amazon. They paid a whopping US $970 million for it back in 2014 and it is now operated by Amazon subsidiary Twitch Interactive.
RELATED READING: Unblock Amazon Prime Video Anywhere
Twitch remains the internet's premier streaming site for online gaming, but has now lifted its ambitions even higher. New features, which include the ability to upload games and access content on demand as well as live stream, as seen Twitch begin to reposition itself powerful potential rival to YouTube. It has also branched out from online gaming content to include live streams of music and clubbing events, regular sports, and cult events such as Comic-Con. If these ambitions seem a little far-fetched, it is worth looking at Twitch's user data. As of February 2018, Twitch boasted more than 2 million monthly broadcasters and 15 million active daily users.
Conclusions
Twitch is an essential site for online gamers and appears set to be a household name in the months and years ahead. Yet, as with so many other online streaming services, you really need a VPN to be able to use it to its full potential. All of the VPNs recommended in this article will allow you to do that, but if you want to just choose one now and get back to your Twitch viewing, then our top pick is IPVanish.
How have you found using a VPN has enhanced your Twitch experience? Do you have any personal feedback on the providers we have recommended in this article? Is there anything else about using a VPN with Twitch you think we should have mentioned? We always welcome feedback and comments from all our users, so please do feel free to share your thoughts with us using the comment boxes below.