We are reader supported and may earn a commission when you buy through links on our site.
Learn more
StrongVPN Coupon, Get 42% Discount – Working May 2021
We understand, you want Internet security, but expensive VPN subscriptions put you off–that's why we're offering a massive 42% discount on StrongVPN. Today, we briefly review StrongVPN's powerful cybersecurity suite. After that, you'll get a coupon you can use to claim your discount in a matter of minutes.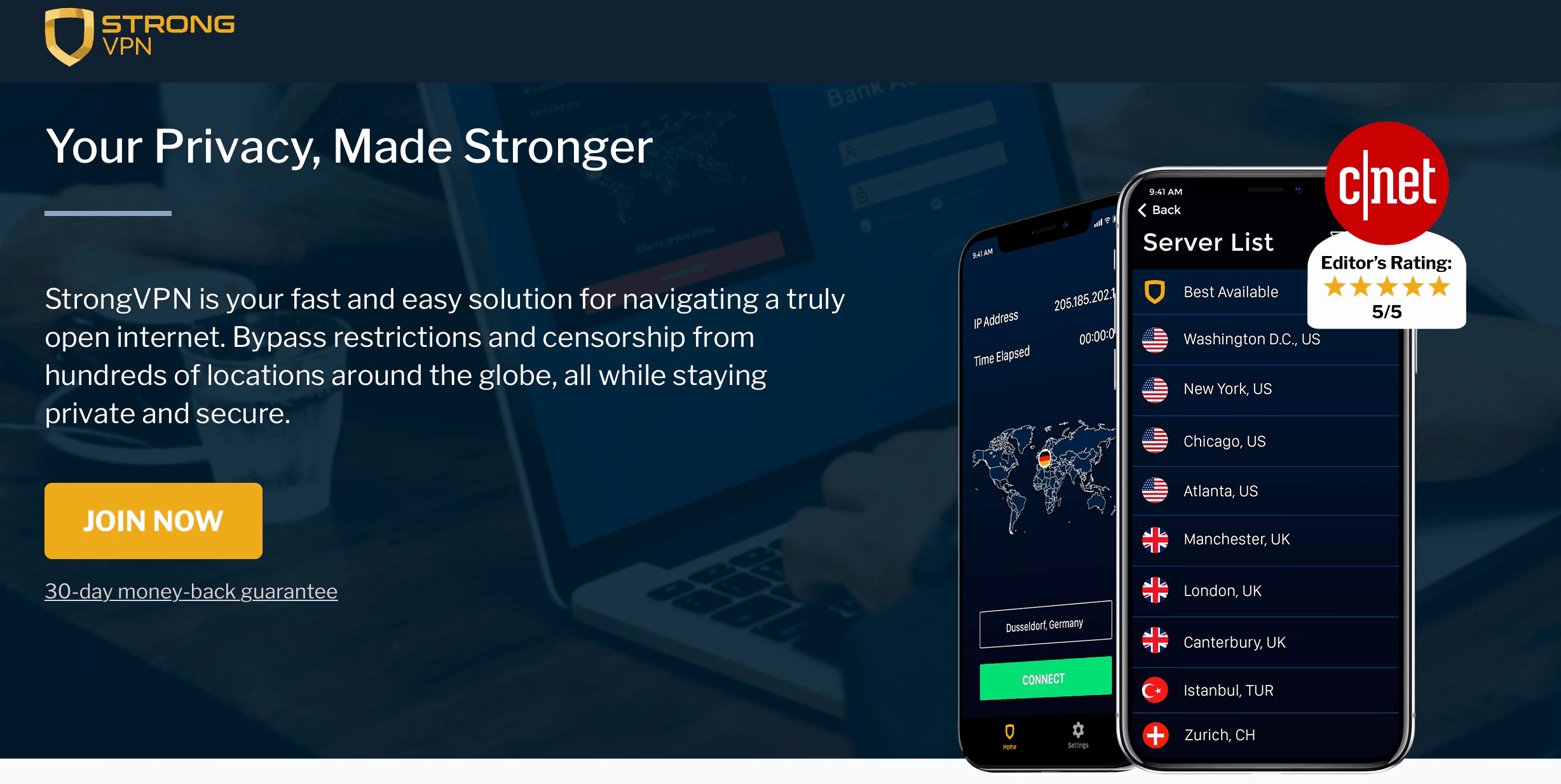 Does being secure online appeal to you? How about having your data and traffic kept private from the prying eyes of your ISP? Or maybe you just want to dodge geo-blocks and VPN-blockers when you're traveling. If so, look no further than StrongVPN.
StrongVPN can give you all of these and more – and today, you can get a special discount coupon on top of already great savings!
Strong enough to beat VPN-blockers
StrongVPN has powerful encryption software that can get you around most censorships put in place by organizations or oppressive governments. StrongVPN is even strong enough to get through the Great Firewall of China – and if it can do that, it can get around a little regional geo-block that's stopping you from accessing your favorite video-streaming service.
And while StrongVPN's monthly plan comes in at $10 per month, you can save 42% by selecting their 1-year plan – you end up paying just $5.83 a month that way. But, as an AT reader, you can save even more. So here's our special offer for you.
StrongVPN is offering a coupon to our readers — TAKEOFF20 — when you apply this coupon, you get another 20% off any plan. So when you combine this with the great savings offered by the 1-year plan, you get a total of 42% in savings!
How to get this exclusive coupon
But how can you get this special offer? It couldn't be simpler – just click on this link to take advantage of the offer. You'll be taken directly to a special page on StrongVPN's website. Click the button to join, pick the 1-year special and then click on "Have a coupon?" below in the Payment Method area — insert TAKEOFF20.

Does StrongVPN offer a satisfaction guarantee? Yes, and what's more, StrongVPN offers a 30-day, no-questions-asked refund. If you don't like StrongVPN or have issues, just cancel in the 30-day window and you'll get 100% of your money refunded.
Are there any other coupons right now? There are currently no other coupons offered by StrongVPN. But, like most major VPN providers, they periodically offer specials. Pay attention to their website, especially around holidays.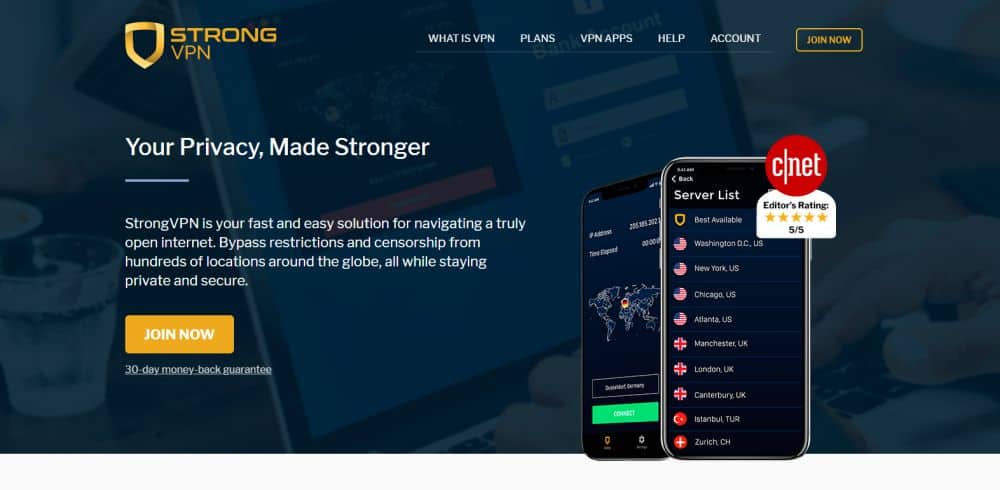 StrongVPN has more than 650 servers in 20+ countries, giving you plenty of IP addresses to choose from for your day-to-day use. Plus, their 256-bit encryption defaults to OpenVPN in TLS mode with AES-256-CBC channel encryption, 2048-bit Diffie Hellman RSA key, and SHA256 authentication. This gives you well-rounded protection and speed and perfect forward secrecy. Add the kill switch to prevent data vulnerability during the case of an accidental drop, as well as a strict zero-logging policy, and you have enough security to cover just about everything.
StrongVPN is also excellent for getting around VPN-blocks. Titled "Scramble" on their interface, StrongVPN uses server obfuscation to unblock video streaming services that other providers have trouble with. These include Netflix, Hulu, Amazon Prime Video, and BBC iPlayer. This technique also allows users to get around the toughest of tough firewalls – the Great Firewall of China. So if you're located in or traveling through mainland China, you'll still be able to use Facebook, YouTube, and stay up-to-date on western news – censorship free.
In closing
In summary, if you want to get around tough geo-blocks and VPN-blockers, keep your private info private, and be secure online, don't hesitate. Click the links above and get StrongVPN.
If you're a StrongVPN user, or are still on the fence, we'd love to hear from you! Drop a comment below and let us know your thoughts.