10 Great New Tab Page Extensions For Google Chrome
Chrome's New Tab page offers little by way of customization; it's split into two or more screens (depending on how many apps you have installed), and accommodates everything from the bookmarks bar, recently closed tabs, a link to the web store, and of course, the speed dial. Apart from the websites that appear in the speed dial, there is nothing for the user to customize. That said, the page is still sufficiently equipped to meets most people's expectations from a modern browser. For anyone who wants more features, there exists a large choice of extensions that change the new tab page. Some improve the layout and increase the grid size of the speed dial, while others add useful widgets for weather and time, and there are still others that revamp the new tab page entirely, giving users a totally different experience. In what follows, we'll take a look at our collection of the 10 best new tab page extensions for Google Chrome.

New Tab Page
Google Now is a very popular feature on Android; the card-like information it shows is both useful and well designed. New Tab Page is a Chrome extension that modifies the new tab page to make it appear more like Google Now. It adds widgets for weather, news, a Google search bar, and a linear speed dial to replace the normal grid one.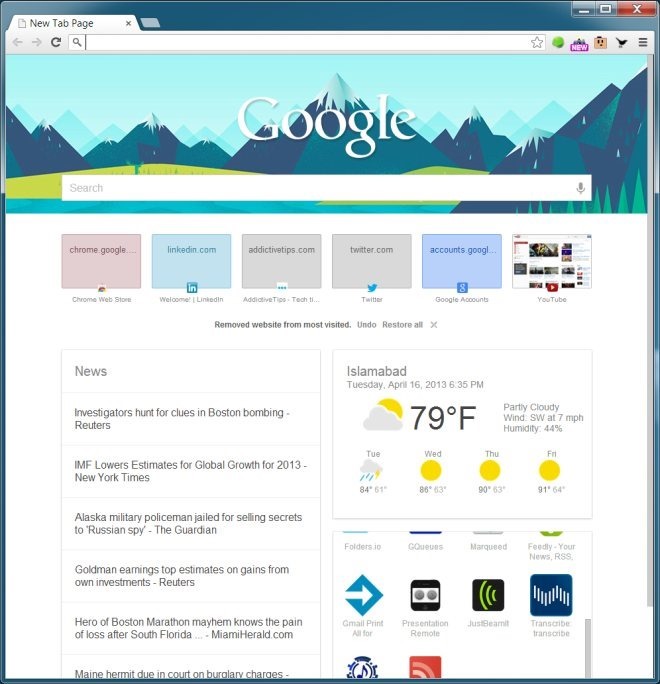 new metroTab
Windows  8 has received mixed reception from Windows users, with many sticking to Windows 7 until things get better with Windows 8.1 and the return of the start button. That doesn't mean that the Modern UI isn't good or has been shunned by everyone; it's actually really great, and New MetroTab brings it to Chrome, turning your new tab page into something like the Windows 8 Start Screen, complete with live tiles. You can add and group as many websites as you want, and launch them quickly from their respective tiles, customize the theme and background, get live notifications on tiles for Facebook, Twitter, Gmail, and Outlook, as well as integrated SkyDrive and Weather tiles, your own profile, and much more.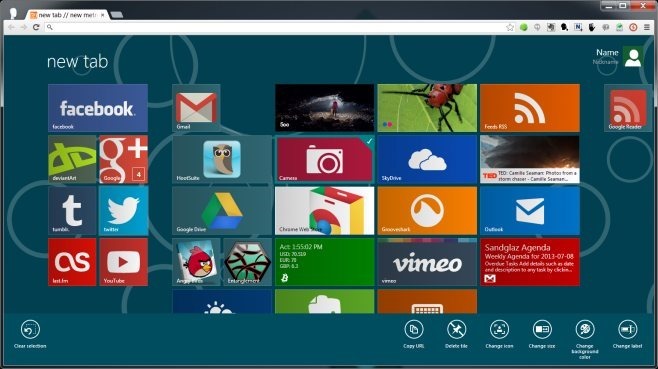 Fruumo
Fruumo gives you a much simpler new tab page; the speed dial grid is replaced with a filmstrip-like one, you don't have to swipe to another page to access your apps, and you get to see the time and weather on a nice, calming background.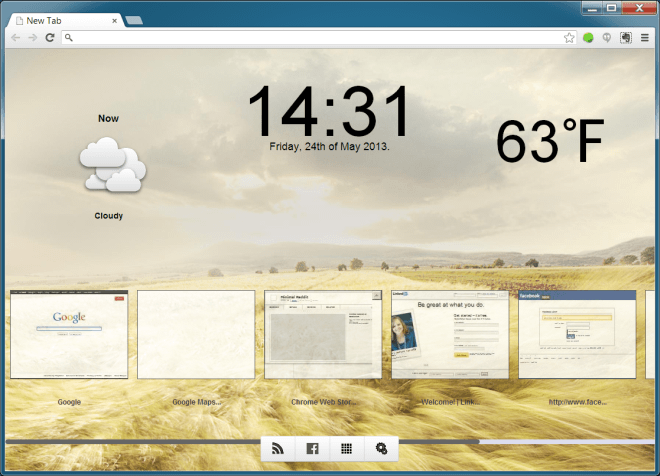 Onefeed
With Google Reader gone, apps, services, and extensions have been popping up left and right to give its users alternatives. Onefeed is a Chrome extension that not only adds your RSS feed to the new tab page, but also allows you to view your Facebook, Instagram, Twitter, and Google+ feeds there. It's just a regular new tab page in other aspects, with a news reader integrated in its great UI.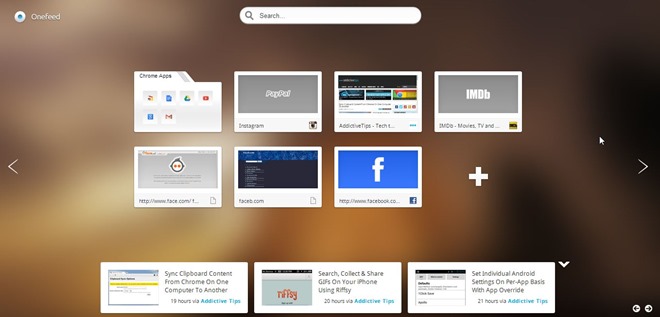 Incredible StartPage
One of the hardest things to do when you re-invent the new tab page is to accommodate bookmarks on it. Most extensions only accommodate your installed Chrome apps, some make room for an extensions manager, and quite a few add a widget or two. Incredible StartPage not only adds your bookmarks in an easy to browse list, but also lets you make notes, and open your recently closed as well as most visited websites.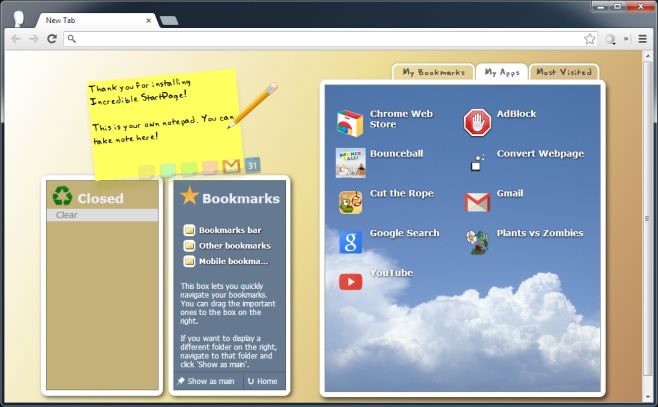 Currently
If you don't use the functionality offered by the new tab page, chances are you wouldn't use it in a conventional replacement either. So, how about having useful widgets on it that just show you information, while still keeping the original new tab page accessible for the times when you would end up needing it? If that's what you'd prefer, Currently is the extension for you. It replaced everything on the new tab page with a large clock and weather forecast for five days. You can modify the background color, choose the units for the temperature, and hide the ticking seconds from the clock. At the bottom-right, there is a grid button, clicking which instantly takes you back to the original new tab page.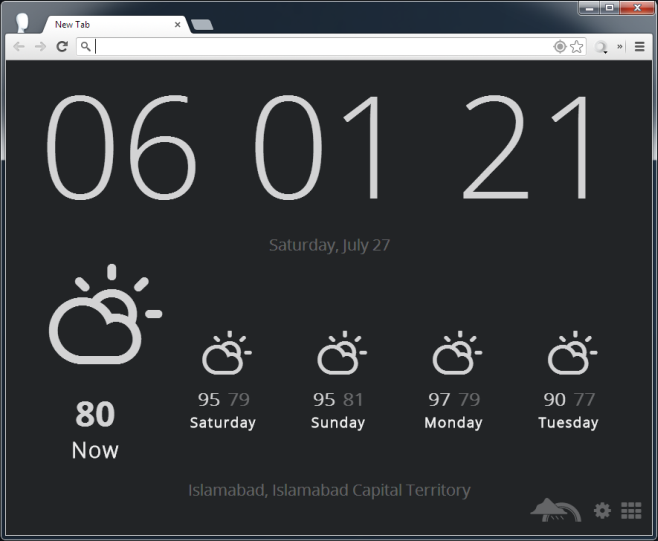 Knew Tab – New Tab Page
Knew Tab makes the new tab page informative, and not just by adding a time and weather widget to it. It adds notifications for Facebook and Gmail, live news, and a notepad. Your apps are all shown at the bottom of the page and when you click 'Your Apps', you are taken back to the original new tab page. The extension also adds a notepad to the page, lets you can customize the background color, and also shows you stock information once you add a stock from the extension's options.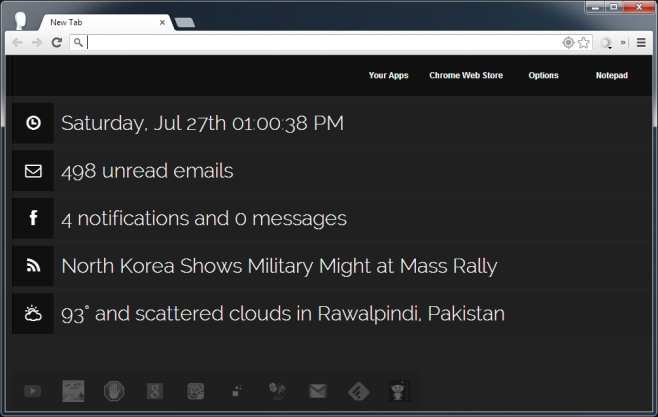 Humble New Tab Page
Humble New Tab Page gives users a simple, clean-looking and minimal new tab page, while actually providing more features than most other options. The extension lets you access your bookmarks, frequently visited websites, apps, recently added bookmarks, and recently closed tabs. There's also a weather widget, and you can select which of these items appear on the new tab page from the extension's settings.  It comes preloaded with lots of color themes and if you don't like any of them, you can even create your own, or even use CSS to customize the new tab page's appearance.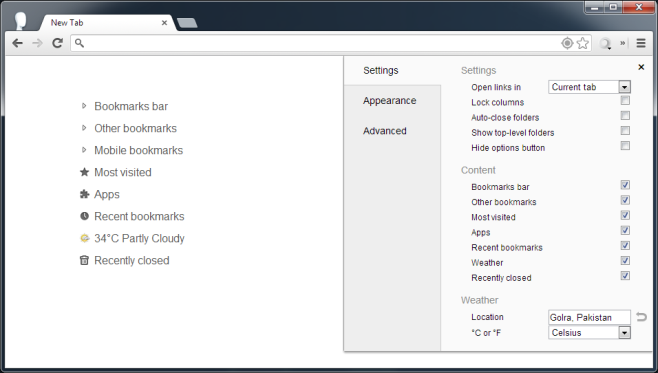 Home – New Tab Page
If you like your installed Chrome apps to be given center stage on the new tab page, Home – New Tab Page is the extension for you. In addition, it gives you live notifications for Gmail, Facebook, Yahoo Mail, Hotmail, Twitter, and Google Calendar. The apps you've installed are all listed on the right, you can customize the background and choose how often the extension checks for new notifications. It also comes with a notepad and weather widget.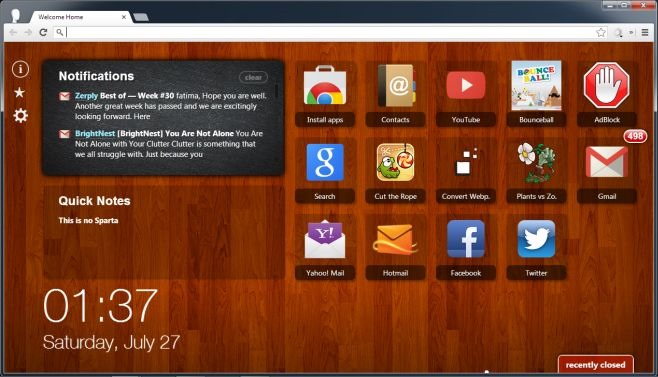 Tiles
Tiles is an extension that is all speed dial. Unlike other extensions that populate the speed dial by analyzing your browsing history, the extensions asks you to manually add them. This means you will have to set the extension up before you can actually use it. Websites appear as large tiles with any two letters that you choose to represent the website, making each tile look like a part of the Periodic table. The URL of each site appears at the bottom of its tile, and both tile colors and tab background are customizable.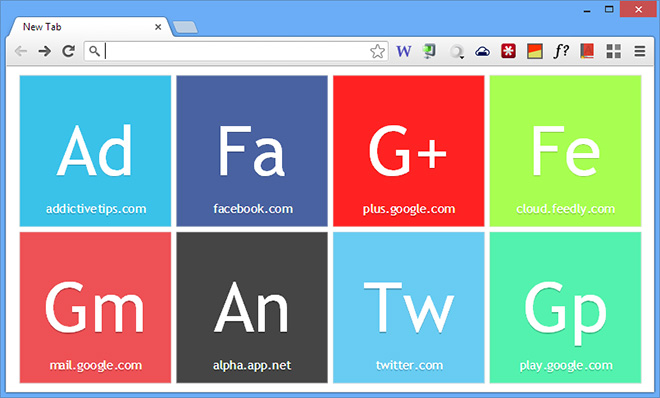 So, do you prefer using the default new tab page or one modified by an extension? Got your own favorite new tab page extension that we missed out in this list? Do share it with us and our readers in the comments below.