How To Track Your Flight With A Facebook Messenger Bot
Facebook Messenger bots may sound like a temporary fad and for some they might be little more than a different way to get news but these bots refuse to be pigeon holed into a single function. A Facebook Messenger bot can do just about anything you tell it to do. A while back we reviewed an excellent bot called Jarvis that you could use to set reminders that showed you just how versatile they can be. App in the air is a Facebook Messenger bot that can track a flight, give travelling tips such as the availability of WiFi at a particular airport, and tell you if you some of your carry on items will be confiscated by the TSA.
Visit App in the Air and click the 'Message' button.

A message window should pop up with a Get Started button. Click it and the bot will send you the first three basic functions it can perform in the form of actionable buttons. To find out if the airport you're going to depart from or arrive at has WiFi or not, ask the bot using the exact and official name of the airport e.g. Does JFK airport have WiFi or Does Heathrow London airport have WiFI, etc. The answers come in the form of user reviews so often they might tell you if the WiFi is available and if it's good or bad.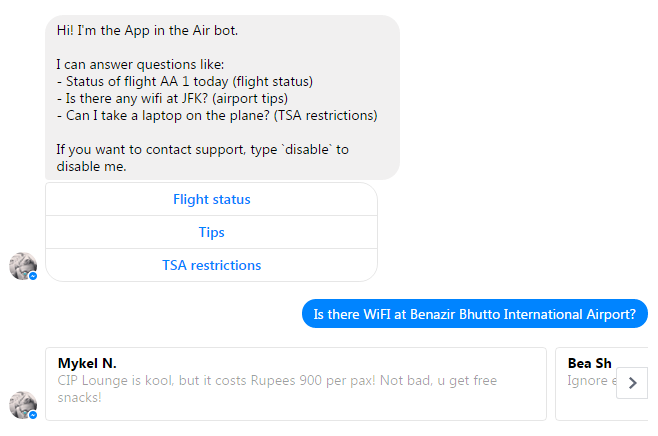 To add a flight, ask the bot it's status or click the 'Flight Status' button, and it will prompt you to add it first. It will ask for the date of departure first in Day/Month format. Next it will ask for the name of the flight. Flight names are alphanumeric with the alphabetical portion representing the airline and the number it's own number. Both must be entered correctly. You can find this information on your ticket or the airline's website.
App in the air has smartphone apps as well as a Facebook app so once it's found your flight, it will ask you how you want to track it. Select 'Track in Messenger'.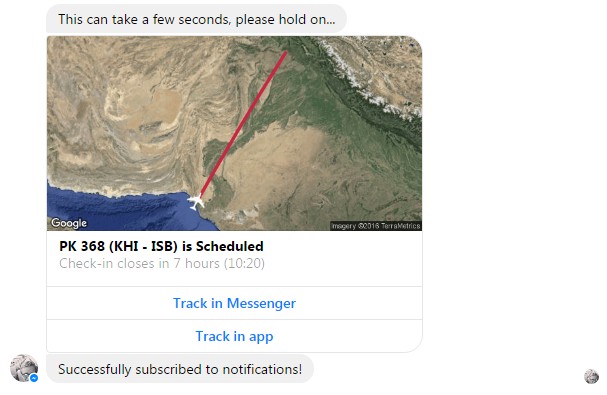 The bot will update you when there is a change in the flight's schedule. It will also tell you when it's about to depart and land among other things.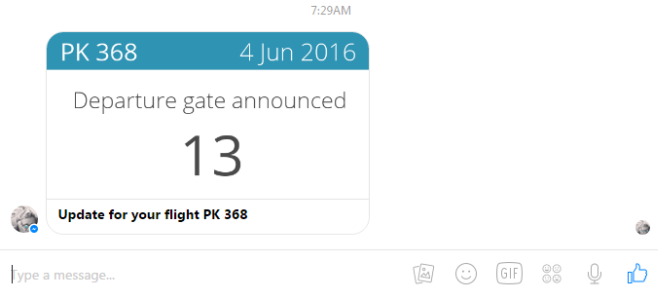 The bot is pretty awesome for when you need to remember to pick someone up at the airport, track a loved one's flight, or just be informed when boarding for your flight has been announced. It might also be a good idea to have a chat with it when you're packing and know what TSA might object to.
Add App In The Air Bot To Facebook Messenger