Analyze Twitter Accounts & Search For Any Tweet Ever Posted With Topsy
Have you ever wondered when was the first tweet ever jotted down on Twitter? It was March 21st, 2006 and the author was Jack Dorsey – one of the co-founders of the company that has now evolved into one of the most revered and influential ones in social media history. The micro-blogging platform has since then become a one-stop shop for journalists, entrepreneurs, hobbyists, authors, industry insiders and tech junkies to keep track of various world-changing trends and news. But lets face it, Twitter's integrated search engine fails when it comes to letting you find specific tweets posted by you or by other Twitter users. That's why social analytics firm Topsy has taken the matters in its own hands to let you find tweets from Twitter's very beginning. Topsy recently announced that it now houses every tweet that was ever posted to Twitter since its inception, so we decided to take a deeper look by ourselves and see how it works.
In case you're not familiar with it, Topsy was founded in 2008 as an online social media and communications insights platform by co-founders Vipul Ved Prakash and Rishab Aiyer Ghosh, and the organization has since been collecting Twitter data to make it available for general users via search results. The interface of Topsy looks pretty immaculate, and lets you filter search results by links, tweets, photos, videos and influencers. There's also an option for searching through all the aforementioned sections in one go. All you have to do is type in your query in the pertaining search box in Topsy's main page, and hit the enter key.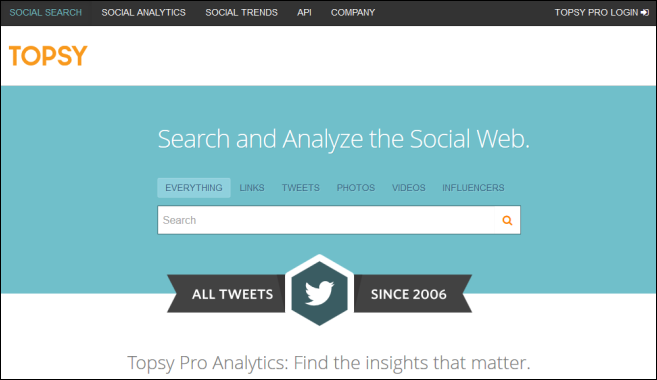 Topsy then retrieves the results for your query in a couple of seconds. It even lets you sort the results for the past 1 hour, a few days, or all time, and if that's not good enough for you, you can specify a custom date range of your choice as well. Topsy also shows the usernames of people who posted or shared the tweets, and a graphical representation of the resulting tweets over the selected period. You can also sort the tweets by relevance or date, or use the advanced options to further narrow down your results.
Topsy also has a Social Analytics feature that lets you compare tweets containing certain phrases, keywords or domain names to focus on specific company or individual names, tags, brands, celebrities and more. The analytics report shows an in-depth graphical representation of the results found for your query. This gives you an insight about the popular trends at Twitter over the last 30 days, and you can easily extend this period by signing up for a Pro account.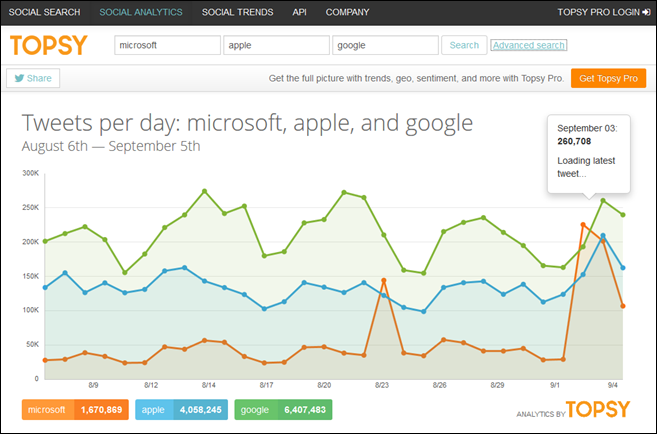 While Social Analytics allow you to compare the popularity of certain keyword, Social Trends actually show the tweets containing the keywords. You can instantly view the top 100, 1000, 5,000 or 20,000 trending tweets, or use the custom search to get insights about a certain topic.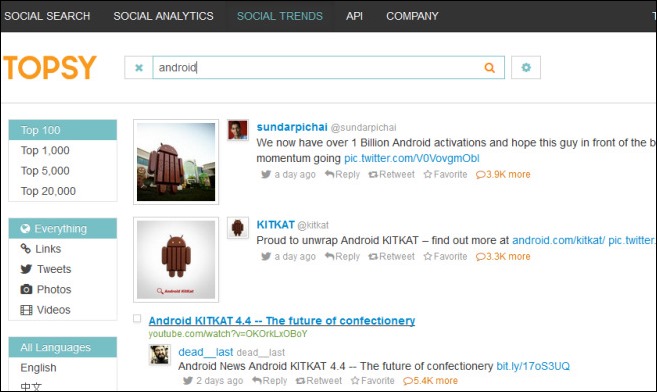 To sum it up, Topsy is a fantastic archive and analytics service for twitter that can make searching for and analyzing information on the world's largest microblogging service a breeze. The service has unlocked possibilities that may change how social media information is collected and used by people around the internet.