How to Fix Error 0x80070057 on Windows Update (Full Guide)
Windows needs to update the latest features, improvements, hot fixes and security patches to keep your computer safe from harm. It makes it possible through Windows Update.
Unfortunately, Windows Update stumbles upon errors every now and then, which prevent it from functioning normally. You be tempted to perform a factory reset just to get it over with.
Before turning to such a drastic scenario, though, you could investigate the error codes to see what fixes are available.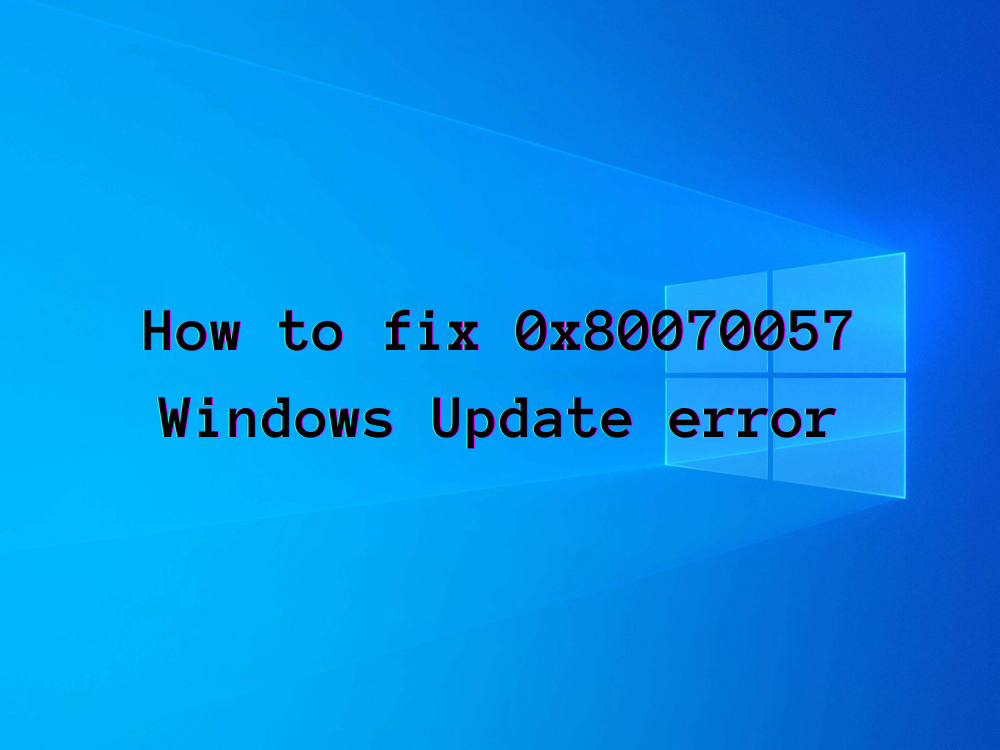 Error 0x80070057: What does it mean?
0x80070057 is a Windows Update error that can occur on newer and older Windows like, starting with XP and ending with 10. It gets triggered when you try to perform various actions on the computer, like backing up files or installing the operating system.
However, it often prevents users from running Windows Update, which is indispensable for their computers' security and privacy. Don't worry since you should be able to fix this problem by following the simple instructions below.
How to fix Windows Update error 0x80070057
Before attempting to repair error code 0x80070057, it might be a good idea to create a system restore point. It gives you the possibility to revert Windows to a previous checkpoint in case you make any mistakes and need to undo changes easily.
1. Use the Windows Update troubleshooter
The Windows Update Troubleshooter is a simple feature built into Microsoft's latest operating system, which scans and resolves typical problems that prevent Windows Update from working properly. Here's how to use it.
Right-click the Start button and select System
Click Run the troubleshooter and follow the on-screen instructions
Reboot your PC
2. Free up disk space
Windows Update needs free disk space to download data and run processes in the background, so you have to make sure that your hard disk is not full. Otherwise, it could lead to error 0x80070057.
The easiest way to check this is by viewing the properties of your C: drive. And, if you need to free up disk space, you should uninstall large applications you don't use anymore, as well as games.
Personal documents, photos and videos can be backed up to the cloud, burned to a disk, or copied to an external hard drive. As far as junk files are concerned, you can turn to a system cleaner or use Microsoft's Disk Cleanup tool.
How to use Disk Cleanup:
Make sure you're logged in as the PC administrator
Review the Downloads and Recycle Bin locations to save any files you might need later (those folders will be emptied)
Launch Windows Explorer (press Win + E), right-click C: or where you have Windows installed, and go to Properties
Restart your computer
3. Disconnect peripheral devices
Any external devices you have recently inserted into your computer unit could have caused Windows Update error 0x80070057. It can be anything, like an external hard disk, Wi-Fi adapter, webcam, or printer.
The problems can be caused by a damaged cable, a faulty USB port, or an incompatible driver. Whatever they are, you should be able to fix them by unplugging any new gear from your computer unit.
After doing so, try running Windows Update to see if the 0x80070057 error is now fixed. And, if you're looking for a long-term solution, you should replug the devices one at a time to see which triggers the error code.
4. Check your drivers
Bad drivers are usually why devices start malfunctioning, leading to all sorts of Windows Update issues, including the 0x80070057 error code. However, you should be able to fix this problem with minimal effort by reinstalling your devices and updating your drivers.
How to quickly reinstall devices:
Once the device is uninstalled, reboot Windows. Don't worry since the OS will auto-reinstall the device
You can do this for multiple drivers
How to update drivers:
However, Microsoft might fail to download a newer driver update through Windows Update due to the error code. If that happens, you have to visit the manufacturer website of your network driver to manually download and install the latest version.
If you don't want to risk installing the wrong driver for your device, which could lead to system compatibility issues, we suggest opting for a driver updating application. It downloads and installs multiple drivers automatically.
5. Disable any third-party security software
Some third-party security solutions could interfere with Windows Update and stop it from functioning properly, triggering all sorts of errors. Antivirus tools are good examples, as well as any Internet security application with a built-in firewall. It could block Internet access to critical processes required by Windows Update.
To put this theory to the test, simply disable any third-party software tools you have installed, leaving Windows Defender in charge of your computer's defenses. To kick it up a notch, you can proceed with uninstalling these third-party tools. Then, reboot your PC and try running Windows Update.
6. Run a clean boot
If the 0x80070057 was caused by a damaged service, process, or driver, you can create a safe environment to run only the required components by performing a clean Windows boot.
Click the Status column to sort all services by status (Enabled first)
Restart your computer
7. Restart the Windows Update service
If the Windows Update service is not scheduled to run automatically, it could be the reason why you keep getting error 0x80070057 on your PC. However, you can easily fix it:
If Service status is Stopped, click Start
Click Apply
Restart your computer
8. Restart Background Intelligent Transfer Service
Background Intelligent Transfer Service is a service that Windows Update needs to work properly.
Access Services
Start the service if it's not currently running
Save all changes and restart your PC
9. Run Windows Update Diagnostic
Windows Update Diagnostic is a tiny and practical application created by Microsoft. It has a pretty self-explanatory name since you can use to diagnose Windows Update errors.
Sign in to Windows as the computer administrator
Download Windows Update Diagnostic from the official website and run it
Select Windows Update, click Next, and proceed with the on-screen steps
Launch the tool again and select Windows Network Diagnostics
Once the task is complete, reboot your PC
10. Rename the SoftwareDistribution folder
The SoftwareDistribution directory is an essential component of Windows, which temporarily keeps files required by Windows Update. However, it doesn't always clear cached content content automatically.
But you can fix this problem and still keep the temporary files in a simple way: just rename the folder so that Windows Update can start storing data in the original directory.
Open your file explorer and visit the Windows directory (it's usually in C:\Windows)
Restart your PC
Try to run Windows Update
11. Check the system registry
The Windows registry contains low-level settings about the system and application libraries. The more software programs you install on your PC, the more changes will be in the registry.
Too many registry modifications can be fatal for critical system processes, including Windows Update, so it's quite normal to expect error codes like 0x80070057. Luckily, you can easily fix that.
How to repair the registry:
Press Win key + R, type regedit, press Enter, and click Yes if prompted by UAC (User Account Control)
Enter the following location in the address bar: HKEY_LOCAL_MACHINE\SOFTWARE\Microsoft\WindowsUpdate\UX
At IsConvergedUpdateStackEnabled, check that REG_DWORD is set at 00000000
At UxOption, check that REG_DWORD is set at 00000000
Go to HKEY_LOCAL_MACHINE\SOFTWARE\Policies\Microsoft\SystemCertificates
Set the name to CopyFileBufferedSynchronousIo and the value to 1
Save all changes and restart your computer
12. Change the system time and date settings
It might sound unusual, but Windows Update is not compatible with certain date and time settings. For example, many users have reported fixing various computer problems by setting the correct date and time on their PC.
Make sure you're logged in as the PC administrator
Go to Additional settings
Save all changes, exit, and restart your PC
13. Change Group Policy settings
The Windows Group Policy is responsible for managing system and application permissions. If the policies associated with Windows Update do not have the appropriate permissions, then error codes like 0x80070057 are bound to happen. Here's how you can quickly repair that.
Select Enabled, click OK, and restart your PC
14. Fix hard disk and system issues
Any hard disk and operating system issues can be fatal for Windows Update, resulting in error code 0x80070057. However, you can repair these problems from the command-line environment, without having to turn to third-party software solutions. For example, CHKDSK (Check Disk) can be used to fix hard drive problems.
How to use CHKDSK:
Type y when asked to schedule the task at the next system boot. Press Enter
Restart your computer
The Check Disk utility will find and repair corrupt hard disk sectors that prevent your PC from running properly. However, if you still get error 0x80070057 after using it, check out SFC (System File Checker).
How to use SFC:
Make sure to run Command Prompt with elevation rights
Patiently wait while SFC fixes system errors
Restart your PC
If SFC doesn't fix the 0x80070057 error, perhaps you need to delve in the component store of the system image. This is possible by using DISM (Deployment Image Servicing and Management).
How to use DISM:
Launch the command-line environment with administrator rights
If there are any issues, run DISM /online /cleanup-image /restorehealth to fix them
Reboot your PC and launch CMD as admin again
Restart your computer
A summary of 0x80070057 quick fixes
To recap, if you stumble upon error code 0x80070057 when trying to run Windows Update, you don't need to worry since there are many solutions you can try.
For example, you can run the Windows Update troubleshooter, free up disk space and use Disk Cleanup, unplug any new peripheral devices, reinstall and update your drivers, as well as temporarily disable or remove any third-party security tool.
You can also run a clean system boot, restart the Windows Update service and Background Intelligent Transfer Service, run the Windows Update Diagnostic utility, and fix any corrupt registry.
It's also possible to change the system date and time settings, edit the Group Policy properties, as well as repair any hard drive and operating system errors.
We hope you managed to get rid of the 0x80070057 using the solutions above. Did we miss anything important? Leave us a comment in the section below and let us know.