Accounts Tuner: Advanced Security Settings For Windows User Accounts
Accounts Tuner allows users to access added security settings for Windows accounts. You will not be able to change some of these settings using the build-in User Accounts in Windows.
It is a freeware application that must be installed on your system. You can launch the program, even if you do not have administrative rights; however, in this case, you can only view system information that is displayed on the application's main interface. If, on the other hand, you logon as Administrator, you can edit all enhanced security settings for your user accounts.
Choose Local Computer or Server from the top options box. You can only access the settings on your server if your computer has joined a local network and it has an administrative account on the server. In the left window, the settings for Local Computer are shown, whereas the right window displays Server settings.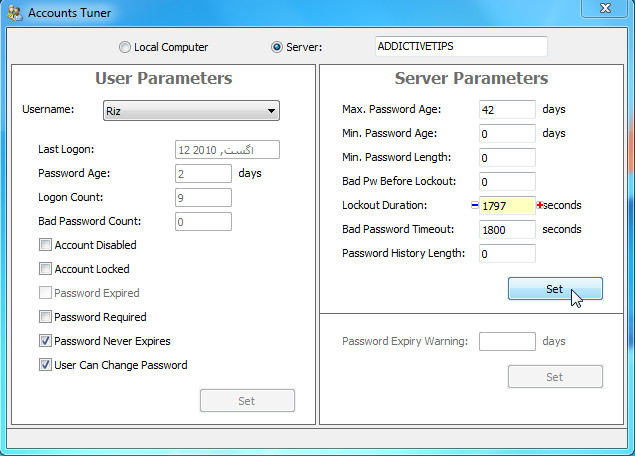 Some of the settings are only available for preview, and they can not be changed even by Administrator. These include Last Logon – displays the date when you last logged on to your PC, Password Age – refers to the time since password was last changed, Logon Count – gives the number of times you have logged on to the account, Bad Password Count – refers to the number of times you entered an invalid password.
Settings that can be edited include Account Disabled – prevents the user from logging on until it is enabled by administrator, Account Locked – unlocks accounts that are temporarily locked by Windows after several failed attempts to logon, Password Required – disables user from setting up logon without a valid password, Password Never Expires – makes the password age unlimited, User Can Change Password – allows user to change account password (disabling this option will only allow administrator to change the account password.
The right window displays settings on the server. These include Maximal Password Age – expires the password after the specified time and offers to change it at next logon, Minimal Password Age – prevents password from being changed before the specified time in this field expires, Minimal Password Length – password can not be shorter than the number of characters in this entry, Lockout duration – time for which an account remains locked, Bad Password Timeout – prevents logon counters from increasing for a specified time interval after a failed logon attempt, thereby disabling account lockout, Lockout Duration – specifies the interval after which the locked account gets unlocked, Password History Length – prevents user from reassigning a formerly used password, and Password Expiry Warning – prompts user to change password after a specified time period. To apply any or all of the settings, click the Set button.
It supports all Windows OS, including the latest Windows 7, testing was carried out on Windows 7 x86 system.