Add 'Up One Level' Or "Click To Return" Button In Windows 7 Explorer
By default, Windows 7 Explorer comes without 'Up One Level' button, i.e, for moving back to the previous window.It is not a big deal to not have any specific button for this very purpose, as you can click on the previous folder name in address bar to navigate back to the previous folder. But considering that many users have been having a hard time to completely get acquaint with revamped Window UI, today we bring forward a step-by-step guide to specifically add an Up button.
To start out with, lets glance at the default Windows Explorer layout. We can only see two navigation button on the title bar.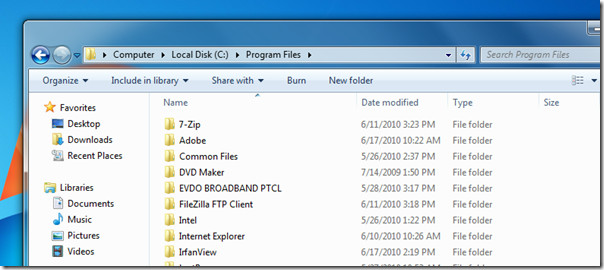 To add an 'Up One Level' button and a lot of other orthodox options in Windows Explorer. First, install ClassicShell (download link is given at the bottom of this article): a tweaker designed to bring the old Windows startup menu and other options back right into Windows 7 Explorer Window. However, during installation process, you can disable old-startup menu inclusion. Once it is installed, Open Windows Explorer, under Organize menu, click Folder and search options.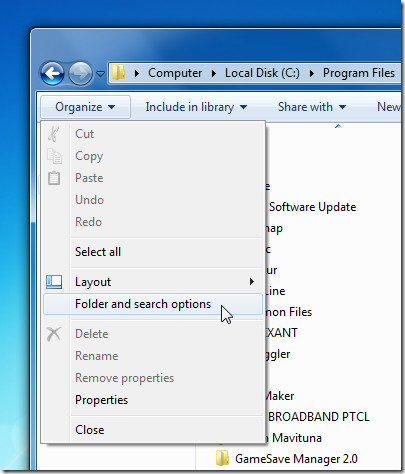 This will bring up Folder Options dialog, now under Files and Folders section, enable Always show menus option and click OK to apply the changes.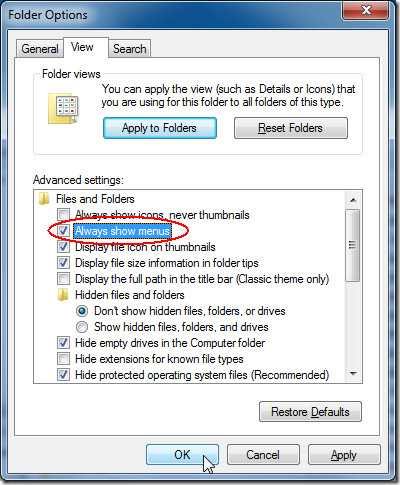 It will show old-menu under address bar, now right-click the menu to select Classic Explorer Bar.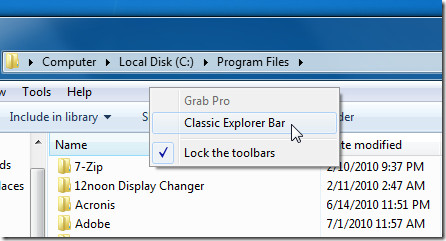 This will bring-up all the options included in ClassicShell application at the right-side of the menu. Now click Classic Explorer Settings button.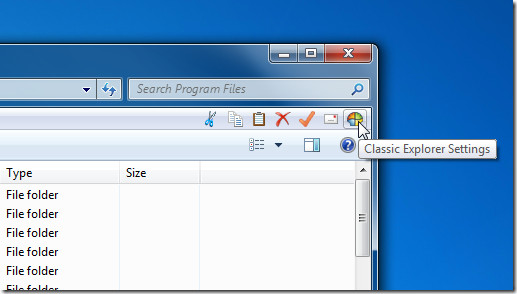 This will bring up Classic Explorer settings dialog, you can play around with multitude of options included, but as far as this post objective is concerned, we'll only enable Show Up button in the title bar option. Now click OK.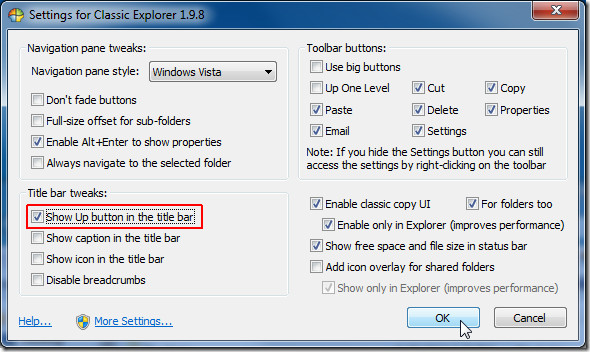 Now close all Windows Explorer windows, and reopen them to view the newly included 'Up One Level' button, also called 'Click To Return' button.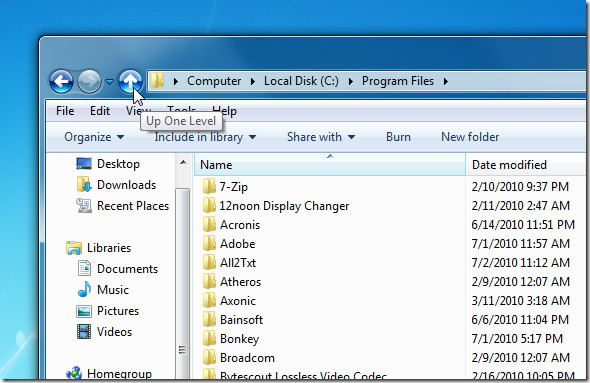 Now if you don't want old-orthodox menu in Windows Explorer, you can easily remove it from Folder Options dialog.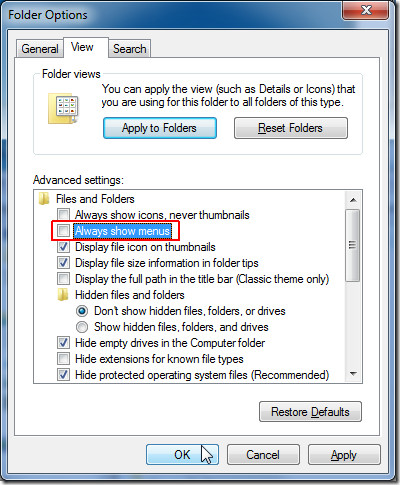 Through ClassicShell tweaker, you can enable/disable a lot of buttons, menu, and previous Windows' Navigation panes, Title bars lines, Toolbar buttons, etc. Enjoy!.