HDDScan: All-in-One Hard Drive Tool To Perform Surface Scan & SMART Tests
Do you often face hard drive crashes and read/write issues while dealing with enormous volumes of data? Perhaps, it's the time to put your hard disk through a series of tests to measure its overall performance. It happens quite so often that hard disk suddenly halts without showing any type of errors. Using conventional hard drive diagnostic tools in such cases don't help identify the read/write faults and other like issues. What you probably need is a low-level hard disk diagnostic utility that can perform surface scan of all hard disk volumes to find the potential issues. HDDScan is a powerful, low-level hard disk scan and diagnostic program, which is developed to perform numerous hard disk performance-specific tasks. It supports all types of conventional hard drives including IDE, SATA, SCSI, RAID arrays and external storage mediums including, SD cards, USB, and external hard disks.
The application has the ability to perform complete surface scan of the disk, show S.M.A.R.T attributes, adjust PM (Power Management), AAM (Advance Acoustic Management) and APM (Advanced Power Management). The S.M.A.R.T attributes may assist you in identifying the total lifetime of your hard disk. It shows all the hard disk reliability indicators, enabling you to perform the required operations to prevent data loss and HDD failures. Apart from reading the S.M.A.R.T attributes, it also allows analyzing the S.M.A.R.T parameters for all types of supported drives such as ATA, SATA, USB, FIreWire, SCSI.
The Surface Test comes with a total of 4 types of performance tests including disk verification, data read speed, data erase, and butterfly read. It plots test results on line graph to help you visually analyze the performance. Unlike other hard disk utilities, it allows you to enter the LBA start and end point, and block size to define the hard disk area which is to be tested.
When you launch the application, it starts detecting internal and external storage mediums. The main interface shows the detected storage mediums, with S.M.A.R.T and other task-based test options. Underneath the main window, it opens a Test Manager that shows all the currently running and en-queued tasks.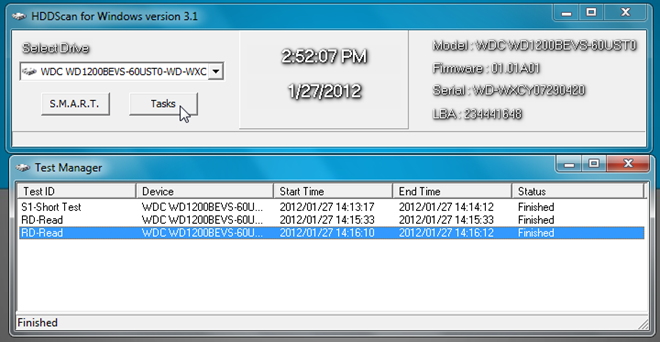 Clicking the S.M.A.R.T button shows the basic disk information and S.M.A.R.T attributes in a separate window, with an option to save the S.M.A.R.T report in MHT format.
The Tasks button lets you access supported tests including Surface Tests, S.M.A.R.T offline tests, HDD temperature, IDE and SCSI disk features including AAM (Automatic Acoustic Management), PM (Power Management), APM (Advanced Power Management) features of disk, and view disk identity information.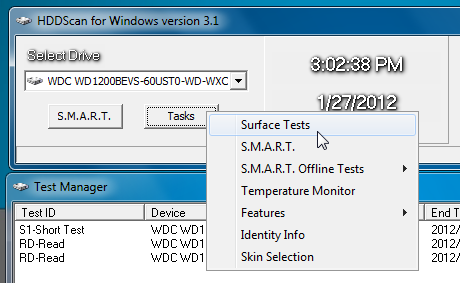 From Surface Tests, you can perform verify read, erase, and butterfly read test. All you need is to select the test type, enter starting and ending LBA values, and block size to add the test to Test Manager to finally execute it. When test is finished, you can view a detailed test result report, which includes Graph and Map to analyze the performance of disk.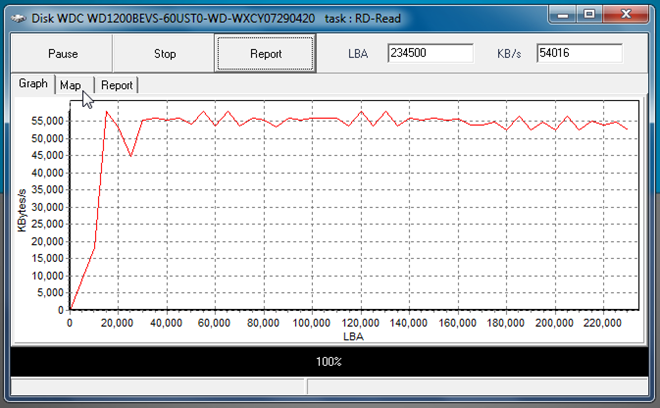 The Features menu allows you to adjust the hard disk's (IDE or SCSI) Automatic Acoustic Management, Power Management, Advanced Power Management features according to the requirements. However, it's worth mentioning here that entering unsupported values of features may cause disk burn and permanent loss of data.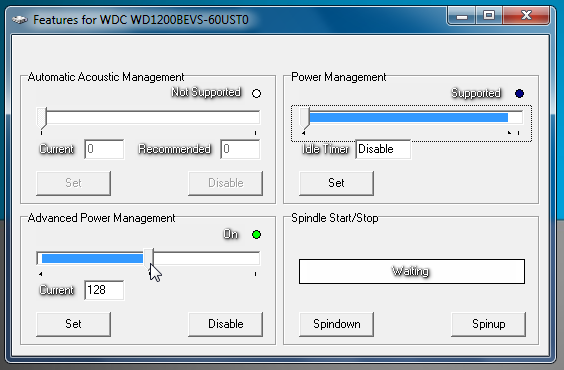 HDD Scan Identity Report includes all hard disk attributes with their values. Just select Identify Info from Tasks menu to view the HDD identification report. Just like other reports, you can save the hard disk information on the local drive in MHT format.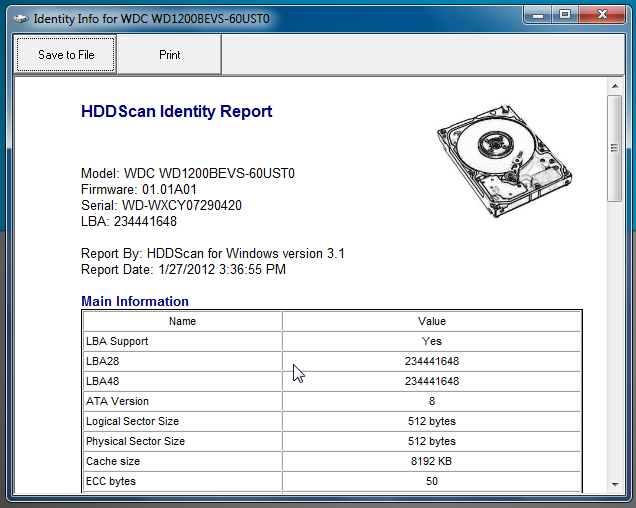 HDDScan is an all-in-one hard disk scan and diagnostic utility, with options to tweak power and automatic acoustic management features. During testing, we found some interface-related glitches in main window as well as S.M.A.R.T attributes viewer. We feel that developer needs to improve the main interface by introducing an MDI-based interface, so that tasks and test results can be viewed under one window. Hopefully, the dev team will debug the known errors and glitches, and make interface more usable in next iteration. It works on both client and server editions of Windows.