AllOff: Auto Shutdown PC When Idle For A Specified Time
Usually we leave our PCs ON twenty four hours a day, seven days a week. Albeit computers are designed to stay always on, with the growing prices of electricity and energy crisis, they can give a serious blow to our wallet. To counter this problem, automatic shutdown applications are a great way to save up on your hefty energy bills. You can set particular shutdown timers so the computer shouldn't remain up long when you're at work, school or vacations – or when a particular task has been completed. Previously, we covered DownOff that initiates automatic shutdown if the download rate drops and stays below a pre-specified limit for a predefined time. A great tool indeed, backed by an innovative idea. But what if you have to leave your PC on for something other than a download? Maybe hard disk defragmentation? Maybe a virus or malware scan? Maybe a game or application installation? For this you'd probably need an alternative solution, and one such solution we have for you is called AllOff Lite. It is a Windows activity monitor and automatic shutdown utility that monitors the idle state and turns off your PC. For instance, if there is no mouse, keyboard or CPU activity for a specified number of seconds. The application initiates automatic shutdown if the keyboard or mouse remain inactive for 900 seconds, or the average CPU load remains below 15%.
To access the application, you will have to enter a User Name and Registration Code to register the application. But you need to worry not as the registration is free for individual users, and can be obtained from the product's webpage.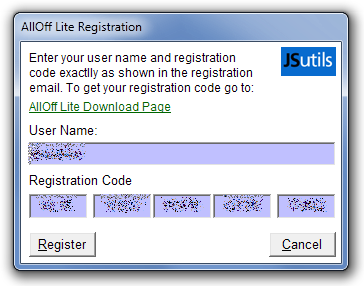 Upon successful registration, you will be introduced with its miniscule window. Although minimalistic, powerful in functionality. AllOff Lite runs in the system tray and can be accessed by double clicking its notification icon. The interface displays the total seconds of inactivity and an input field to enter custom number of seconds to activate automatic shut down. There doesn't seem to be any particular limit for triggered the process or as it seemed so during the testing.  There are also Test, Update and Reset buttons at the bottom of the window. If there is no mouse or keyboard movement and the CPU consumption stays below 15%, automatic shutdown will be activated.

AllOff Lite works on version of Windows, including both 32-bit and 64-bit OS editions of Windows XP, Windows Vista, Windows 7 and Windows 8.