Aomei Partition Assistant: Perform Wizard-Guided Partition Operations
Partitioning your hard drive is risky business. There is always the chance of losing your data if anything goes wrong. Therefore, backing up important data should be the first step when you decide to create new partitions from existing partitions, merge partitions together or allocate disk space to an existing partition. Previously, we have explained to you how to make partition in your hard drive easily and how to resize and move partition without losing data in Windows. Today, we have another partition manager and disk management tool for Windows-based systems called Aomei Partition Assistant. It provides you with multiple tools to easily resize and move partition, extend NTFS system partition, merge adjacent partitions into one etc. Keep reading to find out more about Aomei Partition Assistant.
The main interface of the application has System, Disk, Partition and Wizard menus at the top, the Wizard and Disk Operations options appear in the left side, while the details of the selected partition or disk appear in the right side.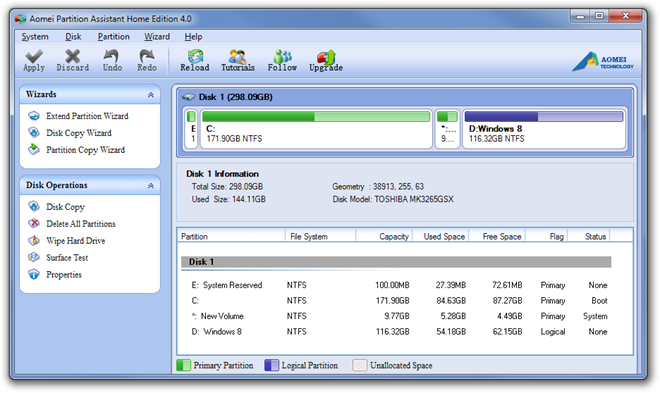 A great thing about this software is that all the partition options have their own wizard. It allows you to do less mistakes and makes the partitioning process very user-friendly even for amateurs. For instance, If you want to extend a current partition, the Extend Partition Wizard takes you through the whole process.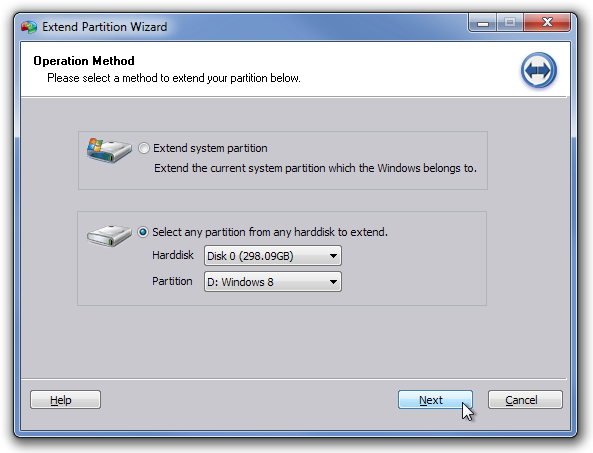 The application includes a lot of other tools, such as Disk Copy that enables you to copy a whole hard drive or a selected partition on to another hard drive or partition.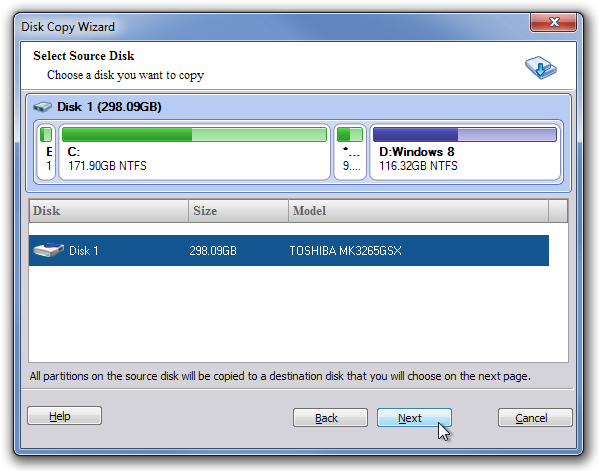 The default Windows disk manager allows you to allocate free space from one partition to another. You can do that by shrinking one partition and extending the other with the same disk space. However, using Aomei Partition Assistant , the process becomes much easier and you can do it directly without having to perform multiple actions.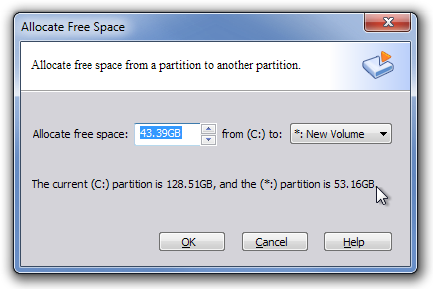 The main features of Aomei Partition Assistant are as follows:
Resize and move partition without data loss.
Extend NTFS system partition without rebooting.
Merge adjacent partition into one.
Split one big partition into two or more.
Allocate free space from one partition to another.
Merge unallocated space to a partition.
Create more partitions without unallocated space.
Copy partition to migrate system drive and data.
Copy disk without reinstalling Windows.
Support both MBR disk and GPT disk.
All the different partition options are accessible from the Partition tab at the top.
The Home edition of the application is free, while Professional and Server Editions are also available. It works on both 32-bit and 64-bit versions of Windows 2000, Windows XP, Windows Vista, Windows 7 and Windows 8.
Download Aomei Partition Assistant