Win7AudioSwitcher: Auto-Switch Speakers (Audio Devices) Based On Primary Monitor
If your a tech enthusiast, or in any way familiar to the ongoing technology trends, then you must have known about HDMI (High-Definition Multimedia Interface). It is a compact audio/video interface for transmitting digital data, which came into mainstream use especially after the introduction of HD (High-Definition) content. The good thing about HDMI as compared to DVI, is that it transmits and receives both audio and video feeds through one cable, so if you have to connect, say your laptop to an LCD/PLASMA TV or any video display with built-in speakers, you don't need separate audio and video leads. HDMI is now found in quite a lot of devices and same is the case in computers. However, the problem lies in the way Windows 7 handles the switch between default and HDMI audio output device. You have to go to Windows Control Panel, open Sound settings and select the HDMI audio as Default Device to enable your LCD's speakers. Doing all that can be a bit annoying for a person who switches between different monitors a lot. If you needed quicker way to do this job then you can use Win7AudioSwitcher, which automates this process. Continue reading to find out how.
Win7AudioSwitcher is an open source application that lets you switch between audio devices. There isn't any intervention with complicated interface designs, as it sits at system tray and you can switch between audio devices right from your desktop by just right-clicking on its system tray icon and choosing the desired audio device. What sets this tool apart is its ability to remember the default audio device based on primary monitor and automatically detect and switch the audio device when primary monitor changes, eliminating the lengthy process of going to Sound settings and choosing the connected device as Default each time.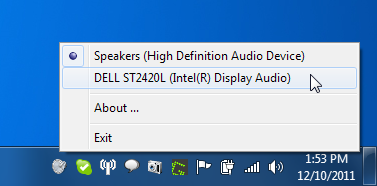 The application displays a notification in the bottom right corner of the screen whenever the application switches between different displays.

We have previously covered QucikSoundSwitch and Vista Audio Changer applications which allow switching between audio devices easily from the system tray but they lack the automatic switching option. So, Win7AudioSwitcher takes the points in this regard. The application works on Windows 7.