Automatically Watch & Restart Crashed Processes With ReStartMe
Parental controls, P2P clients, antivirus software, backup and communication tools; almost all of us like to keep these applications running all the time. Sometimes, these applications crash when we are not around our PC and the processes are interrupted. For example, you start a download before leaving for work, hoping to make us of it upon coming back. However, sometime during the day, your download manager crashes, the download gets interrupted and you're left to wait again after manually restarting the program. Why? Because, while your PC was unattended, no one was there to restart the download manager for you. ReStartMe is designed for just that. Once you set the application to monitor a process, whenever the process crashes or exits, ReStartMe will start it again. You can either select from a list of running processes, or start a new process by browsing for an executable file. The application can watch multiple processes at a time, and adds a password so that others cannot add or remove processes from the watch list.
ReStartMe's interface has an Add a Process button at top left, and Remove Selected at top right. The options to enter a password, minimize to tray and close the application are located below the processes list. It allows you remember the process for the next time you start the program, and choose to Do Nothing, Watch for them or Start them if the processes are not already started. Using the application is really simple. While adding applications, you don't have to specify complex settings for each added entry. All the added entries are displayed in a list and whenever any one of them crashes or closes down for any reason, it will be automatically restarted.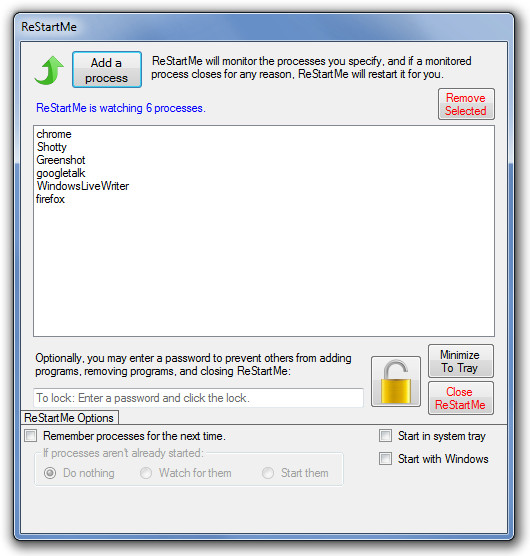 To add a new process, click on Add a Process. You can select a process either from a list of already running processes or add a new process by browsing for its executable file. When the desired process is selected, click Add.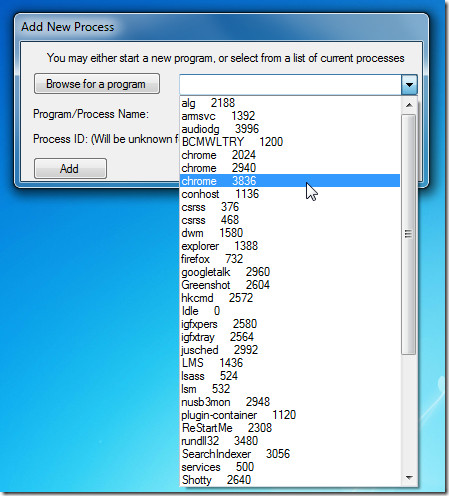 The process will appear in the list and whenever its closed, ReStartMe will start it again. You can also set a password if you don't want others to add or remove programs from the list. This application is similar to previously-covered Restart On Crash, but ReStartMe allows you to set a password on the list, something which the former lacks. ReStartMe works on both 32-bit and 64-bit versions of Windows XP, Windows Vista and Windows 7.