Backup Source Code Files In Zip Format With SourceBackup
Backing up source code of an application which is being developed especially in Visual Studio platform can become quite a nuisance because some OBJ, BIN and other headers files are not to be copied to target location. If you're a developer and looking for a simple way to seamlessly backup important source code files, try SourceBackup, which is, unlike other backup utilities, written specifically to backup source code file into ZIP format.
What makes is special is that it comes with a pre-defined list of filters to exclude superfluous files, such as, ASMX, AXD, BML, ADDln, BTPROJ, etc from the backup process and can be integrated with Visual Studio 2008 or Visual Studio 2010 External Tools, making backup process of edited source code in Visual Studio as seamless as it can be. Additionally, SourceBackup is an open source application, which means that developers can tweak with its inherent backup behavior according to their needs.
You can add and delete file extensions from default filter list or define new filters list. On the main screen, specify root folder followed by target directory where source code will be backed up in zip format. Underneath it, choose the filter list (default or edited list). Once done, select post backup process.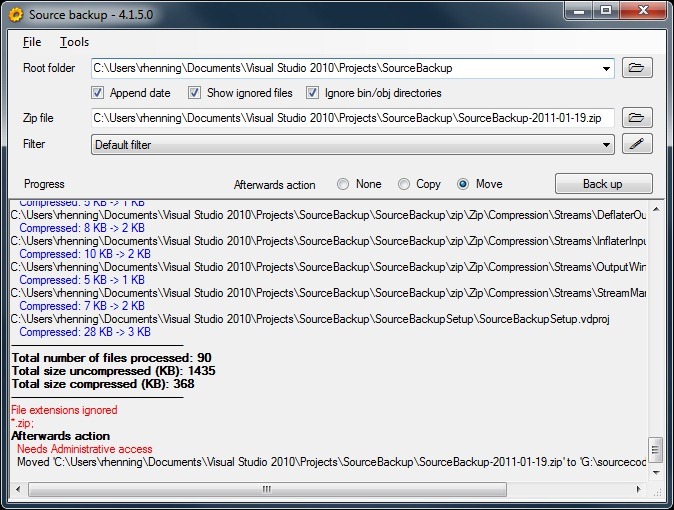 When you want to edit the default filter list, click pen-imaged button present adjacent to Filter pull-down menu to view and edit the default filter list.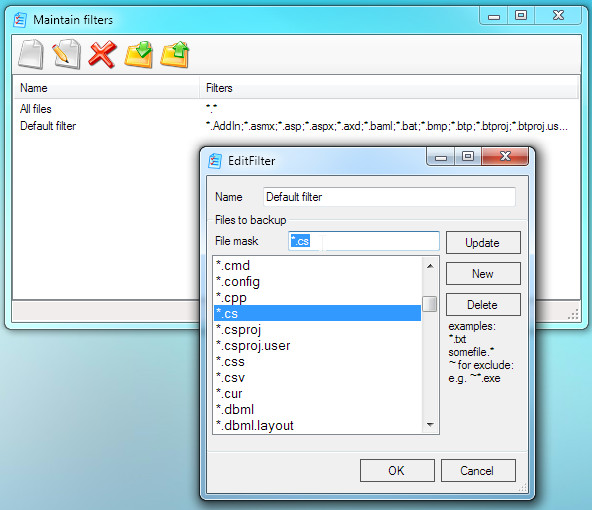 By default, it does not get registered with Visual Studio. To register, click Options in Tool menu and select installed Visual Studio version for registering SourceBackup. It works on Windows XP, Windows Vista, and Windows 7, requiring .Net Framework 4 to be installed already