Batch Download Images With OpenImage
Are you looking for a way to download multiple images  from websites without using a browser? Rather than using a browser to manually download each image, you can use a very handy desktop utility called OpenImage, a small, easy-to-use, and portable app that will help you download batch images from web pages. You can also filter images by file types and size range. This tool automatically renames the downloaded image file names with sequence numbers.
This post has been updated to let you know that OpenImage also supports Windows 8. The article was updated on April 3, 2012.
Just run the executable file, then start a new download from Tasks > New Download, specify the web address, the destination folder and click the Create button.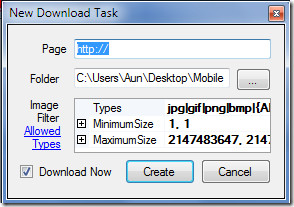 It will instantly start grabbing the images from the specified URL, you will be able to track the progress of the download via the progress bar.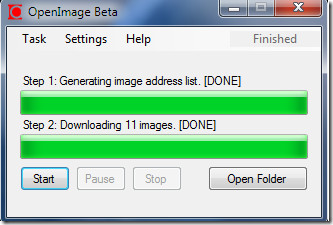 Once completed, click the Open Folder button to navigate directly to the directory where the images are saved, you can change the download settings from the Settings menu.
It is a lightweight tool consuming less than 1 MB of memory and runs perfectly on Windows XP and Windows Vista, we have also successfully tested it on Windows 7 and Windows 8. Enjoy!