Benchmark/Test Your Hard Drive With CrystalDiskMark
Hard drive is a vital part of your system and its very important that you keep a close eye on the performance of your hard disk. We covered a detailed review on both HD Speed and HD Tune and also compared them both. If you are looking for a dead-simple portable alternative, then try CrystalDiskMark. It  is a utility which benchmarks and tests your Hard disk,  USB drives, and Read & Write speeds.
Choose the Drive on which you want to perform the benchmark test from the drop down menu, and it will display the read/write speed after performing its test. The key features of this tool include:
Sequential reads/writes
Random 4KB/512KB reads/writes
Text copy
Change dialog design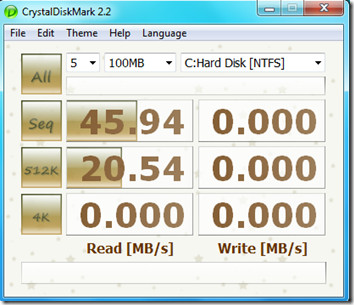 For better results, please download the latest version of this tool from the above mentioned link. Both portable and installer versions are available. It works on Windows 2000, XP, Vista and Windows 7. Enjoy!