Best Free VPN Services To Anonymize IP & Secure Internet Connection
Last week, we discussed the advantages of virtual private network over leased line-based private and hybrid networks, VPN tunneling technologies and types, and also showed you a simple way of creating a VPN connection. Apart from encrypting the communication, VPN is also used as an alternative to proxy servers to secure the communication between two clients & client and server, on a network. One of the reasons why most users prefer using VPN service instead of proxy server, is that, VPN provides strong encryption, and in some cases, multi-hopping connectivity, making it very difficult for external sources to trace down the connected systems. This VPN-provided anonymity lets users access region-restricted websites, data portals, content sharing platforms etc, from any part of the world. In this post, we will look at VPN services that you can use to anonymize the connection as well as secure the communication.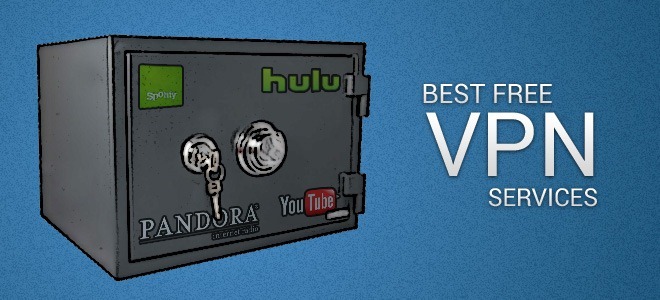 proXPN
proXPN is a free, cross-platform VPN service that focuses on securing the communication and preventing ISP logging system and other external sources from checking the websites you visit. It provides strong encryption to secure the data transmission, and has the ability to protect almost all types of connections including DSL, 3G and cable internet. proXPN also works on smart phones that support PPTP VPN service including iPhone, iPod and Windows Phone.
proXPN VPN client is available for both Windows and Mac OS X. It requires you to sign up the service to download and install the client. Once done, enter username and password, choose the VPN server location, and click Connect to establish connection with proXPN VPN service.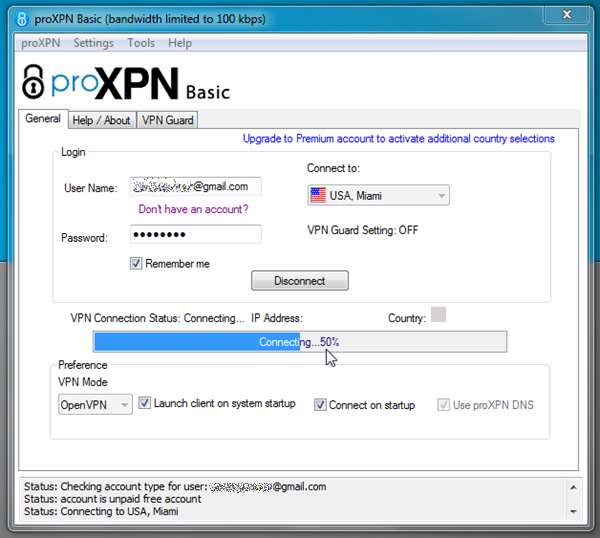 The basic account allows connecting with US (Miami) VPN server. To activate additional countries, you need to upgrade it to proXPN premium packages, which cost $ 9.95 per month and $49.95 for 6 months.
Visit proXPN
Tunnel Bear
Tunnel Bear is probably the easiest VPN program available out there. Tunnel Bear VPN client enables users to switch between US and UK VPN servers. Users living outside UK and US can conveniently access Pandora, Spotify, Hulu and other location-restricted websites. The basic version comes with 500 MB data access limit; you can pay $5 per month to enjoy unlimited data access through its servers.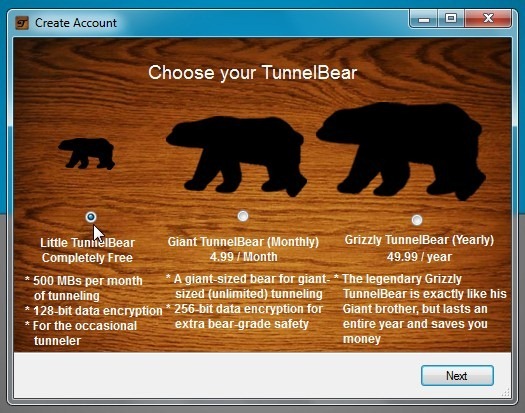 Just like proXPN, it comes with premium VPN service packages namely Giant TunnelBear and Grizzly TunnelBear, which cost $4.99 per month & 49.99 per year, respectively. Unlike the basic version, premium package provide 256-bit AES encryption to secure the data transmission. You can check out our full review here.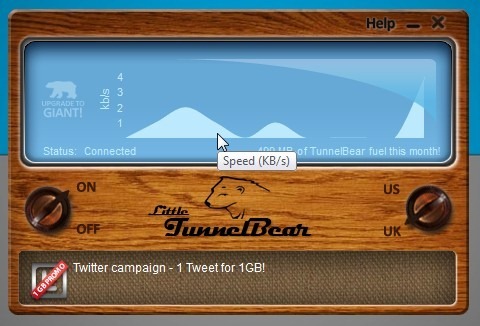 Visit TunnelBear
CyberGhost
CyberGhost provides the utility of accessing blocked websites that track IP or geo locations to impose access restrictions. Not only does it bring anonymity to your connection by spoofing the ISP-provided external IP, it also offers VPN features such as 128 bit SSL encryption to prevent websites and crawling bots from tracking your system location. Unlike TunnelBear, it provides a convenient web app to view your VPN account statistics and get information on websites, online data portals, content sharing platforms etc., that you visit during the CyberGhost sessions. According to official community, it routes all the data send and receive requests through CyberGhost servers to keep the communication between client system and connected VPN servers secure from external sources.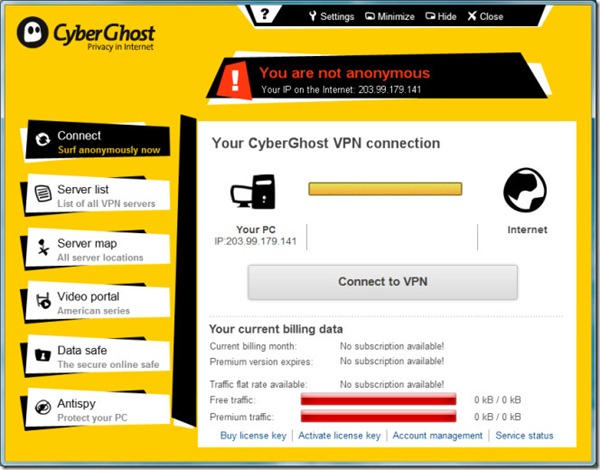 CyberGhost includes some complementary features that may come helpful in hiding the system's identify such as, deleting cookies at disconnection of VPN. However, you will need a premium account packages (Classic – $ 5.55, Premium – $8.87 and Premium Plus – $13.20) to use advance features including selection of IP from a specified country, server map, Antispy protection and more. You can check out complete review here.
Visit CyberGhost
RiccoVPN
If you're looking for a VPN service to access restricted regions within your country, RicoVPN is worth a try. Although its premium service packs a host of VPN specific features such as selecting IP from specified country, unlimited bandwidth, time-based auto IP change etc., the basic version doesn't allow users to access country restricted websites. When you connect with Ricco VPN server, it starts encrypting the communication to prevent data transfer process from deciphering attacks. Like all VPN services, it replaces your ISP provided external IP with its own IP to bypass access restrictions imposed on local websites. You can check out our detailed review here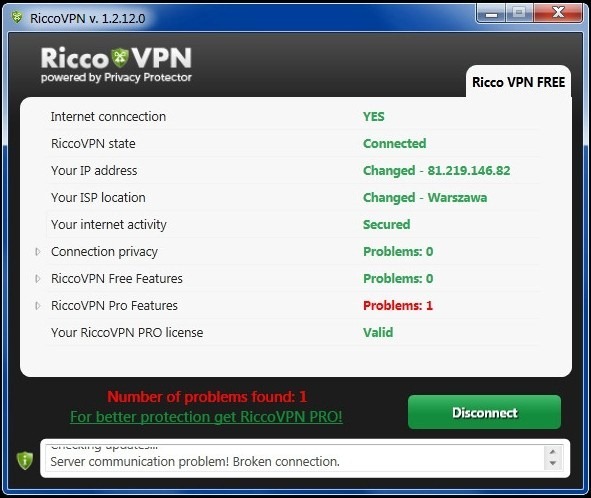 Visit RiccoVPN
RaptorVPN
Providing both client and clientless VPN connection, RaptorVPN offers PPTP (Point-to-Point Tunneling) and L2TP (Layer 2 Tunneling) servers to not only encrypt the communication but also apply effective data integrity techniques. RaptorVPN recommends using spotflux as VPN client software to connect with VPN servers. However, you can choose to connect with its VPN serves without installing any intermediary software.
The client software requires nothing except login credentials to connect with the service. Before you launch the application, sign up with the service. On the main interface, enter the username and password to login, and to connect with the VPN server. The spotflux sits in system tray, letting you connect/disconnect with VPN servers and bring up the main window.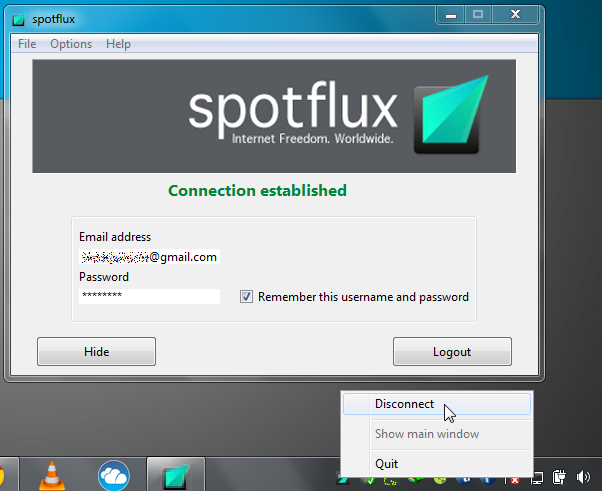 The clientless configuration involves using Windows native PPTP VPN client. From Network & Sharing Center, you can create RaptorVPN server connection by specifying pptp.spotflux.com as internet address, and then entering username and password.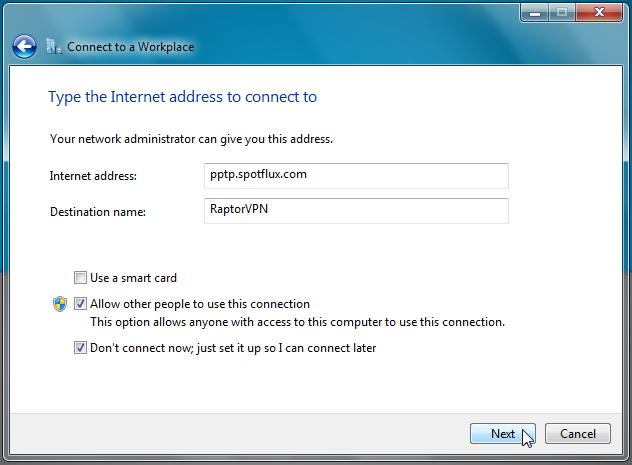 Visit RaptorVPN
ExpatShield & HotSpotShield
ExpatShield and HotSpotShield are two separate VPN services from AnchorFree, providing US and UK based IPs, respectively. The ExpatShield works just like HotSpotShield, and needs somewhat similar pack of tools to provide access to UK restricted websites. If you aren't familiar with HotSpotShield, it is primary VPN service by AnchorFree that lets users access US restricted websites from outside America. Both services require installing clients to establish connection with respective VPN servers.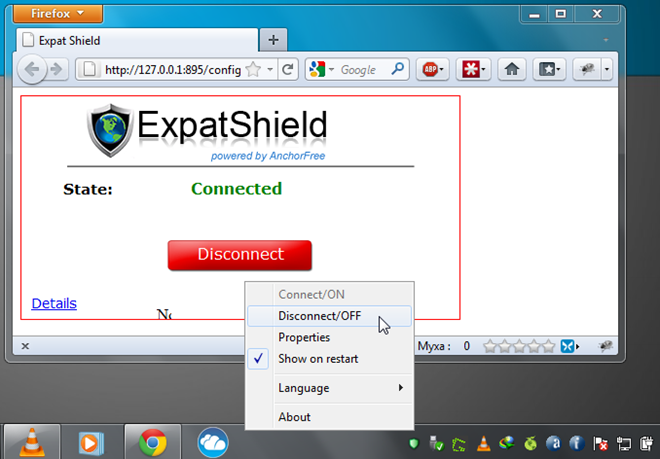 After the installation, the client software will sit in system tray, enabling you to connect and disconnect the connection. The client software is basically a web based utility, and operates from a browser.
Visit ExpatShield
Visit HotSpotShield
---
While VPN services provide the best mechanism for securing communication over the internet, they also help you access both region and country restricted websites without having to manually connect with proxy servers. Take Hulu as an instance, which can't be accessed from outside America & Japan, but VPN services allow bypassing that restriction and connecting with Hulu from others countries. Likewise, you could use VPN service, just like proxy servers, to stream region-restricted YouTube videos, listen to Pandora radio stations, access your Spotify library etc.
Additionally, many paid VPN services offer multi-hop technology to secure the connection, like previously-covered iVPN. The multi-hopping technique routes the communication, including incoming and outgoing data packets, through a number of intermediary servers, so that communication sources can never be identified. If you need to add another security layer to your VPN network, we recommend using the multi-hop technique to attain a higher level of anonymity.