How to Fix the Black Screen of Death on Windows 10 (Working Solutions)
Windows 10 has a notorious Blue Screen of Death. It appears when the OS crashes and provides an error message and may point to a helpful link to help resolve it. If a BSoD is recurring, it points to a problem with the OS or with hardware and it cannot be ignored.
Black Screen of Death
A lesser-known error screen is the Black screen of death. The Black Screen of Death borrows its name from the very early days of Windows when the OS could only run DOS programs. The Black Screen of Death appeared when a DOS app failed to run.
This definition no longer holds true for the Black Screen of Death on Windows 10. On Windows 10, the Black Screen of Death is observed when a user boots up the system. It is marked by a complete absence of any UI element or any OS that can be selected to run.
Unlike the Blue Screen of Death, your system doesn't crash. It fails to boot altogether. You may see a message like no OS found, or that there is a problem with files on the boot drive but little else.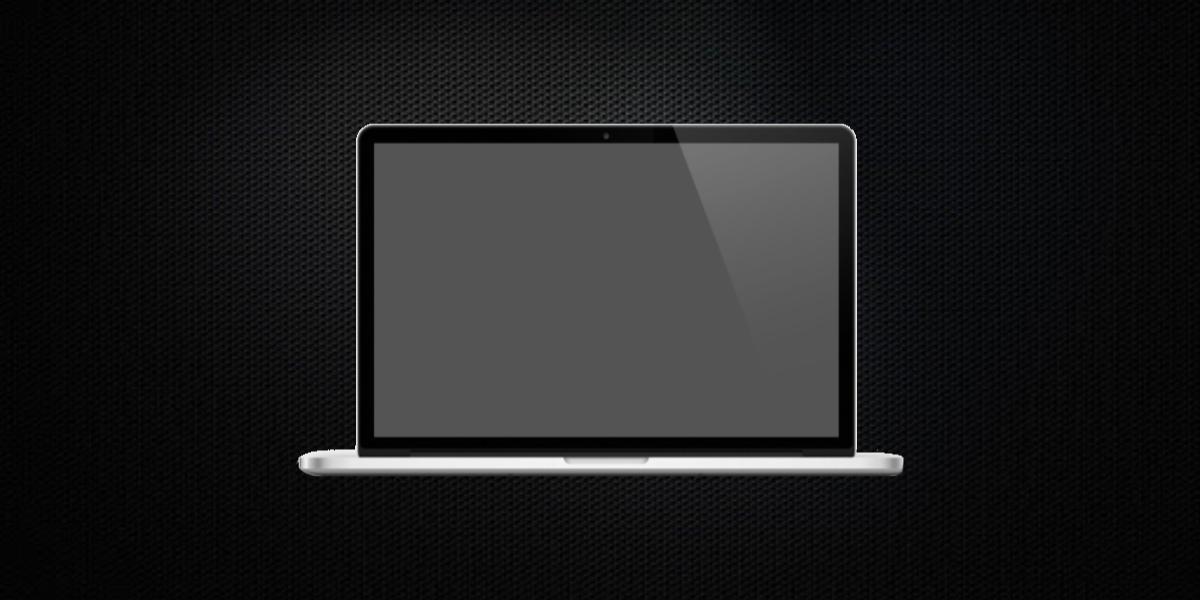 Windows 10 Black Screen of Death – CAUSES
The Black Screen of Death can be caused by the following;
Incorrect or incomplete Windows 10 installation: If you were installing Windows 10 on a system, and you removed the installation media, or the system ran into problems during installation, you may see the black screen of death.
Corrupted Windows 10 installation: If your Windows 10 installation has been corrupted during a system scan, file recovery process, the installation of a second OS (dual booting) on your PC, you will see the black screen of death.
Hard disk crash: If your hard disk has crashed and is irreparable, your PC won't be able to boot the OS. You will need to replace the hard disk or connect an additional/alternative boot device to the system and boot from it instead.
System services failed/crashed: on rare occasions, you may get a black screen of death on the desktop. All UI elements will disappear and you will, at the most, see a cursor on the screen. The cursor may or may not be responsive. This sort of crash is caused by an app.
Hardware failure/problems: Your screen may be damaged and unable to display the OS environment or your display drivers may be corrupt.
Determine the Nature of the Black Screen of Death
Before you can fix the Black screen of death, you need to determine what type it is i.e., are you on your desktop or are you on the boot screen.
The simplest way to test this is to force shut down the system.
Press and hold the power button on your laptop/PC.
Wait until you hear the system power down.
For good measure, disconnect it from the power source for a minute.
Connect the system to a power source and turn it on.
If you see the Windows logo, and you boot to the desktop, the black screen of death was caused by an app on the desktop.
If you do not see the Windows logo, briefly see the computer manufacturer's logo, or see a message to press a key to boot to BIOS, the black screen of death is outside a desktop i.e., on the boot screen.
5 QUICK Fixes: Black Screen of Death on Windows 10
To fix the black screen of death, try the following. The fix that you use will depend on the type of black screen of death that you're seeing.
1. Repair Windows 10
This fix applies if Windows 10 is corrupted to the point where it can no longer boot. You will need access to a working system in order to repair it.
Download the media creation tool for Windows 10 from Microsoft.
Create Windows 10 installation media using a USB.
Connect the USB to the problematic PC.
Boot from the USB.
Select a Windows 10 version and language.
On the installation screen, select the Repair option.
Select Troubleshooter>Startup repair.
2. Check hard drive for errors
To check a hard drive for errors outside Windows 10, you need a Windows 10 installation disk. To create it, you must have access to a functioning Windows 10 system.
Shut down the system.
Connect the Windows 10 installation disk.
Turn the system on and boot from the disk.
Select the Windows 10 version and language.
Select the repair option.
Go to Troubleshoot>Advanced Options>Command Prompt.
Run this command on each volume on the hard drive to scan it for errors.
chkdsk /f Drive-letter:
Example
chkdsk /f C: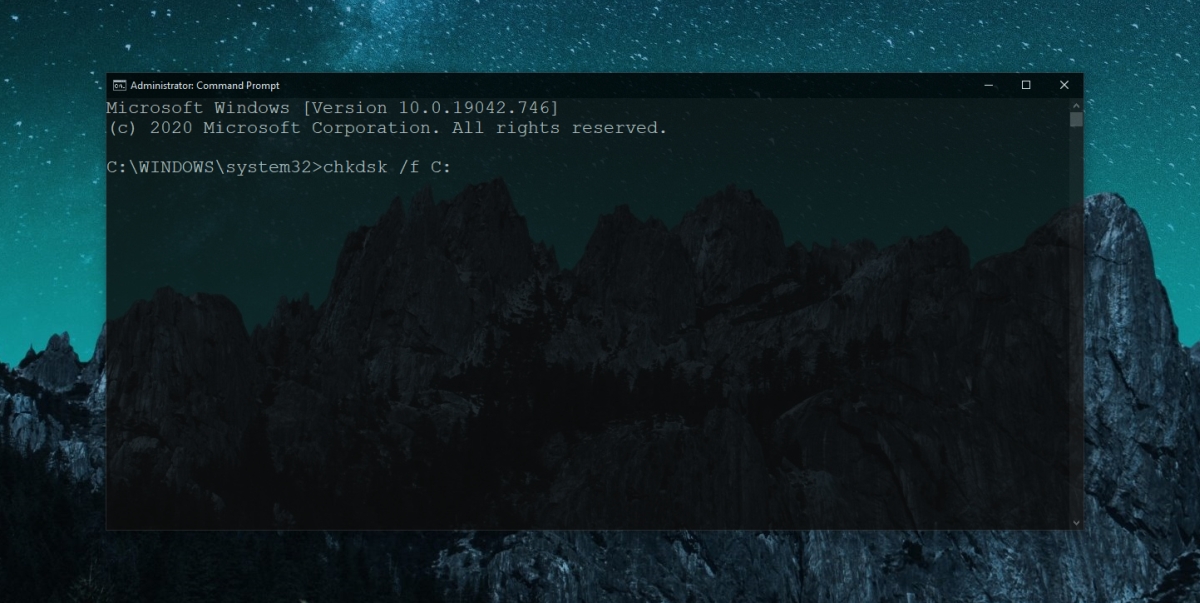 3. Hardware check
If your system won't boot or the black screen is completely blank, run through the following checks.
Connect to a different monitor and/or change the cable that you use to connect to the monitor.
Change the PSU (power supply unit) that you're using to power your system.
Remove any and all peripherals that aren't necessary to run the system e.g., external drives, USBs, SD cards, phones, cameras, etc.
Check system ventilation. Your system may be overheating. Give it a little downtime i.e. do not use it for a few hours so that it can cool down completely and then try turning it on.
If your system has been running hot for a long time, and you've experienced multiple heat-related shut-downs, your hardware may be damaged. If so, it's best to have the hardware checked by a professional.
4. Run app in compatibility mode
If you see a desktop-like environment with the black screen of death, it means an app is responsible for it. Force restart the system and you should be able to boot to a working desktop.
To prevent the black screen from appearing again, try running the app in compatibility mode.
Right-click the app's shortcut or EXE and select Properties from the context menu.
Go to the Compatibility tab.
Enable the "Run this command in compatibility mode for" option.
Open the dropdown and select either Windows 8 or Windows 7 and run the app.
Note: this may not work and your only choice is to find a different app to use.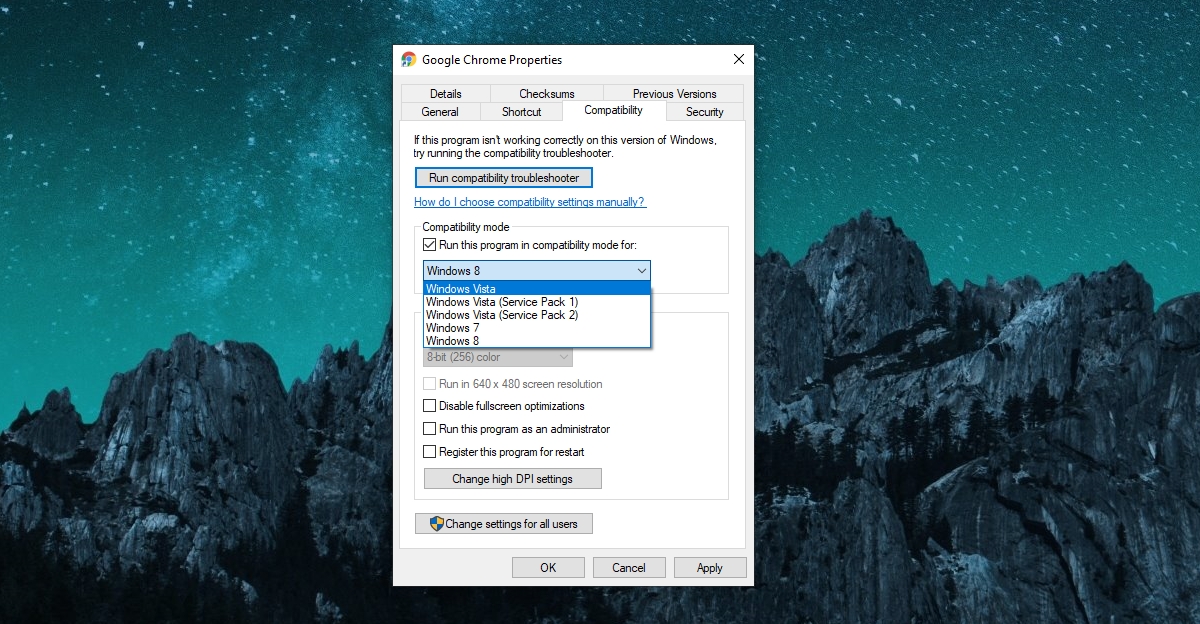 5. Check graphics drivers
A problem with the graphics driver may cause a black screen of death. Force shut down and boot up your system.
Open Device Manager.
Expand Display Adapters.
Right-click the on-board graphics card and select Update drivers.
Search online for driver updates and install them.
Restart the system.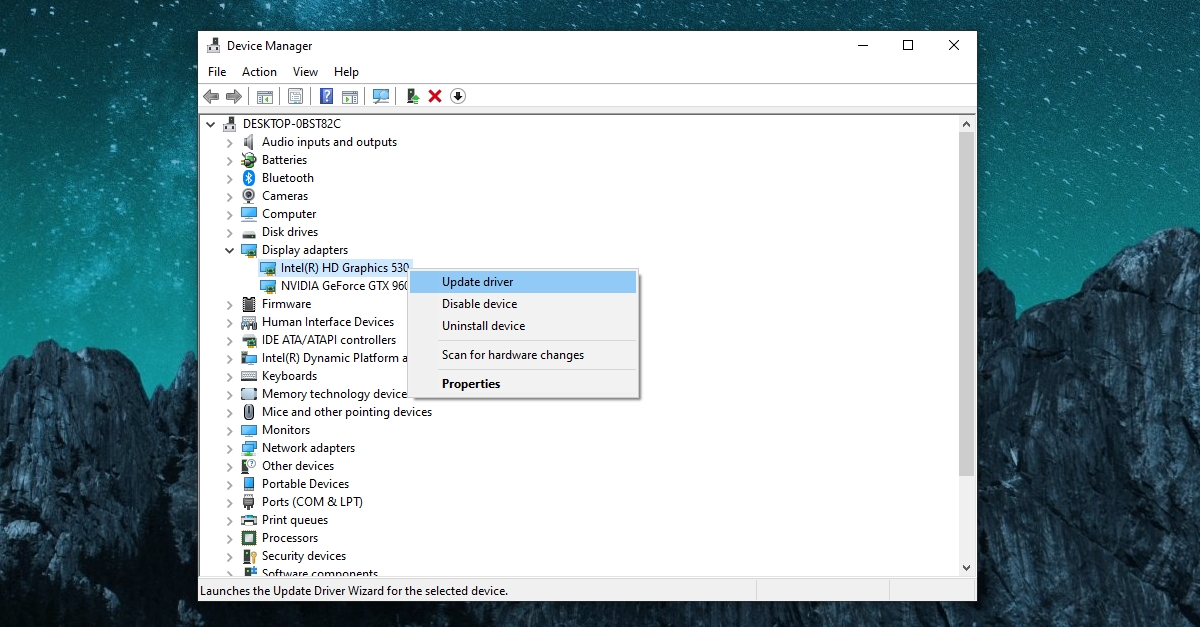 Conclusion
The Black screen of death is the unofficial name for when you see a black screen with no UI elements to interact with and no commands that you can execute to get to a desktop. It is most often associated with a damaged OS which is why repairing it with the Windows 10 startup repair tool is your best bet. If you're trying to install Windows 10, make sure you don't interrupt it at any point and make sure the system has a steady power supply during installation.