Breaker Notifies You When It Is Time To Take Break While Working
The best way to keep yourself productive while working is to take regular breaks after a certain number of hours. It's a common fact that those who don't take breaks to relax their nerves usually struggle hard to meet tight work deadlines. Moreover, sitting in front of computer for a whole day may severely damage your eyes and incur back pain. Breaker is a tool that notifies when it is time to take break. The application is meant for those who heavily work on PCs and usually forget about taking breaks within working hours. Unlike other similar tools, it allows you to specify the break timings in a loop. You specify pattern of taking breaks by entering work hours and break time interval. On the other hand, single configuration mode is available to keep break time intervals consistent across the work hours. After a specific amount of time, a message pops up over system notification area, asking users to take a short break.
The main interface holds all the options to set work and break timings. Both Single configuration and Pattern modes are present here. Choose the configuration mode and enter the work, break and loop times accordingly.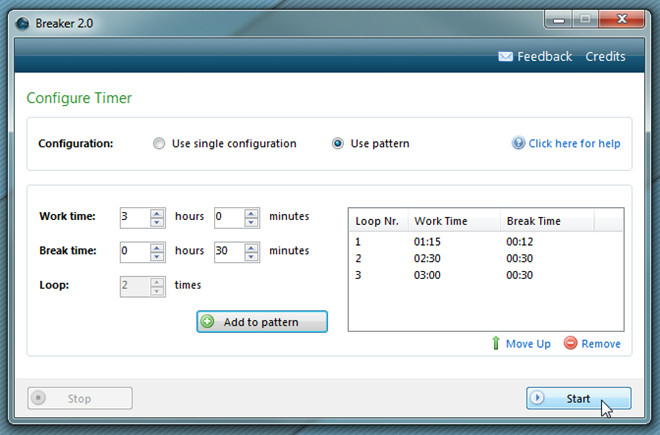 You can see how much time is left for next break by hovering the mouse pointer over Breaker's system tray icon.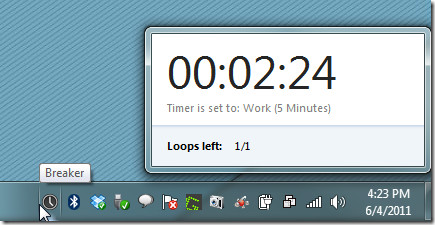 The screenshot below shows the break time message. Clicking 'Close' will start the next work timer in the loop.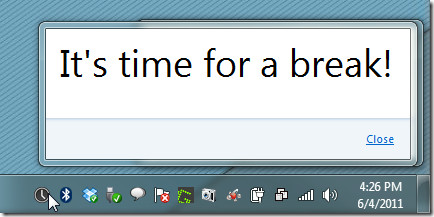 Breaker works on Windows XP, Windows Vista, and Windows 7.
For more, you can also check out previously covered Eye Relax and Workrave for relaxing your eyes.